The Sabres annual prospect's scrimmage came and went last night with a sloppy 5-1 win for Team White.
In a slight change from recent years the scrimmage was held early in the week and the results on the ice reflected that change. With only two ice sessions as a group, the majority of the prospects struggled to find chemistry in a game setting. While the players with more developmental and professional experience stood out for obvious reasons, there were very few true standouts simply based on the disjointed nature of the game that took over at times.
There were some obvious bright spots as one might expect in a six-goal game although a majority of the scoring happened to be done by undrafted camp invites while the organization's prospects contributed in other ways.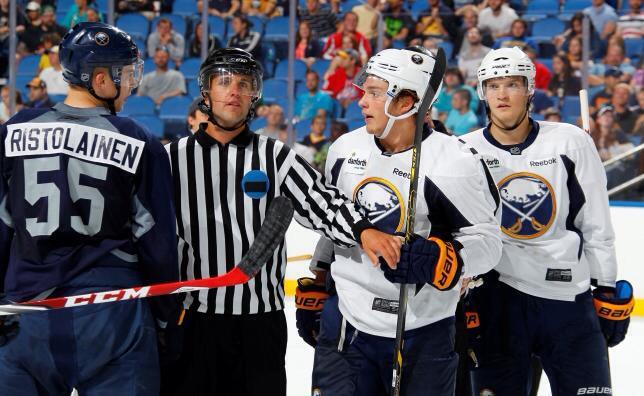 Two of the most obvious standouts were Nikita Zadorov and Rasmus Ristolainen. The two towering defensemen were split between the two squads but they were certainly noticeable when they were on the ice. Zadorov was very active joining the rush and even chipped in with an assist as his booming slapshot caught the end boards and wound up on Jerome Leduc's tape for a tap in to open the scoring.
Zadorov's game appeared measured to me as he was picking his spots and recovering well when he joined the rush. He might need to practice a bit more discretion at times but he continued to display the active style that has made him such an attractive prospect. Furthermore, his physical game wasn't lacking throughout the scrimmage.
Ristolainen was as steady as you might expect a player who split the year between Buffalo and Rochester despite being fresh out of the draft. Since both teams had only five defensemen on their roster the minutes piled up for each and Ristolainen was certainly a beneficiary of that. I think he is a safe bet to pencil into a top-six spot entering training camp as his second professional season is set to begin.
The biggest star of last night's scrimmage didn't even see the ice after the halfway mark of the second period. Linus Ullmark was far and away the most impressive goaltender of the four who dressed last night. Continue reading →