Jason Botterill and the Sabres have hit another deadline season no nearer to the playoffs that the year before. Once again, the Sabres aren't quite sellers but they aren't quite buyers either.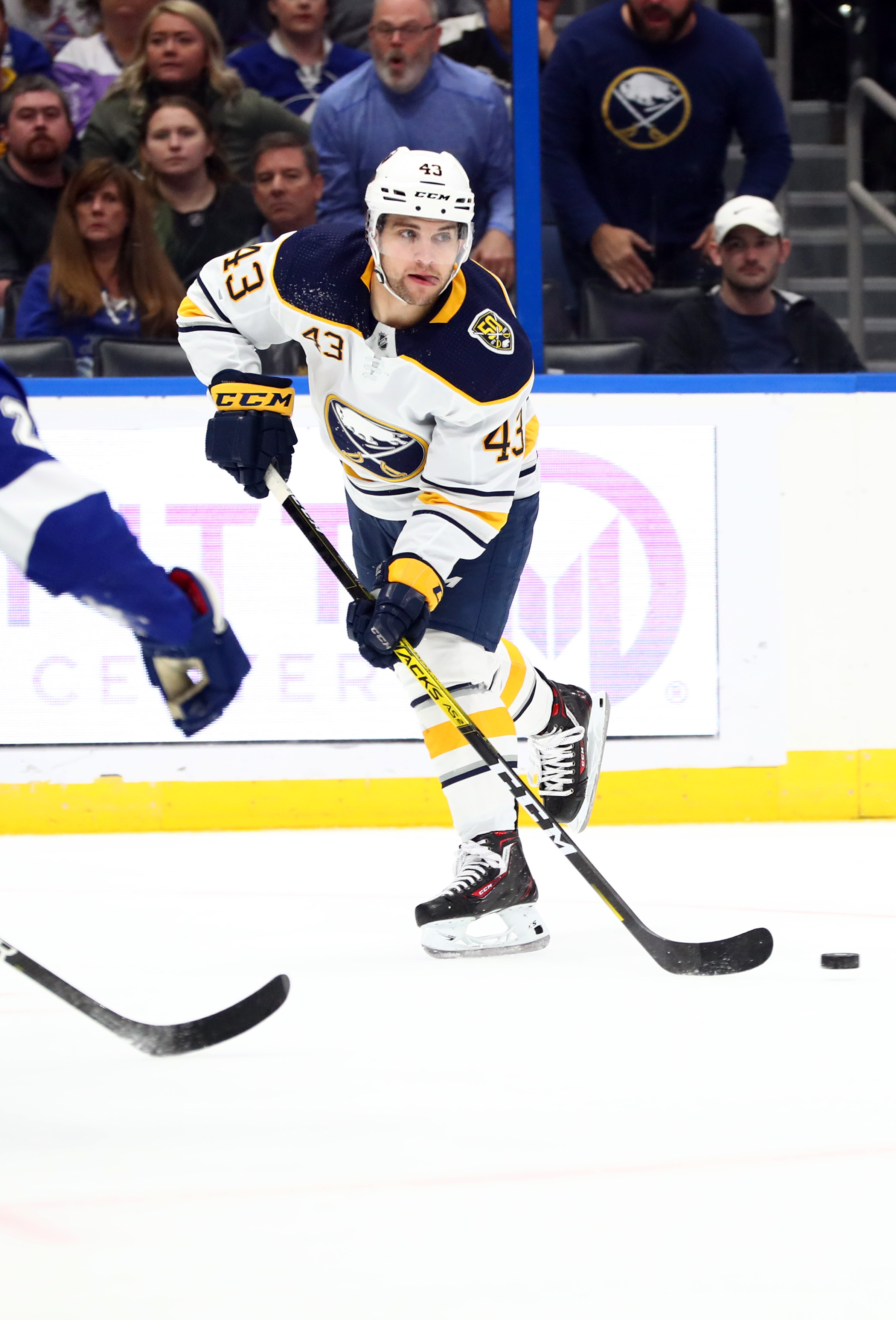 It's been a rough season for the club, as a summer of anticipation over improving the forward corps came and went. The lack of action at the tail end of the summer carried all the way to January when Botterill finally acquired a forward, flipping a pick to Calgary for Michael Frolik.
That deal has played out about how you would have expected. Frolik has been forgettable during his time in Buffalo as he was a player better acquired in the wake of a larger acquisition. But instead of Frolik supplementing the roster after a move for a top six forward, he's slotted into an already crowded and forgettable bottom six. That bottom six accounts for the list of deadline rentals the Sabres have to offer. Cheap rentals, but still rentals.
Frolik, along with Zemgus Girgensons, Johan Larsson, Conor Sheary and Jimmy Vesey are Buffalo's pending unrestricted free agents. As a restricted free agent who previously requested a trade, Evan Rodrigues could still be on the move as well. Add in trade rumor regular Rasmus Ristolainen and Buffalo's other defensemen, specifically Brandon Montour, Colin Miller and possibly Jake McCabe, Botterill could have a busy Monday.
It isn't quite as cut and dry as previous deadlines where selling UFAs and stocking draft picks was priority one. For one, none of the true rentals the Sabres have to offer are going to fetch much more than a third-round pick. Second, Buffalo's commitment to Rochester would make it hard to recall three or more players after selling rentals at the deadline. That doesn't mean Botterill can't or shouldn't try and sell off some rentals, but he'll probably need to make a couple of acquisitions in order to keep things in place for the Amerks.
Most of the big insiders are indicating that Monday will be fairly low key for the Sabres. So, it's important to balance what I hope to see the Sabres do and what they're likely to do. There's room for Botterill to win back some fan support by doing more than selling the obvious UFAs. But it all starts with clearing space for adding skill to the forward group.
Fire Sale 
The one thing we can probably count on is that at least a few of Buffalo's UFAs will be on the move. I think the over/under on UFAs moved would be three as any more would make it tough to replace without hurting the Amerks core.
Conor Sheary might not even be in Buffalo by Monday as he is probably the most attractive deadline option on Buffalo's roster, despite his inability to reach the production he achieved in Pittsburgh. He's been pretty heavily connected to a return to the Penguins. Ryan Wilson has a good write-up on how Sheary could impact the Penguins, including the league-leading 5-on-5 scoring he produced in 2016-17. Sheary's previous playoff production alone will make him an enticing option and if the Sabres can obtain a third-round pick for him, they should be happy with the return.
Johan Larsson might not be the most popular player in Buffalo after all these years but I think he might garner a fair bit of attention by Monday. Larsson's ability to eat defensive deployment and improve a team's penalty kill will make him a very attractive playoff addition. I don't think he'll fetch a first-round pick like Paul Gaustad did once upon a time, but in the right circumstance the Sabres might be able to pry a second round pick away from someone. But a safer bet is somewhere in the neighborhood of a third or fourth.
Frolik, Girgensons and Vesey might grab the Sabres a pick in the right circumstance, though I'm willing to bet Botterill can move Vesey given his history as a decent goal scorer. Deadline shoppers are almost always looking for extra depth scoring and with teams like Colorado and Columbus dealing with injuries, Vesey as a low cost depth scorer could make some sense.
As expected, none of these players are all that interesting. Maybe things fall the right way and Botterill manages to grab a few third and fourth round picks, but anything more than that will be a bonus in my eyes. This is a pretty average roster and no one besides Jack Eichel Sam Reinhart and Victor Olofsson have performed well this year.
Can Botterill Add?
Dealing two or three of their pending UFAs would require Botterill to either backfill from Rochester or make a couple of new acquisitions in order to keep the Americans intact.
Ondrej Kase is a fairly popular name whose name was in trade discussions going back to the summer. He was dealt to Boston in a package that included a first-round pick, eliminating speculation that he may have been a player teams could get at a depressed rate due to some of his recent injury history and Anaheim's willingness to move him.
My hope for Monday is that Botterill manages to work out a deal along the lines of the Cody Hodgson/Zack Kassian deal swung by Darcy Regier. Or even the Alex Nylander/Henri Jokiharju deal from this summer. Some sort of deal that allows the Sabres to add a player (or two) with the potential to fill a need and contribute for the foreseeable future.
Kase would have fit that mold, though his price may have raised some eyebrows. Other players whose names have surfaced in a similar fashion include Josh Anderson and Andreas Athanasiou, among others. However, it has since been reported that the Blue Jackets would be hoping for a return close to that of what Blake Coleman obtained if they were to move Josh Anderson. So, there aren't too many obvious options for the Sabres to chase ahead of Monday.
Anderson, despite the horrible year he's had would be close to as ideal of an addition that the Sabres could make. He's a big forward with a scoring touch and not only would he add some of the physicality many feel the Sabres are lacking and the skill the Sabres actually need. Whether that's worth the price of a first round pick and a prospect that Tampa paid for Coleman is hard to reconcile. But identifying players with term and talent would make this deadline far more palatable.
It's easier said than done, as more often than not the type of players who are talented, have skill and won't cost a king's ransom to acquire. Identifying low cost additions (like Conor Sheary actually) is the path forward for the Sabres. That doesn't eliminate the need for them to make a splashy acquisition either before Monday or in the summer. But, finding talent outside the typical avenues will allow the Sabres to leverage their limited draft capital while adding to key areas of the roster.
There are a few names that have popped up this deadline season, whether on lists like TSN's Trade Bait post or through scuttlebutt due to healthy scratches. In addition to Anderson, who I'm a big fan of, a few of the others I'd be curious to see the Sabres pursue include Jesper Bratt, Miles Wood and Barclay Goodrow.
Bratt has a pretty decent resume at 21 years old. He's been a scratch recently and would give the Sabres another young burner with offensive upside. Wood's overall impact is more about his tools and less about his overall impacts. He's two years removed from a 19-goal season and his underlying numbers aren't overly impressive. However, he'd add an element of speed and physicality in a bargain version of some of the league's most sought after power forwards. If the Sabres put him in the right situation they might even see some of his underlying metrics improve.
Goodrow, the third name on that list, isn't going to wow anyone with his offensive production. But he has decent baseline underlying numbers and would provide the Sabres with some help at center. At the very least he'd make it easier to keep Marcus Johansson on the wing. He'd also give a bit of cover should Johan Larsson be moved. However, he's already 26 and is an UFA next summer, which would make the prospect of a contract extension a little tricky.
It's far from a perfect scenario but pick one or two of those players listed above, pop them in the lineup after selling a couple of UFAs and at the very least this team is a little more interesting to keep track of in the stretch run. And with any luck they'll enjoy some improvement in the long term.
Blockbusters
The only other lingering question ahead of Monday is if there's a big move to be made. I don't see it, despite recent connections to Florida and Vincent Trocheck. But, that would go a long way towards capturing some fan confidence again.
It sounds like any deal with the Panthers and Trocheck would require Buffalo to start their offer with either Rasmus Ristolainen, Brandon Montour or another non-Rasmus Dahlin defenseman. The Sabres would likely be adding in this scenario, which is fine in my opinion. Even admitting defeat on Montour by dealing him a year after acquiring him wouldn't be so bad if the return is a player of Trocheck's caliber. After all, a first and a prospect would probably get you close on most second centers to begin with. So, if you were laundering that package through Montour, so be it.
Dimitri FIlipovic gave a good write-up on the fit between the Panthers and Sabres, specifically in regards to swapping Trocheck for Ristolainen, but it provides quality analysis as to what the Sabres would gain with Trocheck.
You can list the second line centers who would conceivably be available at the deadline on one hand. The list won't be all that much bigger come summertime either, so any deal the Sabres are going to make will need to be a significant one. It will be a package and it will involve roster players, draft picks and prospects. There's no denying that and given the complexity of those deals, I doubt very much of anything will get done before Monday.
Even if it's just laying the groundwork for a deal to come at the draft, the Sabres are long past the point where they can continue to try and do the same thing over and over again. Jason Botterill doesn't need to be a riverboat gambler on Monday afternoon, but shipping out a couple of the players who have underwhelmed during his tenure and introducing a couple of fresh faces would be an encouraging step with hopefully more to come in the summer.