The Sabres annual prospect's scrimmage came and went last night with a sloppy 5-1 win for Team White.
In a slight change from recent years the scrimmage was held early in the week and the results on the ice reflected that change. With only two ice sessions as a group, the majority of the prospects struggled to find chemistry in a game setting. While the players with more developmental and professional experience stood out for obvious reasons, there were very few true standouts simply based on the disjointed nature of the game that took over at times.
There were some obvious bright spots as one might expect in a six-goal game although a majority of the scoring happened to be done by undrafted camp invites while the organization's prospects contributed in other ways.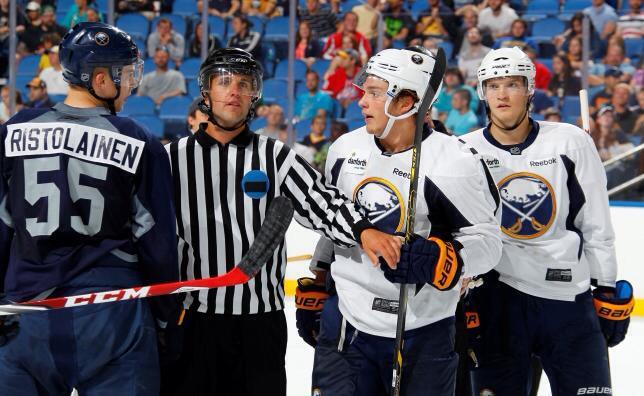 Two of the most obvious standouts were Nikita Zadorov and Rasmus Ristolainen. The two towering defensemen were split between the two squads but they were certainly noticeable when they were on the ice. Zadorov was very active joining the rush and even chipped in with an assist as his booming slapshot caught the end boards and wound up on Jerome Leduc's tape for a tap in to open the scoring.
Zadorov's game appeared measured to me as he was picking his spots and recovering well when he joined the rush. He might need to practice a bit more discretion at times but he continued to display the active style that has made him such an attractive prospect. Furthermore, his physical game wasn't lacking throughout the scrimmage.
Ristolainen was as steady as you might expect a player who split the year between Buffalo and Rochester despite being fresh out of the draft. Since both teams had only five defensemen on their roster the minutes piled up for each and Ristolainen was certainly a beneficiary of that. I think he is a safe bet to pencil into a top-six spot entering training camp as his second professional season is set to begin.
The biggest star of last night's scrimmage didn't even see the ice after the halfway mark of the second period. Linus Ullmark was far and away the most impressive goaltender of the four who dressed last night.
Ullmark's size is a natural gift but it's the way he uses it that makes the young goalie appear to be a sixth round steal. Ullmark moves fluidly in his crease and doesn't simply hang back in his paint to try and fill the net with his big frame. He made a highlight reel stop on a back door opportunity for Colin Jacobs and had a number of other quality saves in his 30 minutes of action. He's able to maintain control of his area and it appears that he has a very calm demeanor in doing so.
I'm very excited about Ullmark's overall potential as he enters his final European season. He continues to show many impressive signs in his development and having the chance to defend the SHL goaltender of the year award should aid in elevating his play yet again.
It was Ullmark's play that kept the Blue Team at bay for most of the night as it seemed as if white was outmatched at times. Shots on goal weren't being tracked on the arena video boards but it appeared that the Blue Team carried the play for longer periods than that of their counterparts. There was one sequence early in the second period that the line of Dan Catenacci, Mikhail Grigorenko and Hudson Fasching cycled for an extended period of time and Ullmark was forced to make a number of saves in tight.
The trio centered by Grigorenko was the one line that managed to carry play in the offensive zone for more time than any other unit on either team. There were nice flashes from guys like Zemgus Girgensons, Sam Reinhart, William Carrier and others, but Grigorenko's line stood out as the most dominant last night.
Grigorenko looked just as smooth as he always does when he's playing with confidence and he made one very impressive individual play in the third period that saw him miss the net high on a quality scoring chance. A few people, including Chadd Cassidy, have talked about Grigorenko's play away from the puck and he seemed to have a noticeable amount of chemistry with Fasching for most of the night. Whether it was in support on the cycle or sinking into the weeds at the circles or in the slot, Grigorenko had a very strong showing for a player who is heaped with criticism at every turn.
Fasching was equally impressive in using his frame to control the puck and create space. His best chances on the night came right on the doorstep but he also put a heavy wrist shot on goal from the right circle while on the move, so he's not just a one-dimensional threat. His most impressive work came behind the net and in the corners as he was nearly impossible to take off the puck. While they didn't find the back of the net it stands to argue that the trio of Catenacci, Grigorenko and Fasching would produce if more scrimmages were to take place. Perhaps Friday will see the trio creating on a regular basis.
Sam Reinhart was solid if not unspectacular last night. Fans are likely expecting the phenom to wow them every time he steps onto the ice but a cerebral player like Reinhart isn't going to blow your doors off with four goals every night. He made some quality plays with the puck when it was on his stick, but he was certainly targeted quite a bit when he was on the ice as well.
Jordan Samuels-Thomas does not appear to be a very strong skater when compared to the rest of Buffalo's prospects. He was easily knocked off the puck a number of times last night and doesn't look steady most of the time. He plays a physically engaging game that should translate well to the pro level, but I wouldn't expect to see too much offense coming from him until his footwork improves.
Brendan Gallagher tweeted his appreciation for the guidance Josh Gorges provided him during their time together in Montreal. I wonder if Gorges might have a similar effect on Brendan Lemieux in the coming years as well. Lemieux lived up to his billing as a pest last night as he garnered the attention of many Blue Team members. At some point I wonder if Lemieux will need to be sat down by a veteran who can help him direct his energy in the right direction.
Zemgus Girgensons put a thundering hit on Sam Reinhart early on but was fairly quiet for most of the night. His linemate, William Carrier made a few very nice plays and I have to agree with those who think he could wind up being an early call up for the club. He uses his size well and has a slick set of hands to go along with it.
Anthony Florentino represented himself quite well last night. He laid a huge hit on Justin Kea early in the game and then had to answer for it later on. He didn't fare too well in the fight as he was giving up a fair amount of size, but his physical game was on display early and often. He got burned by Nick Baptiste as the winger beat him for a goal on a chip and chase play, but the Providence product looked steady one year removed from being drafted.
Friday's three-on-three tournament will mark the end of the 2014 Development Camp and I'm hoping that another day on the ice together will yield better chemistry up and down the roster for the half-ice tournament.