Ask around and most fans and pundits will tell you the Sabres will only go as far as their goaltenders will take them this season. While there are some question marks in the crease, I think Sabres fans may be in for a pleasant surprise this year.
There's a lot of talk about exactly how far Robin Lehner can take the Sabres this season. His health, an issue last year, has served as the single biggest criticism of his game not just here in Buffalo but from his time in Ottawa as well.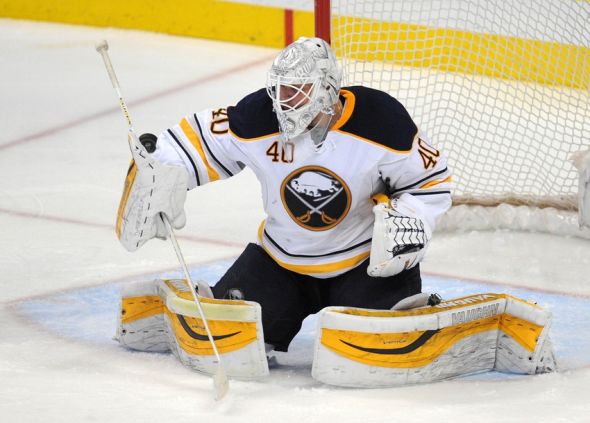 However, given the level he performed at last season and the shape he came to camp in this fall should serve to erase most, if not all of the concerns Sabres fans have about the team's starting goaltender. Tim Murray paid a lot to acquire Lehner and question marks followed him from Canada's capital but there should be nothing but confidence in Lehner entering the season.
The start of Lehner's first season with the Sabres is well documented. Concussion symptoms crept into his offseason training, leaving him overweight for the start of the season. Double down on the high ankle sprain suffered in the opener and the subsequent three-month absence and you're left with an incomplete evaluation of his play.
His play when he returned from injury wasn't just strong, it was terrific. He finished the season with a .924 save percentage and his 5-9-5 record would have been far more impressive with even the slightest bit of goal support from the team in front of him. Five negative decisions came when Lehner allowed two goals or fewer. Extending his save percentage out over the course of the season would give you a top-five finish in the category. Examining his hottest streak points to the potential for an even more dominant presence heading into this season.
In a nine-game stretch from February 14 until March 5, Lehner posted a save percentage of .930 or higher. That includes a four-game losing streak where Lehner allowed a total of nine goals (four against Philly alone) and stopped 127 of 133 shots. It was a dominant stretch of hockey which Lehner wasn't ultimately rewarded for due to goal support.
This preseason has shown more of the same from Lehner, who has been lauded for reporting to camp at a much lower weight than last season. His play through camp and preseason has been tremendous and he's not only shown a propensity to still make flashy saves, he's been more controlled in net.
Credit is certainly due to Andrew Allen for the work he's done with Buffalo's goaltenders. Chad Johnson came to Buffalo as one of the league's worst statistical goaltenders and enjoyed a career resurgence working under Allen last year. Lehner production, when healthy, was that of a goaltender more than capable of carrying the load for a team full time
While Allen's exact coaching philosophy is unknown to me, something that has stood out from watching his wards has been strong, technical movement and the elimination of over pursuing pucks. Johnson made more highlight reels for his desperation saves last year, but when things worked for Buffalo's goaltenders, it was when they were diagnosing plays early and making easy saves time and again.
That was prevalent in the preseason watching Lehner and Anders Nilsson as both netminders did well in their time in net to play under control and use their natural size to their advantage. This was particularly evident with Nilsson, whose NHL resume is spotty at best. He was calm and controlled in net, playing big and putting himself in good positions to make quality saves. He wasn't left flopping, chasing the play or playing too compact something that was slightly more noticeable during his time in Edmonton.
The expectations for Lehner this season are fairly black and white. Play 60-plus games and help carry the team to a playoff position. Nilsson comes in with a slightly tougher work order in some respects. He's not here to simply watch like previous Sabre backups have done (Thibault, for example). He'll need to step in for at least 15-20 games and contribute. He can't be a goalie who only offers a few wins and a 3.00 GAA. Nilsson needs to play as a compliment to Lehner if there's any hope that the team will jump into a playoff spot again.
Given his history that could be something of a concern and it's not always wise to place too much stock in preseason play since the quality of each team's roster can fluctuate so much. However, the early returns from Nilsson are encouraging. He's also played most of his career behind suspect rosters. His time with the Islanders was before they really took the next step as a club and the continued misfortunes of the Oilers are barstool fodder for the most ardent anti-tank defenders. So there's reason to believe that between Allen working to clean up Nilsson's game and playing behind a stronger lineup should result in an uptick.
The Sabres are probably one of the weaker teams in goal league-wide based on preseason prognostication. Lehner hasn't seen a full year in the league and Nilsson is more of a journeyman than proven backup. However, Andrew Allen has proven to have a magic touch and an increase in talent in front of the goalkeepers ought to serve as the rising tide for the two battleships in goal.