What's left to say at this point?
I started this blog in the summer of 2010 as a way to keep writing and it quickly became another outlet for staying connected to hockey. It's always been an enjoyable endeavor, but I guess I underestimated the Sabres' ability to ruin a good thing.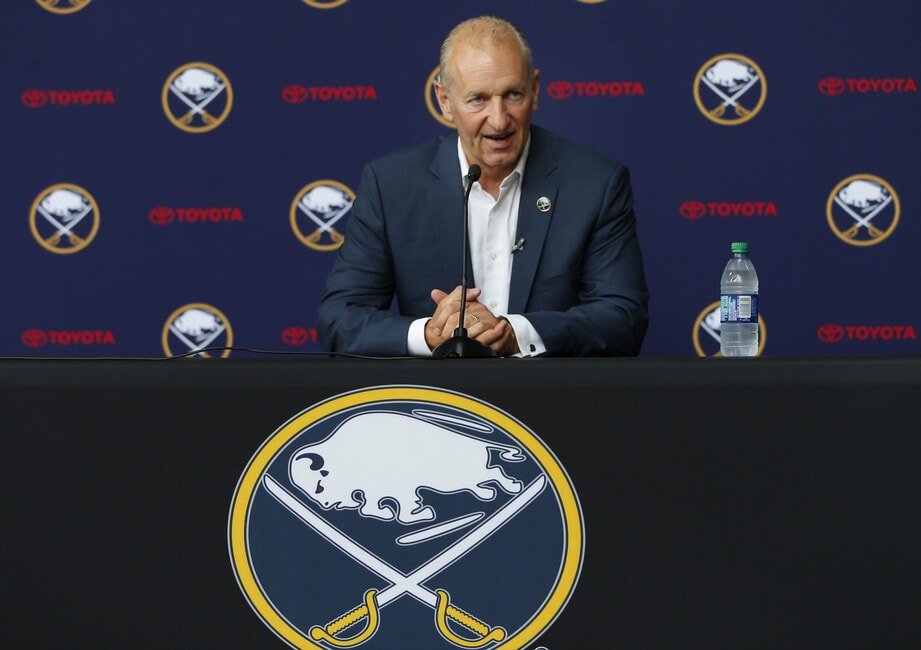 I've never had all that much trouble finding a reason to write about the Sabres, but here we are. There's only so many ways you can look at this car wreck and form a different opinion. Last year I wrote a post questioning what sort of standard the organization is run with. When you see teams around the league fire their coaches while in a playoff position, it's hard to see how the Sabres operate on the same level of their peers.
Another season has been flushed, the players have very clearly quit on their coach and there's no sign that anything will make things better. Ralph Krueger has been a dead man walking for weeks, probably going as far back as February 25 when Jeff Skinner was scratched for the third-straight game. Despite the 11-game losing streak and the horrific display the team has put out each night, it's hard to see Krueger being fired any time soon.
Rumors will run rampant in situations like this; and we've heard everything right up to the owners don't care about the Sabres because the Bills are good. It's not a stretch to think that the Pegulas don't want to pay yet another hockey executive not to work for them. Even if it's not true, every week that Krueger has kept his job has just fueled those rumors.
Krueger will be fired at some point. If there's one thing I'm confident of with this team it's that he will eventually lose his job. Maybe even after tonight's latest dismantling. But firing Krueger only douses one of the infernos raging in KeyBank Center. This is a team with a thin prospect pipeline, a rookie GM (who was running a youth program not that long ago) and a hockey department that was stripped down to the studs just last spring. And if the Sabres put anyone with a previous job at Harborcenter anywhere near the bench – no matter how qualified they might be – they better be prepared for that much more criticism to come their way.
My concern is that firing Krueger only does so much for them. Whether they have a new hire waiting in the wings or if an interim steps in to finish the year, they'll get a short term pop. It's not uncommon to see a team wake up for at least a little while after a coach is let go. It would also be convenient for the insanely low shooting percentages from Taylor Hall and Jeff Skinner to begin to right themselves in the wake of a coaching change, thus giving the team that much more lift. But what comes next?
You can't blame the fans for doubting that the owners will make the right choice in hiring the next head coach. They're only about 1-12 between the two teams they own and even the one they got right took a couple of tries. Whether the Sabres offer an up-and-coming NCAA coach or land an experienced coach like Bruce Boudreau, there's only so much faith you can put in the decision.
And that's what's become so disheartening about this franchise. It seems like the only decisions they ever make are the wrong ones. Why should I expect this decision to be any different?
There's no patience left and it's maybe the one thing they need most at this point. Be it patience with the general manager, patience with a rookie coach or patience for more prospects to develop, there's none left to give.
Given how far they've fallen, the Sabres appear to need upwards of five new defensemen, a goaltender, six forwards or so and about eight extra top-100 draft picks. Anywhere you look with this franchise you find questions. Are the owners too involved? Or do they not care enough? Does the organization allow analytics to inform their decision making? Is the GM qualified? Are they only going to hire Harborcenter employees? Are the players good enough?
Firing Krueger is overdue and beyond necessary. At the very least a new coach ought to inject some life into this roster and the last half of the season will feature some sort of silver lining. Or at the very least, every game won't completely suck. Beyond that is anyone's guess. Kevyn Adams did a fair bit of work to inject talent into the roster in the offseason, but like everything else they try, it's made no difference.
It's hard to look at all of this, throw your hands in the air and say 'well maybe they'll finally get lucky' but that's pretty much where we're at these days. No matter what, they need to start somewhere. Firing the coach seems like an easy first step.