In 50 years of hockey, the Buffalo Sabres have swung their fair share of trades. From minor league swaps to marquee blockbusters, the club isn't lacking when it comes to trade history.
Buffalo's transaction history provides a beautiful cross section of NHL history. From the 70s and 80s eras where blockbusters came about regularly to the modern era where GMs are loathe to make any waves for fear of immediate retribution. In attempt to celebrate some of the club's history, I ran down a list of some of the most noteworthy trades in franchise history. This isn't a proper ranking or numbered list, nor is this meant to be a full accounting of every important trade in club history. Some of these trades in and of themselves are little more than blips on the radar, but they set the stage for bigger things down the road. Meanwhile, others are tried and true blockbusters, noteworthy for all the reasons you'd expect.
One thing that ties them all together is some sort of noteworthy feature or function, whether the inclusion of a franchise cornerstone or setting the wheels in motion for something bigger. Like laying the foundation to acquire a franchise cornerstone.
6/15/1992 – Buffalo acquires Stephane Beauregard from Winnipeg in exchange for Christian Ruuttu and Future Considerations 
This fairly minor deal set the stage for perhaps the most important trade in Sabres history. Less than two months after this deal, the Sabres traded Beauregard to Chicago for the Blackhawks backup goaltender, Dominik Hasek. Two Hart Trophies, Two Pearson Awards and six Vezina Trophies later, the Sabres had one of the greatest players in franchise history and it really only cost them Ruuttu and the draft pick that became Eric Daze.
Interestingly, Beauregard spent more time with the Sabres (about two months) than he did with the Blackhawks. Chicago sent him back to Winnipeg in exchange for Ruuttu just three days after acquiring him for Hasek. Bringing the trade tree full circle.
11/16/1995 – Buffalo acquires Vaclav Varada, the rights to Martin Spanhel, Philadelphia's 1996 4th round pick and either Philadelphia's or Toronto's 1996 1st round pick (to be determined by Philadelphia) from San Jose in exchange for Doug Bodger
This trade may be somewhat innocuous despite the number of assets involved,  but it would set off a series of events that would land the Sabres one of the most iconic and popular players in franchise history. The crux of the deal is the first round selection that Philadelphia was to designate in the trade.
The Sharks had acquired both the first and fourth round picks earlier that day as they dealt Pat Falloon to the Flyers. Philadelphia had the option of picking between their own selection and Toronto's, which the Flyers had previously acquired by sending Dmitry Yushkevich and their 1996 second round pick to the Leafs in exchange for a 1996 first, a 1997 second and LA's 1996 fourth. The draft shook out with Toronto's pick falling 15th and Philadelphia's slotting in at 24. So it made sense that the Flyers opted for the higher of the two picks. They'd pick eventual Buffalo Sabre Danius Zubrus with the selection.
Philadelphia's decision meant the 24th pick was the one they surrendered in the 1996 draft. That 24th pick wouldn't stay with the Sabres for long. Later in the 1995-96 season, the Sabres would send that pick, along with Craig Muni, to Winnipeg in exchange for Darryl Shannon and Michal Grosek – those two, along with Varada would be key members of the 1998 and 1999 teams. Winnipeg would move to Phoenix that summer and the Coyotes would use the 24th selection in the 1996 NHL Draft on a small center from Drummondville of the QMJHL named Daniel Briere.
Fresh off a 163 point season in 95-96, Briere would return to Drummondville and only put up 130 points the following year. He'd sign his pro contract in 1997 but struggled to catch on over the next four seasons. He'd enjoy a breakthrough of sorts in 2001-02, scoring 32 goals and 60 points and he was sitting on 17 goals and 46 points on March 11, 2003 when he was traded to Buffalo along with a 2004 third round pick (Andrej Sekera) in exchange for Chris Gratton and Buffalo's 2004 fourth round pick (Liam Reddox).
Briere's tenure in Buffalo was short than we all would have preferred but after 92 goals and 230 points in 225 games, the results of the Doug Bodger trade certainly paid off for the Sabres.
3/10/1981 – Buffalo acquires 1981 3rd round pick (Colin Chisolm) and 1983 1st round pick (Tom Barrasso) from Los Angeles in exchange for Rick Martin
Regular readers of this site or my Twitter account will be familiar with the combined Don Edwards/Rick Martin trade tree which I've been updating over the last few years. This trade was the genesis of the massive trade tree which is still active today.
The trade that sent Rick Martin to Los Angeles worked for the Sabres in both the short and long term. Martin was aging out of the league – he'd play only four games for the Kings – and the Sabres pounced on his sterling career and 45-goal 1979-80 season the year prior. Barrasso stepped right into the NHL from high school and won the Calder and Vezina as an 18-year old rookie. He carved out five years in Buffalo before being dealt to Pittsburgh where he'd win a pair of Stanley Cups.
In the long term, the return from the Martin trade continued to pay dividends. The trade has tentacles in a number of major deals the Sabres have made over the last 30 years, an astounding fact given the original trade included only three pieces. There aren't many signs that the trade tree is going to peter out any time soon either. Prospects Ukko-Pekka Luukkonen, Rasmus Asplund, Aaron Huglen and Ryan Johnson are all products of this deal. As are Brandon Montour, Tage Thompson and Colin Miller.
6/8/1982 – Buffalo acquires 1982 1st round pick (Paul Cyr), 1982 2nd round pick (Jens Johnasson), 1983 1st round pick (Norm Lacombe), 1983 2nd round pick (John Tucker) from Calgary in exchange for Don Edwards, Richie Dunn and a 1982 1st round pick (Rich Kromm)
It wouldn't be a 2ITB blog post if I didn't beat you over the head with the Martin/Edwards tie-in. Beyond the connection to the Martin tree, this trade was a whopper. The crossover with Martin's trade tree makes it that much more interesting.
Edwards finished his Sabres career as the franchise leader in victories, not to be surpassed until a guy named Dominik Hasek came along. Edwards now sits third in franchise history, behind Hasek and Ryan Miller. Coincidentally, Miller's acquisition can be traced back to Buffalo's decision to trade Edwards.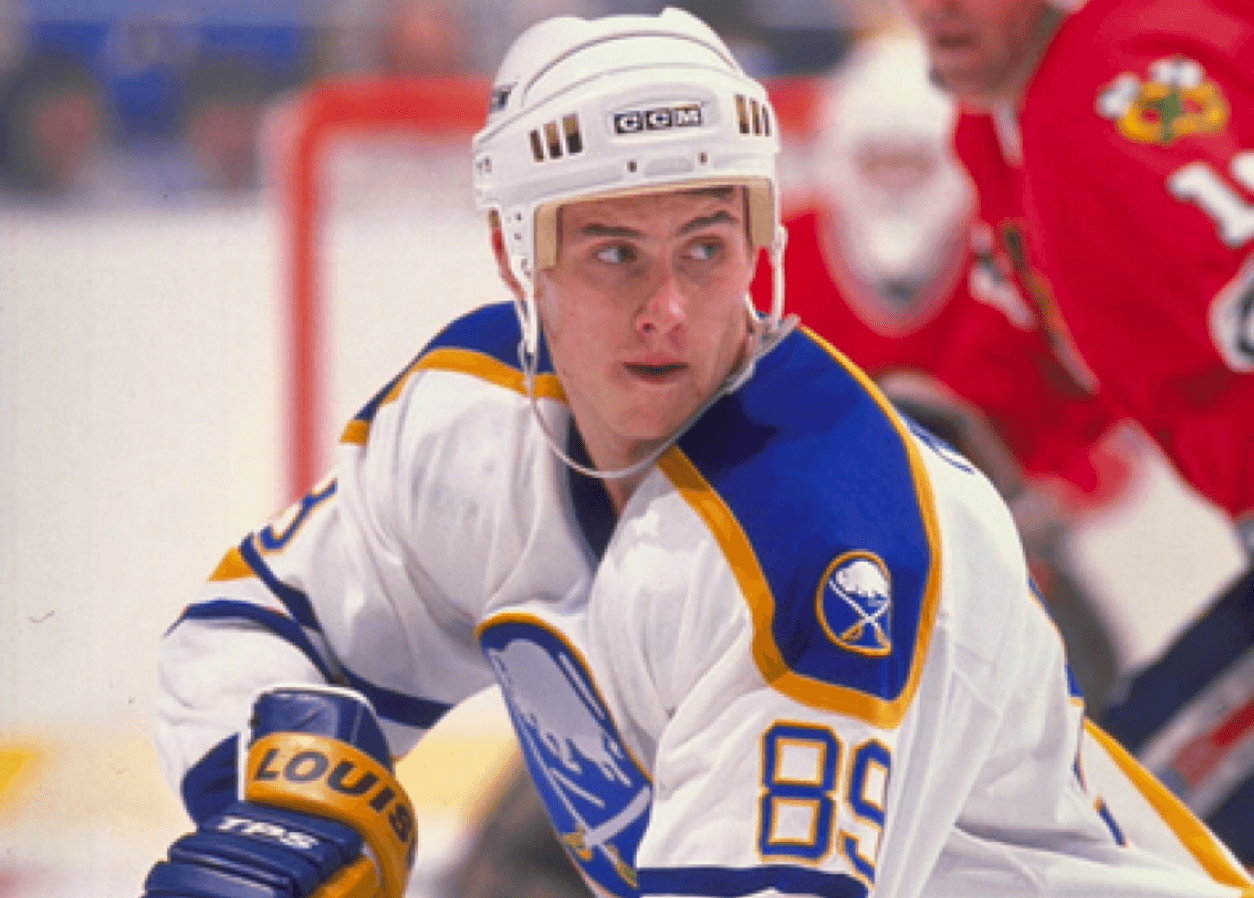 Aside from John Tucker, this trade didn't net the Sabres any massive windfall in the short term. Tucker's Sabres career was a good one, and he has his own interesting trade history, effectively being traded for himself at one point. As for the others, Johnasson never came to North America, Cyr was a quality forward but by no means a major star and I'd argue that Lacombe never really reached his draft pedigree (10th overall). It was Cyr who would play a key role in the future of the franchise. He was moved to the Rangers in 1987 and that's where the fun begins.
Cyr's departure wasn't much of a to-do given what you might assume about trading former first round picks. He was dealt for Mike Donnelly and a fifth round pick. It just so happens the the Sabres used that selection on Alexander Mogilny. Over 200 goals and 400 points later, the Sabres seem to have made out pretty well. Mogilny is also the key cog in the long term windfall from the original Edwards trade. Miller, Michael Peca and Evander Kane are just a few of the players who trickled down from the return the Sabres got for Mogilny in 1995.
12/2/1981 – Buffalo acquires Mike Foligno, Dale McCourt and Brent Peterson from Detroit in exchange for Jim Schoenfeld, Danny Gare and Derek Smith
It had to be tough to see two franchise icons like Gare and Schoenfeld shipped out after the pair combined for over 1,000 games in blue and gold. Sean McIndoe has a great breakdown of this trade on The Athletic for those of you who subscribe.
Maybe it was just the era, but the Sabres seemed to have a knack for keeping themselves afloat with star talent even when shipping out key core pieces. Foligno ranks right up there with Gare and Schoenfeld as far as the franchise popularity contest goes. It helps that he scored over 500 points and 200 goals in 10 seasons with the Sabres. Also, did you know Foligno eventually played 39 games for the Panthers before he retired? The Panthers!
Anyway, the trade is still a whopper. Gare and Schoenfeld were huge parts of Buffalo's Cup run in 1975 and helped make the Sabres the power they were in the late 70s. In addition to their Cup run, the Sabres grabbed three Adams Division titles, five 40-win seasons and two Prince of Wales trophies. Of course, all the Sabres managed to snag in exchange was a player who became another franchise icon. Meanwhile Schoenfeld only lasted two years with the Red Wings and Gare's numbers in Detroit paled in comparison to what he did in Buffalo. It's another in a fairly long list of blockbusters the Sabres have executed over the years.
2/3/1993 – Buffalo acquires Grant Fuhr and a 1995 5th round pick (Kevin Popp) from Toronto in exchange for Dave Andreychuk, Darren Puppa and a 1993 1st round pick (Kenny Jonsson)  
Aside from the Turgeon/LaFontaine swap, I think this probably goes down as the biggest blockbuster in team history, no? It also is probably one of the few blockbusters in team history which didn't necessarily work out for the Sabres.
That isn't to say Fuhr wasn't good during his time in Buffalo. But he only wound up spending parts of three seasons here as Dominik Hasek's emergence wound up making Fuhr excess goods. In fact, it was nearly two years to the date on Furh being acquired that he was traded to Los Angeles.
I say this deal didn't necessarily work out for the Sabres not because of Fuhr's play – he maintained similar numbers from his time in Edmonton and Toronto through his tenure in Buffalo and beyond. Nor is it because the Sabres didn't benefit when they moved Fuhr. The trade that sent him to LA brought back, among others, Alexei Zhitnik. Flipping an extra goalie (hard to refer to Grant Fuhr as extra) for a player who served as a cornerstone of the 99 Cup team is nothing to scoff at.
What's tough to stomach about the deal is that the Sabres sent so much for Fuhr in hopes of shaking up their core and shoring up their play in net. Andreychuk is still third in franchise history in goals, Puppa was a quality goalkeeper who'd play eight more years and the pick turned into Kenny Jonsson who'd play over 600 games in the league. Maybe I'm looking at this incorrectly but with the Sabres endeavoring to improve in goal and perhaps shake up a roster that hadn't gotten out of the first round in seven years, Fuhr was barely here before moving on to his next destination. He did serve to accomplish at least one goal of the franchise, winning three of the four games in the first round sweep of the Bruins in 1993, including a 34 save shutout in game two. But overall, it feels light given how much was shipped to the Leafs. 
10/25/1991 – Buffalo acquires Pat LaFontaine, Randy Wood and Randy Hillier from NY Islanders in exchange for Pierre Turgeon, Dave McLiwain and Benoit Houge
Not dissimilar to the note above, this trade came down in a run of massive blockbusters in the early 90s from general manager Gerry Meehan. In the midst of a seven-year run of first round exits, Meehan shipped out key figures such as Andreychuk, Phil Housley and Turgeon in a span of four years, bringing back major star power in LaFontaine, Fuhr and Dale Hawerchuk.
The trio of trades shipped out three, high first rounders, including Turgeon, who went first overall in 1987. Meehan also brought back a former first overall pick (Hawerchuk) and a third overall pick (LaFontaine). While the Fuhr trade capped the overhaul, it's the LaFontaine trade that really defines Meehan's run. Just over a year after the four-player deal centered around Phil Housley and the pick that became Keith Tkachuk for Hawerchuk and the pick that became Brad May (another one of the franchise's whoppers), Meehan swung another monster. He shipped out his former first overall pick and Houge – who never came out of his shell in Buffalo – for an established star in LaFontaine.
LaFontaine would get a letter slapped on his jersey and combine with Alex Mogilny for the greatest offensive season in franchise history, picking up 53 goals, 95 assists and 148 points while helping Mogilny to a franchise record 76 goals and 127 points. LaFontaine would be inducted to the Sabres Hall of Fame in 2004 and have his number retired in 2006, cementing his legacy as one of the franchise's greatest players.