It was a busy Sunday if you're a Sabres fan. Andy Strickland kicked things off with speculation that connected Rasmus Ristolainen with the Tampa Bay Lightning but that was quickly squashed by Darren Dreger.
But Strickland's Tweet got the Sabres fanbase frothing and it was only a few hours later that Jason Botterill pulled the trigger on his biggest trade since acquiring Jeff Skinner, sending a first-round pick and Brendan Guhle to the Anaheim Ducks for Brandon Montour.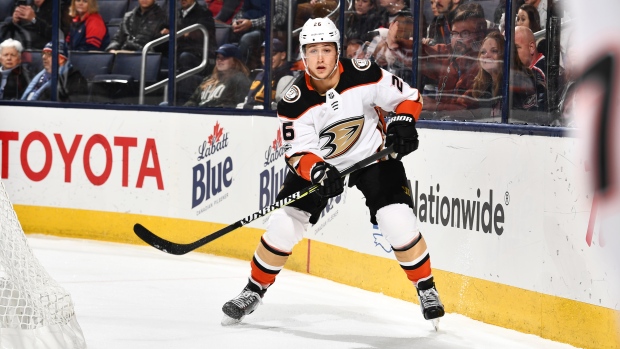 As someone whose been a fan of Montour's for some time, I'm over the moon that he's going to be wearing blue and gold for the foreseeable future. Botterill paid a fair price for the honor of acquiring Montour, but he also pulled from two areas he has additional assets so he isn't stripping his cupboards bare with the package.
As I pull off the homer hat, I feel the trade works well for both teams. The Ducks have been rumored to be considering significant changes to their roster for some time and Montour is the first big name to be shipped out of Orange County. With the Ducks in a tricky position of accepting the need to retool (or maybe even dive into a full rebuild), getting younger, cheaper help was going to be key in any moves they made. Guhle checks those boxes as he still has another year left on his entry level deal and at 21 he slots in with other young defensemen in their system such as Jacob Larsson.
The first-round pick, is what it is. It's the going rate in NHL trade circles. If you dig deep on draft pick value, the pick the Ducks will get is only slightly more valuable than the second-round pick Buffalo sacrificed in the Skinner deal. And even that is only slightly more valuable than the third-round pick the Sabres will likely retain in the wake of the Sheary-Hunwick trade. However, it's still a first-round pick. That's where you're most likely to find difference makers and for a team in need of young talent, the Ducks got what they needed.
For the Sabres, they got a young, right-handed, puck moving defenseman with term on his contract and club control upon its expiration. If you're specifically concerned about the cost of a first-round pick in the deal, Montour almost certainly offers the value you would hope to see Buffalo get from the pick. At 24 he has more than enough runway that you can also remain confident that he'll be around just as long as the pick would have been as well. At least in terms of the typical return from a pick at the bottom of the round.
One reason I feel so good about the deal, from a Sabres perspective, is the overall package they sent to Anaheim. About 48 hours prior to the trade going down, Pierre LeBrun, Darren Dreger and Bob McKenzie agreed that Montour would have been someone Toronto fans would have loved to see but the price Anaheim was seeking was steep. They loosely connected both Kasperi Kapanen and Andreas Johnsson to the deal, adding that it would take a package to fetch him from the Ducks. So to see the Sabres sacrifice only one prospect who I would slot slightly below guys like Kapanen and Johnsson, makes me feel that much better about the deal.
It's hard to see Guhle move on after hitching so much hope and promise to him after he wowed in his draft year. Drafting Rasmus Dahlin and finding Lawrence Pilut certainly helps soften that blow, but Guhle was once seen as a big piece of Buffalo's future. Even as he struggled to break through the logjam on the left side there was reason to believe he was still knocking on the door. But not only does Montour offer up a similar opportunity for long-term contributions, but a proven experience at the NHL level, something the Sabres are sorely lacking.
There is some debate related to Montour's underlying numbers. Randy Carlyle's general approach to the game and Anaheim's struggles this year have been brought up. But without going down the Rasmus Ristolainen rabbit hole, I'm encouraged by Montour for his puck-moving prowess and that he's had a positive relative impact on his teammates. This is also only his second full NHL season and his fourth pro season. He's pacing to surpass his 32-point rookie season and if he trends to become a 40 or 50-point defenseman, this will be a huge win for the Sabres.
Jason Botterill has caught criticism for sitting on his hands as the team slipped out of the playoff picture, but he's inherited a difficult situation as both the NHL roster and pipeline needed attention. That's a difficult balancing act with an impatient fanbase and core talent that is good this instant. He needed to stockpile picks to refill his prospect pipeline but those very picks offer the value in the trade market to acquire NHL talent.
We'll have to wait and see what Botterill does with his other bonus first round selection. I suspect he wants to sit on those two picks and use them in June. Buffalo's pipeline is in desperate need of an injection of forward talent. Those two picks could go a long way towards remedying that weak spot. And by investing one now, he isn't banking too heavily on what those later firsts will bring about another year or two down the road.
The trade genuinely feels like a good acquisition for both sides. The Ducks get an extra first to work with and a quality prospect to stuff into their pipeline. Buffalo gets an NHL body who ought to slot into their core for a number of years to come and they got him for one of their surplus firsts and a prospect many would agree had been surpassed on the organizational depth chart.
Botterill has plenty of work left to do. The Sabres are still in need of center help and for all my blathering about draft pick value, it wouldn't hurt to snag a few more darts to throw in June. He checked a pretty big box in getting a young puck mover for the right side of his blueline, a player who should offer a fair bit of long-term stability while allowing the GM to focus on the other areas of need.