The talk of the offseason in Buffalo will be over who Kevyn Adams finds to form a goaltending tandem with Craig Anderson. The goalie market is expected to be pretty hot as upwards of eight teams could be on the hunt for a starting caliber netminder. The Sabres will be among that group with Anderson expected to continue to lend a veteran presence in the locker room while playing somewhere around 25-30 games in the 2022-23 season.
Who the Sabres opt to acquire – or perhaps more fittingly, who they're able to acquire – will give a strong indication on how the season will go. Land a primary target and the good vibes from the end of 21-22 will keep rolling with optimistic expectations for the coming season. Strike out and repeat the UFA day scramble of a year ago and suddenly the outlook on next can shift dramatically.
We've seen plenty of reporting that points to Buffalo's desire to keep the tracks clear for Devon Levi, Erik Portillo and even Ukko-Pekka Luukkonen. That indicates that a long-term, big-money acquisition is probably off the table. It seems likely to me that the Sabres will find something akin to Carter Hutton this offseason. A veteran goalie willing to sign a middle-term deal who offers some promise as a starter but lacks a more prestigious resume.
With that in mind, I've laid out the pros and cons of signing or trading for some of the goaltenders who are UFAs or have been rumored to be available via trade and whether or not the Sabres could realistically land each goalkeeper.
Jack Campbell
Pros – Definitely a vibes guy. Anyone who watched All or Nothing probably picked up the sort of locker room guy Campbell is and he would certainly fit the mold of guys the Sabres are looking for. He's also shown the ability to be a capable starter, although maybe not an upper echelon star. He would give the Sabres a steady hand in net as they look ahead to their goalie or goalies of the future.
Cons – Affordability is going to be an issue here. Specifically on the term Campbell will likely demand. As we are all aware, cap hit is not an issue for this year's Sabres team. If the only issue was meeting an ask of $5.5m, I don't see how that's a problem. But I do get the impression that a four or five-year deal will be what Campbell is seeking and I don't think that's something the Sabres have much of an appetite for. A bigger contract ask may keep them out of the running with a number of players, Campbell being one of them. Beyond that, Campbell may not be capable of moving the needle as much as the Sabres may need. MoneyPuck has him as a -1.1 goals saved above expected. Are the Sabres good enough to help boost that figure or do they need someone who can carry them as this young team finds its footing? One last thought. After a couple of years with one of the league's premier teams, does Campbell prefer to seek an upgrade to a team that may be considered closer to a Cup run?
Semyon Varlamov
Pros – Varlamov's contract fits the Sabres beautifully. With one year remaining at $5m, he helps fill space to the cap floor and is no risk to the club's pipeline. He's had an ever so slight regression as Ilya Sorokin has established himself but Varlamov has a starter's resume and would be capable of carrying the water for the Sabres in tandem with Anders.
Cons – Despite the Islanders needing cap space and having an heir apparent poised for a larger role next season, reports indicate the Islanders would need a fairly significant offer to move Varlamov. That's disappointing because under normal circumstances, the cap relief should help lower the cost for and acquiring team. Paying a premium for one year of a 34-year old goaltender isn't the sort of business the Sabres should be doing. I also wonder how he will look away from the tutelage of Mitch Korn and the relative safety of Barry Trotz' system.
Ville Husso
Pros – I think I may be in the minority here, but I don't have a ton of faith that Husso breaks the bank this offseason. I think he's far more likely to receive a nominal upgrade in pay on a fairly short-term contract. Something like three years and 4.25m. That's just my gut but I feel like his playoff performance is going to remind teams of his struggles prior to this season. Why is this a pro? Because getting in on Husso for a three-year deal would be ideal for the Sabres. You're not blocking any young goalies and getting someone who played very well the year prior and can take on a healthy number of starts ahead of Anderson. He also sports some very cool, vintage-inspired masks. A definitive feather in his cap.
Cons – You have to be wary that Husso is a one-year wonder. His career stats hardly impress and Sabres fans can attest to signing a Blues goalie who got hot over the course of a single season. The track record here is really worrying to me from a Sabres perspective. I'd have a hard time fully buying in to him being the goaltender to carry them to the next level.
Darcy Kuemper
Pros – For starters, he just won the Stanley Cup. Beyond that, he's a quality goalie with size. Buffalo could pencil him in for 45-50 games and feel very comfortable with the decision. Did I mention the Stanley Cup?
Cons – He wasn't exactly driving the bus for the Avs this year. There were even calls for him to be replaced at different points in the postseason. He's also bound to pull in a hefty payday from a desperate contender. Kuemper and Marc-Andre Fleury are the two goalies I expect the Sabres to be out of the race on due to their ask on cap hit and term.
Marc-Andre Fleury
Pros – Like Campell, MAF is a phenomenal vibes guy. If the Sabres are as serious as they sound about growing love for the team in the fanbase, Fleury does that for them. He's also provent hat he has a lot of good hockey left to play. His stint in Minnesota didn't go quite as planned but he's still looked like vintage MAF these last few years. The Sabres need starting talent and he'd bring that in spades.
Cons – I don't think Fleury is going to ask for five or six years. So contract terms should preclude the Sabres from calling. However, I do think he's looking to win one more Cup and thus, will latch on with a competitor as opposed to a team working through a rebuild.
James Reimer (or Adin Hill)
Pros – I've seen the Sharks flagged as a team that could ship out a goalie a bit recently, including the Maintenance Day podcast and while they have a new general manager, I'd assume Kaapo Kahkonen would be safe. Of the pair, I think Reimer offers the Sabres the most upside, as I'm not a huge Adin Hill fan. I'd think of Reimer as Varlamov-lite. He's a capable starter who could help bridge the gap of this rebuild with little to no threat of blocking the goaltending pipeline. Hill is younger, so you could argue he has a higher ceiling and the ability to re-sign him beyond this season is notable. I'd also expect the price on both to be manageable compared to other trade targets.
Cons – Neither of these guys are going to make the Sabres an overnight contender for the Jennings. Both would be firm bridge pieces with little long-term outlook. I also question how much they'd move the needle in terms of competitiveness this season. They'd be an upgrade over Aaron Dell, but how much confidence does that inspire?
Braden Holtby
Pros – Stanley Cup resume along with plenty of time spent as a 1A. Holtby didn't get to play all that much in Dallas but it seemed as if he stabilized his game as compared to his stint with the Canucks. If he can get a similar level of protection here, I think he'd give them the chance to win most nights. As a free agent he's also likely to be available at a far cheaper acquisition cost than someone like Varlamov.
Cons – Injuries limited him to 24 games last season and he's only made 43 starts over the past two years. Can you count on a tandem of Holtby and Anderson to stay healthy across 82 games or are you flirting with Michael Houser getting an NHL deal for a third straight year?
Thomas Greiss
Pros – Has played goalie in the NHL

Cons – The last few seasons.
Martin Jones
See above
Jonathan Quick
Pros – Only one year left on his deal, and as last season showed, he still has something to offer a team. Quick would also give the Sabres some healthy relief towards the cap floor, making that task much easier to complete. His play is the biggest standout here. 2021-22 was a revelatory year for him after three below average seasons. He'd be a definitive upgrade in net and would probably even sell a few tickets as a two-time Stanley Cup champion.
Cons – There's almost no chance he's made available. While the Kings could stand to spend less in net, Cal Petersen didn't take hold of the crease the way he would've been expected after signing an extension and Quick getting the nod in all seven starts against the Oilers shows just how the Kings feel about him. Plus, as a franchise icon I find it hard to believe the Kings would be willing to ship him off in the final year of his deal.
Alexandar Georgiev
Pros – One of the younger goalies available this summer. Georgiev offers a team the opportunity to add for today and the future. He is an RFA (with arb rights) so there is still team control on this next contract as well.
Cons – I'm not sure he's any good. Meanwhile the Rangers are reported to be asking for a haul for him in any trade negotiation. Assuming the reported asking price of a young player or prospect in addition to a quality draft pick is true, that feels like a heavy overpay for a goalie whose best year came in 2019. Feels like a huge gamble for a package that probably includes a top-100 pick and a decent prospect.
Matt Murray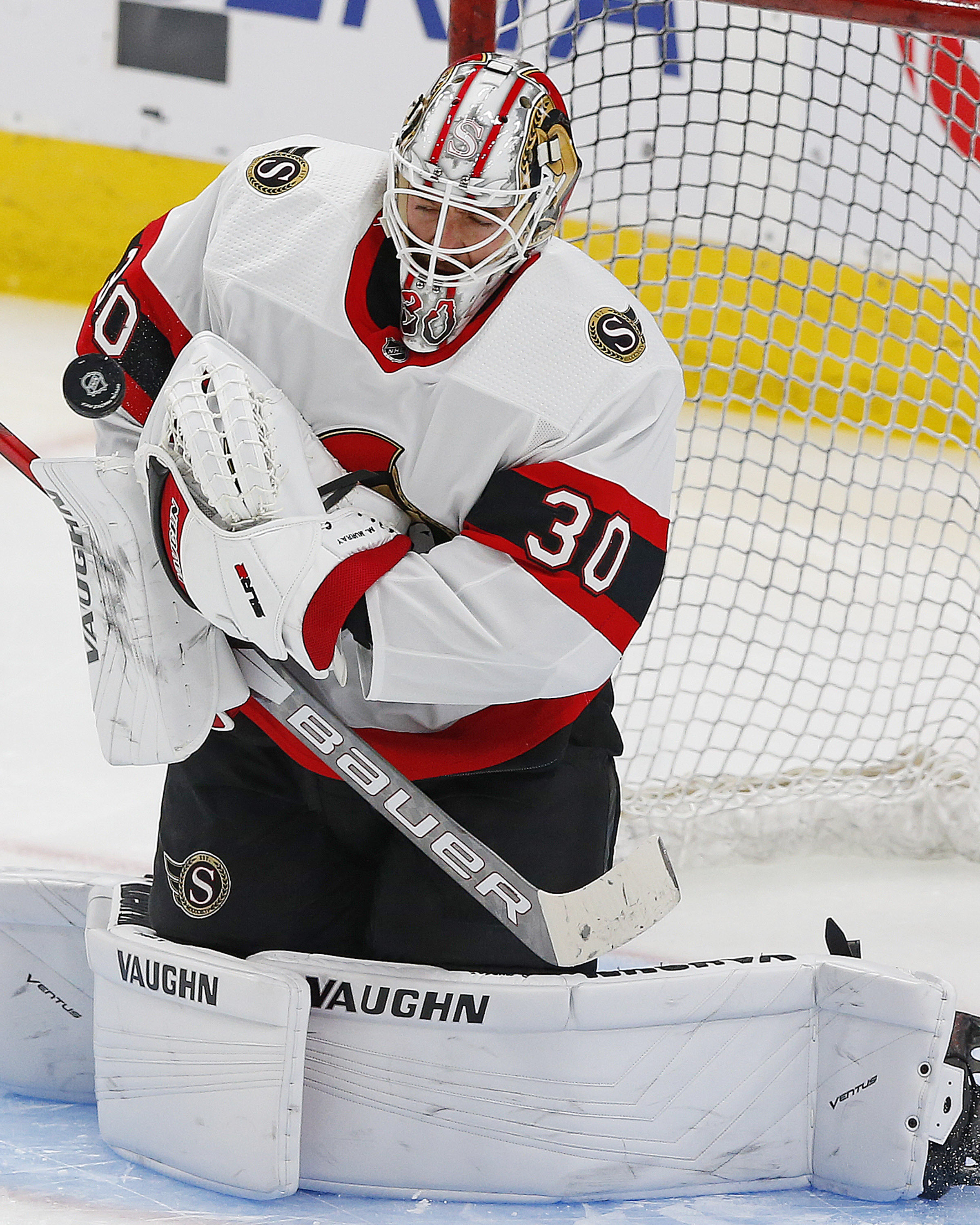 Pros – Speaking of guys who might not be any good. Murray's play in Ottawa and his contract status makes him difficult to move. His profile is one that would require the Sens to pay to offload. That payment could be a fairly premium asset as well. If the Sens are offering you someone of legitimate quality to eat Murray for this season and next, it's worth it to me. He's going to eat plenty of space to the cap floor and it's a short-term addition while you're still in your build window. It's a worthwhile risk.
Cons – He has been bad. Full stop. It's hard to take on that sort of risk with a young core without knowing the payment is worth it. A 2nd or 3rd round pick is harder to square with his performance. Plus, for a team running on good vibes, potentially eating losses due to sub-par goaltending could be a huge issue with their plans for this rebuild.
Update: Elliotte Friedman reported that the Sabres and Senators were deep in conversation about a deal including Murray but the goaltender stuck to his no-trade list, thus killing any deal.
Sergei Bobrovsky
Pros – Bobrovsky would be another goalie who you're getting paid to take. It's been reported that the Panthers have been shopping him and are willing to eat salary to move him. I presume they'd chip in another piece along with that retention. Though probably not a premium asset. Playoff Bob is clearly a problem, but for a team with very little in the way of playoff aspirations, he'd offer the Sabres a legitimate upgrade in net as they try to dig out of this drought. There's also the option of retaining even more on his deal and flipping him to a goalie needy team to double down on the return, which is a fun option to spitball.
Cons – If you're keeping him around, you've got him for four seasons. Does that affect your plans with the goalies in the pipeline? Even if his cap hit is reduced, do you want to carry a goalie to his age 37 season? I'm not the biggest Bobrovsky fan to begin with, so I'd be fine staying out of this fray altogether. Though, the ability to fetch an asset for a goalie who will bridge the Sabres through the rebuild is tempting.
Eric Comrie
Pros – Comrie is another UFA who will cost the Sabres nothing but money. He shouldn't require a huge payday, so they don't need to overspend in order to find their second goalie if he is among their targets. Comrie also isn't going to be in the top group of free agent goalies, so the Sabres probably won't feel like they're competing with a number of competitors for his services. Comrie had a pretty nice season for the Jets in 2021-22 and is deserving of more time, especially when you look back at the four previous years when he was bounced between the NHL and AHL. His resume is lacking but he'd make for a decent partner for Craig Anderson.
Cons – His resume is lacking and there would be a level of risk entering the season with Comrie and Anderson as the 1-2 punch in net. He's played 28 total NHL games and over half of them came last year. It would be hard to have a lot of confidence in that duo.
John Gibson (and Connor Hellebuyck)
Just a couple brief thoughts on these two. Gibson mainly. The cost to acquire either (assuming Hellebuyck is even available) is going to be well outside the ballpark the Sabres are operating in. You're looking at a first-round pick plus at least one quality young player or prospect. Perhaps both. You're also throwing a fairly significant roadblock in front of the young goalies the team has otherwise been bending over backward to usher into an entry level contract. Moving for a goalie like Gibson or Hellebuyck would indicate a pretty significant paradigm shift in net from developing for a goalie of the future to an immediate fix. I also question if that would be the sort of move they feel ready to make at this point in their rebuild as compared to next summer.
Laurent Brossoit
Pros – Almost certainly a low acquisition cost as Vegas are expected to shed salary where they can. He's been a career backup, so the price would have been low to begin with. Knowing the need for Vegas to create space would likely drive that cost way down.
Cons – I'm not a believer in his at all. I think he's a very average backup and acquiring him to take on any larger role would be a massive gamble. Even for a team that isn't expected to be in the thick of a playoff race. You may also consider Robin Lehner as a potential target given how the year ended but I'm guessing the coaching change will placate him for now.
There are more goalies you could connect to trade rumors (both of Washington's keepers come to mind), but this list feels pretty comprehensive without going too far down a rabbit hole of who is or isn't available. I've gone back and forth on what I hope to see the Sabres do when acquiring a goalie. At this moment, the free agent route feels more attractive assuming any move is made with the near term in mind. I'd really only be open to a trade if it's for someone who offers them even the slightest bit of long-term return.
We'll see if Kevyn Adams swings a deal before Thursday or if he waits until free agency to make another addition in net.