As the season heads into its final month, one of the biggest holes on Buffalo's roster for the offseason is in net.
The Sabres are currently set to the summer with no goaltenders under contract and a lot of questions over what the future in the crease looks like. Ukko-Pekka Luukkonen is a restricted free agent and is the only sure thing the Sabres have in terms of playing games in either Buffalo or Rochester in 2022-23. Beyond that, it's a crapshoot.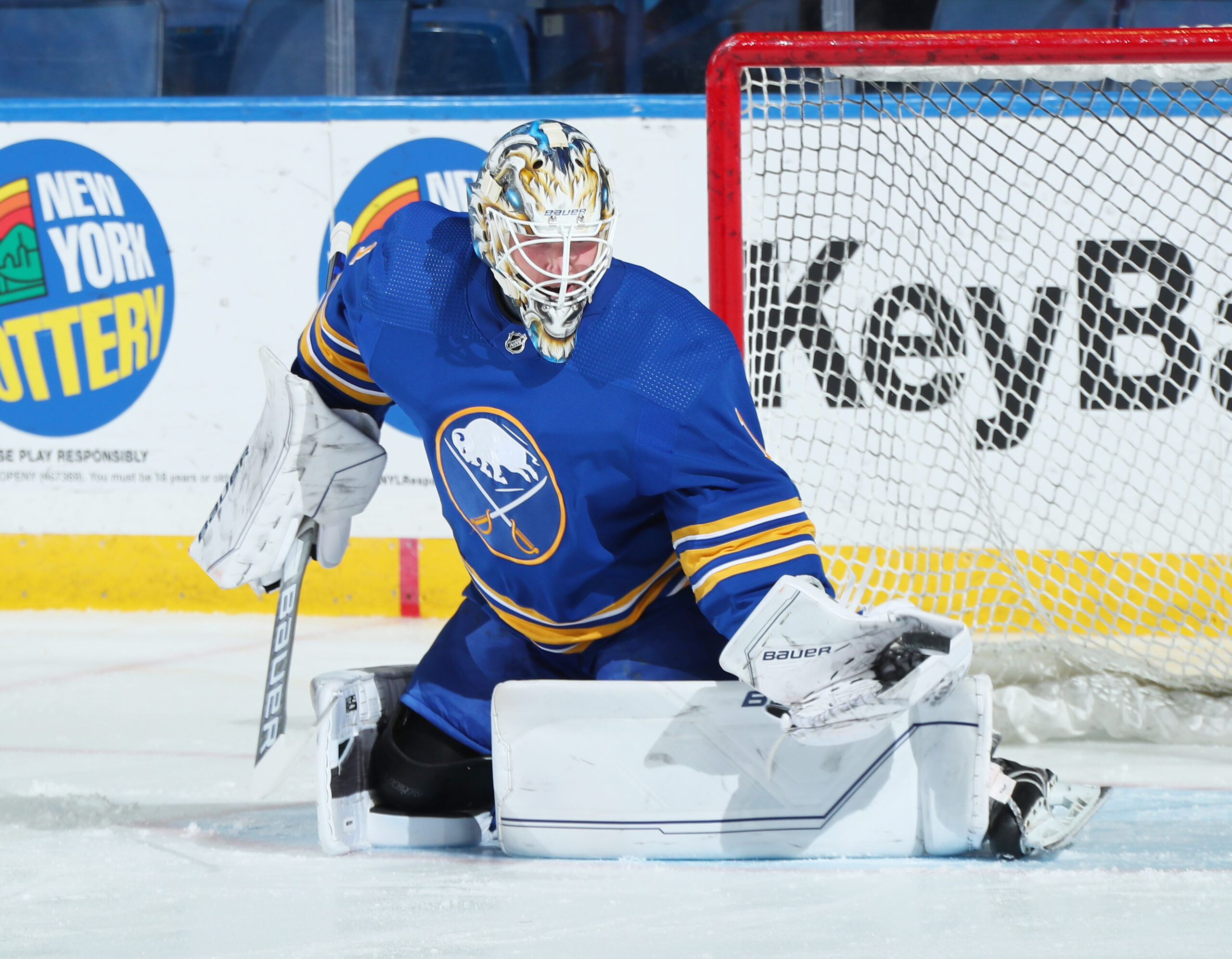 Buffalo will need to acquire a minimum of two goaltenders this summer. One to play the lion's share of the games in Buffalo and the other to share time in Rochester (ideally with one of Buffalo's promising young collegiate prospects).
Any assumption that Luukkonen should be stepping in as Buffalo's starter for the 22-23 season is premature to me. Luukkonen has played only 13 NHL games between two seasons and he suffered an injury in each of those runs. Even taking into account the poor play in front of him in Rochester, his resume isn't that of a goalie who is ready to step into an NHL starter's job. I think it would be far more appropriate for Luukonen to play somewhere in the neighborhood of 30-to-35 games behind a steadier veteran presence.
Bringing Craig Anderson back has been a popular refrain as he's offered a reliable option since returning from injury. There's a reason the Sabres odds against Winnipeg tonight are only +140 at Betway and not much steeper. There's also a reason that the over/under of 6.5 for tonight's game is a good bet of late. Anderson has been a big reason the Sabres vibes have been so good. However, his numbers this year are still quite average. He's sporting a -5 goals saved above expected and his .901 save percentage falls in line with the downward trend of his last few full seasons in Ottawa.
Consider as well, he is 41 years old and missed a significant portion of the season to injury. Does he fit the profile of a goalie who can help the Sabres take the next step?
The Sabres are in a curious spot in that regard. They won't likely be a playoff contender in 22-23, but the season should still be one where the club takes a substantial step forward in their rebuild. They need to balance their desire and ability to take that step while leaving room for their key young players to improve in their own development as well.
They invested a fairly high pick in Luukkonen, and they have two more promising prospects in their pipeline. Ideally, one of those three establishes himself as a bonafide NHL starter and secures Buffalo's long-term future in goal. Does that preclude the Sabres from taking a big swing for a goalie in free agency or via trade? Or do they target a short-term option who can offer a competitive edge while bridging the gap to Luukkonen, Levi and/or Portillo?
This summer's free agent market isn't exactly brimming with talent. The most notable names are Marc-Andre Fleury and Darcy Kuemper. With Jack Campbell and Ville Husso likely to cash in on the open market as well. Beyond that group is a list of goaltenders with iffy starters credentials or organizational depth options.
There's more opportunity for improvement in the trade market, despite the obvious acquisition cost which would accompany some of the targets. But the potential for teams with quality starters staring down rebuilds should open the door for movement.
Both pools of players have something to offer the Sabres, though the trade route feels to be the most fruitful. The list of names below features some of the goalies who will either come up as targets for the Sabres, or who I'm most interested in seeing Kevyn Adams pursue.
The Free Agents
I have little expectation that Fleury truly tests the market beyond Pittsburgh and possibly Vegas. Similarly, I'm unsure Kuemper moves on from Colorado unless he lays an egg in the playoffs for the Avs. Either way, both are likely to be eyeing Cup and playoff contenders if their search widens in scope, which likely rules the Sabres out from competing for either one.
Joonas Korpisalo
Korpisalo's numbers have taken a serious tumble since losing the starting job in Columbus. He'll come at a discounted price, but I can't see him offering any sort of competitive stability in Buffalo's crease. I think you're going to hear his name a lot but he's not a goaltender who you'd feel comfortable giving 45-to-50 starts to. I'd even have doubts about his ability to serve as a quality backup at this point.
Jack Campbell
The flux in Toronto's crease could lead to Campbell reaching the open market. Whether or not he leaves the Leafs is another question entirely. He's due a raise from the $1.65m he's making now, a pricetag that will likely come with an expectation of term as well. If his ask is in the neighborhood of four-plus years in the $5m neighborhood, it may rule him out for the Sabres. If he's willing to take shorter term at a higher cap figure, there could be room to work between the two parties.
My lone concern with Campbell is how much of his success has come from playing behind a strong team – albeit one that isn't exactly celebrated for its defensive prowess? Can he continue to produce on a team that doesn't boast the likes of Auston Matthews and Mitch Marner? I also expect him to get quite a bit of attention should he reach the market, which may not portend good news if the Sabres toss their hat in the ring.
Charlie Lindgren
Lindgren got a few spot starts for the Blues this year and played quite well in each. However, he's low on the organization depth chart for St. Louis. The Blues may not be able to retain Ville Husso after his breakout and they also Joel Hofer is waiting in the wings in the AHL. I think Lindgren would be an excellent organizational number three for the Sabres to sign this offseason. He'd be a great asset for the Americans while giving the Sabres a goalie they could be confident in should injury strike. He's on a two-way deal that pays him $750K at the NHL level and $300K in the minors. A slight bump on those figures might be enough to entice the southpaw to Western New York.
Ville Husso
Lindgren's teammate has set himself up for a payday after a breakout year for the Blues. Once the goalie of the future in St. Louis, he was supplanted by Binnington before this season's big jump. He'll be a hot target in free agency as a 27-year-old, but I'd be wary of what he offers long term. We saw first-hand the pitfalls of rewarding a one-year wonder with Carter Hutton and Seattle is suffering that same fate with Chris Driedger. I doubt Husso settles for a team-friendly deal like Hutton did, but even if he does, he's not someone I'd be over the moon with the Sabres picking up.
Other free agents like Jaroslav Halak or Thomas Greiss may come up now and then, but I don't think either truly fits what the Sabres will need. Halak, for one, may only have a few select destinations in mind after a difficult season in Vancouver. Meanwhile, Greiss hasn't been nearly consistent enough to convince me to give him a contract at age 36. The only other name among the free agents I'd be remotely interested in seeing the Sabres pursue is Braden Holtby. And even he raises some red flags after looking extremely pedestrian for the Canucks in 2020-21. I think it would be a gamble that he wouldn't look similar behind a young roster here in Buffalo.
Trade Targets
John Gibson
The Ducks sold off some key veterans at this year's deadline and all signs point to a continued retooling of their pipeline and roster. What that means for the 28 year-old goalie is very much up in the air. Gibson has struggled for three-straight seasons as the Ducks have backslid as a team. He's on a $6.4m contract for five seasons beyond this one and would come at a premium price as Anaheim stocks futures. If a better team in front of him allows him to recapture his form from earlier in his career, he could be a huge addition for a team that needs help in net. But the asking price is going to be extremely high, and his recent play might be enough to scare you off.
Semyon Varlamov
The more I think about the goalies who will be available this summer, the more I think Varlamov may be the best overall fit for the Sabres. The Islanders haven't been quite as stingy this year as they have in the past, but Varlamov has still posted a .914 SV% while ceding time to Ilya Sorokin. If it's true that Lou Lamoriello is planning to make moves this summer, Varlamov's $5m cap hit could be one of the first moves they look to make.
He's only signed through next season, so his contract won't cause any issues with the ascension of Luukkonen or anyone else. Meanwhile, his cap hit would be beneficial in getting the Sabres past the salary cap floor. All while bringing in a goaltender who can still really play. Varlamov's GSAA is -1.1 per Money Puck, but a 5.1 according to Hockey Reference. So pick which site you prefer for that stat. His baseline .914 SV% is strong though, especially behind an Islanders team that has lost their mojo a bit this year. He hasn't dipped below .910 since his final year in Colorado, he would be a true upgrade over the Sabres current situation. Plus, his acquisition cost should be quite low assuming the Isles are indeed looking to shed salary.
Alexandar Georgiev & Ilya Samsonov
Both of these guys are RFAs this summer and both are in a position where their respective clubs may be moving on. Moreso in the case of Georgiev, but I don't think Samsonov is on stable ground as Vitek Vanacek has supplanted him in Washington. I include both here because I suspect Georgiev will get a fair bit of attention as a Sabres target, but neither he or Samsonov are the type of goalies I think the Sabres should be chasing.
Samsonov has been very inconsistent in his brief NHL career and would be something of a project for the Sabres if he was acquired. He's certainly not a steady presence who could work well in tandem with Luukkonen. Similarly, Georgiev has been below average as an NHL goaltender in my book. I don't understand the fascination with him one bit. He played well enough in his first two years but has fallen off a cliff since. His best GSAA season per Money Puck was 0.5 in 2017-18. He's been dreadful ever since and I suspect that even with his substandard play, the Rangers will be expecting a hefty price in a trade. Just hope the Sabres stay away from both of these guys.
Jonathan Quick
I'm not sure if the Kings are ready to move on from Quick, or if they'd ever want to. His number will probably go in the rafters for them one day and giving him the ability to finish his contract (and maybe his career) in LA would be the right thing to do. I also don't think Cal Petersen has done enough to give the Kings confidence that they could move Quick out in favor of Petersen carrying the mail for LA.
In the event that the Kings are open to moving Quick, Buffalo would be wise to pursue him. Much like Varlamov, his contract status and ability fits the profile of what the Sabres will likely be looking for. He's signed for one more season at a cap hit which would help the Sabres hit the floor. He's also enjoying a resurgent season (of sorts). Money Puck rates his GSAA at 14.5 after dreadful campaigns in the prior three seasons. He's just shy of a .910 SV%, which is his highest since 2018. Quick isn't quite as reliable as Varlamov, but as a veteran mentor to platoon with Luukkonen, he fits the bill nicely.
Thatcher Demko
I wanted to include one pie-in-the-sky option on this list. The Canucks are teetering on the edge of the playoffs and Demko is certainly a big part of what they want to build in Vancouver. However, there's also a new general manager in Vancouver and there were signs that the Canucks could have moved on from a few notable roster players at the deadline.
In the event the Canucks are leaning towards something akin to a rebuild, the right package could net you Demko. I should note that his age (26), play and contract status (four more years at $5m) would mean he comes at a premium. Any package for Demko would require a first-round pick, A-prospect and probably a quality roster player at a minimum. That's a significant price the Sabres probably aren't ready to pay. But if they felt that strongly about his ability to impact the roster, they could make a blockbuster offer to the Canucks.
There will be some other names floating around this summer. I think James Reimer could be an intriguing target for Buffalo and the tea leaves in Ottawa point to Matt Murray being put on the block. Though he'd be something of a reclamation project. I'm also keeping my eye on Boston if I'm a goalie needy team. Linus Ullmark will still have two years on his contract when Jeremy Swayman is due a new deal. I won't be surprised if they find themselves shopping one of those netminders in the next year or two.
Which route you'd prefer the Sabres to go probably depends on your appetite for spending assets for a short-term fix. A free agent signing keeps Buffalo's trade chips in their pockets for more important acquisitions. Yet a trade opens the door for some more stable options in terms of overall talent. I think a deal for Varlamov could get done for a third-round pick and a B-level prospect. Maybe it winds up being two picks instead of a body.
It's not nothing, but it's also not mortgaging the future for a band aid solution in net. Which is what the Sabres need to find a way past as they prepare to take their next step.