It's becoming more apparent that Don Granato will be named the next head coach of the Buffalo Sabres.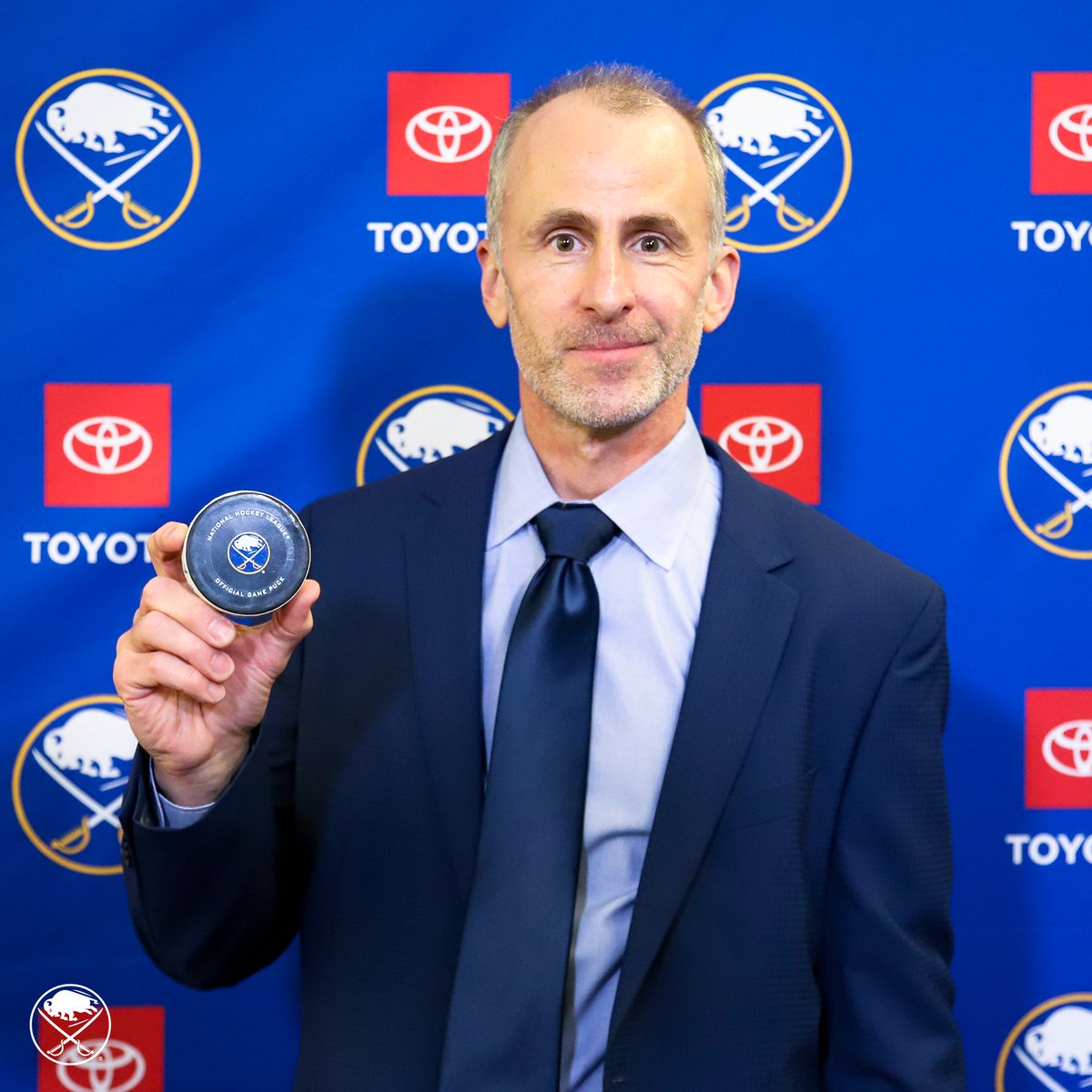 While not official as of the writing of this post, there has been a lot of smoke indicating that Granato will be retained and have the interim tag removed from his title. This comes after Elliotte Friedman noted that the Sabres are expected to give Granato clarity soon among other Tweets and notes over recent weeks. I believe the Sabres intent is to bring back the coaching staff as it was when Granato took over as interim coach, though that leaves openings in player development. So we'll see what the staff looks like if Granato is indeed the choice.
With so many questions lingering around this offseason, it's hard to say definitively what sort of coach the Sabres should have coveted. It seems as if Jack Eichel will be traded this summer, a move which will almost certainly trigger a rebuild for the Sabres. Should that be the case, Granato's interim stint showed signs that he might be the perfect coach for a rebuilding team which will be leaning heavily on young players to play key roles.
Buffalo may have been better served by a more veteran presence if their aim was to compete for a playoff position in 2021-22. Stifle your laughter for a moment, but a scenario where the team tried to double down on similar offseason moves like last year to go "all in" on snapping their playoff drought and perhaps by extension, keeping their core stars happy with the direction of the franchise. Bruce Boudreau was a popular suggestion for that sort of endeavor, among others.
Obviously, what has transpired in the weeks between Buffalo's final game and today has laid the framework for franchise altering moves. One or more of the players Buffalo's last rebuild was centered around are set to depart, leaving the club at a reset point.
There are never any guarantees in this sport, so until Jack Eichel, Sam Reinhart or any other notable Sabres are moved, there's always the chance that the Sabres retain everyone and give this group one last kick at Lucy's football. But the reality of the situation is the Eichel has his bags packed and one foot out the door. Rasmus Ristolainen has asked for a trade no fewer than five times in the last few years and Reinhart is a year from unrestricted free agency. All signs point to a rebuild which logically eliminated at least a few of the more well-known names from Buffalo's coaching search. Though I wouldn't necessarily argue that is a bad thing.
With five openings around the league when the playoffs began – and apparently some potential storm clouds in Carolina – there was a healthy market for coaching candidates. Two teams have made their hires as Brad Larsen was promoted in Columbus, in a move that signals their intentions to shift to something of a rebuild mode, and Gerard Gallant will be behind the bench with the Rangers. Even with their very public struggles, the Sabres weren't going to be hard pressed to fill their vacancy. I'd go so far as to say that I don't think their struggles would have turned off the majority of candidates who have been reported as connections here in Buffalo or elsewhere around the league. For a few I think Buffalo's timeline to competitiveness would be been a detriment, but overall, I don't think they would have had to deal with much pushback.
I suspect there will be some eye rolls if and when Granato is confirmed as Buffalo's head coach as the Sabres will have spent a lot of effort interviewing candidates just to keep the guy who was here all along. But their last couple of searches didn't feel as comprehensive as this time around. The post-Bylsma search was fairly open and shut in naming Phil Housley as his successor. There was some smoke around Todd McClellan and Dave Tippett before Ralph Krueger was selected. This time, the Sabres did quite a bit of canvassing with links to everyone from the NCAA to Europe reported by various outlets.
This post is probably a little premature since Granato hasn't been named head coach yet, but given the direction they're heading and the areas of improvement the team enjoyed under Granato, I'm not sure if there was a better choice on the market. Bourdreau and Gallant are household names but would it have been logical for the Sabres to not only spend the money they would need on their salaries but to put them in charge of a team that will have such a heavy developmental bent to it? Same goes for Rikard Gronborg. Who are you benefitting by luring a coach from Europe for his first North American job when the timeline to compete is probably set at least two or three years down the road?
Only the NCAA coaches who were connected to the Sabres really made any sense if you pair NCAA experience with developmental coaching. I personally don't feel there is the one-to-one ratio that others do, but the general feeling is that college coaches have that developmental touch.
Either way, the Sabres had the luxury of seeing Granato get production and results from key youngsters down the stretch. His background with the NTDP points to his chops at developing talent and he says and does all of the things the master motivator they just fired was supposed to be good at.
Granato is built well for the role the Sabres will need from their head coach in the coming seasons. He has the ability to connect and motivate young players and he has the public speaking chops to effectively communicate where the team is struggling and where they're improving without sounding like he's full of shit. At the very least he is a perfect bridge between where they are and where they're trying to go. If everything goes right, he might just be in line to enjoy a healthy tenure behind the bench in Buffalo.