Of the may hiccups which have delayed and stalled Buffalo's rebuild, uncertainty in the goal crease has been almost a near constant. It hasn't necessarily been at the forefront of the struggles which have beset the Sabres as they try to climb back into playoff contention, but it has been an almost ever-present specter.
It would appear that Kevyn Adams has a goaltender on his offseason shopping list, though the path to improving Buffalo's prospects in net isn't linear.
Linus Ullmark has transitioned from a prospect to an NHL caliber goaltender since being drafted in 2012. He has been fairly steady for the Sabres over the last two seasons but it would be a stretch to say he truly fits the mold of a starting goaltender in the NHL. He isn't likely Buffalo's long term answer in goal but he's still poised to take the lion's share of Buffalo's starts after playing 50% of the team's games this past year.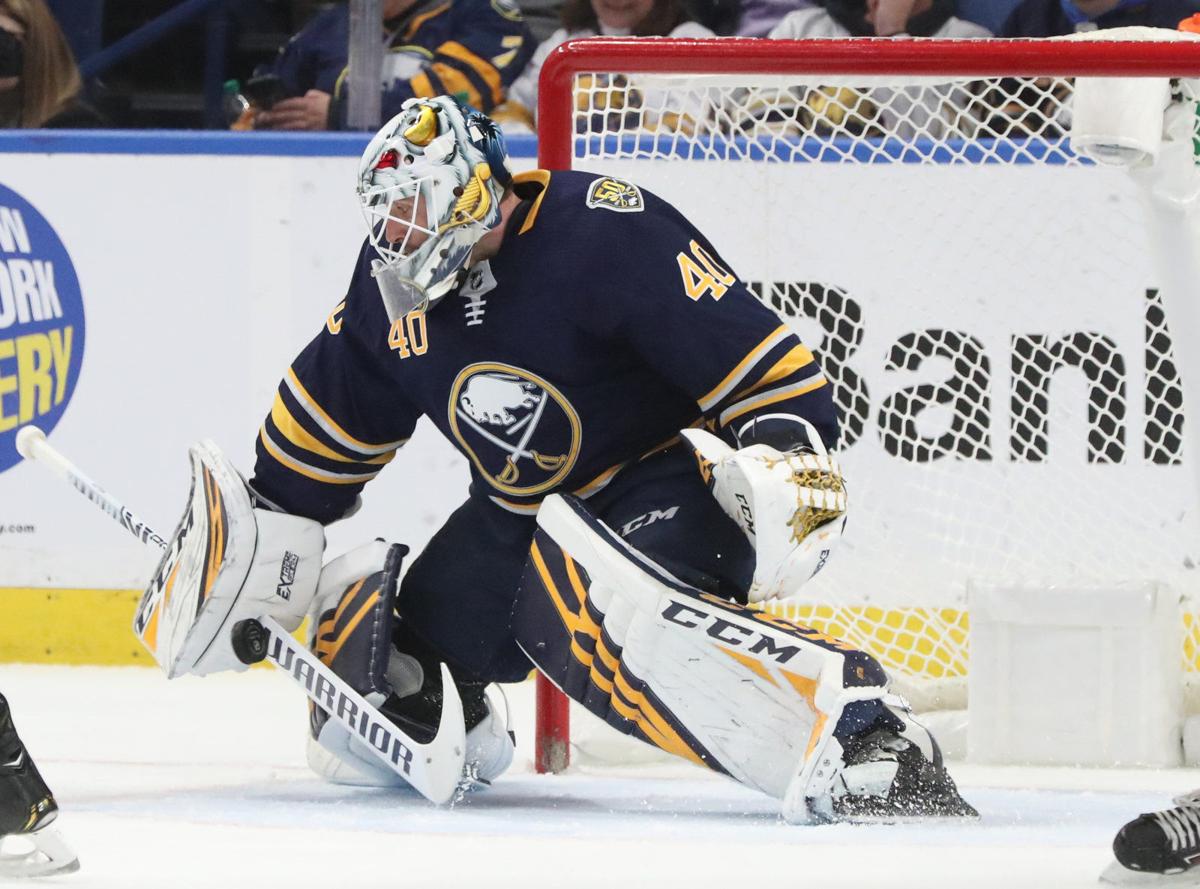 Who he shares the crease with is up for debate as Carter Hutton is positioned to remain in Buffalo for the final year of his contract, but his results have been shaky enough to raise questions about how the Sabres can improve the position.
Hutton's contract status complicates Buffalo's ability to upgrade as he's still signed through the 2020-21 season, albeit at a reasonable $2.75M cap hit. He is a buyout candidate and could also be dangled in a trade where the Sabres retain salary and take back minimal return in order to clear him from the roster. Hutton alone isn't to blame for the collapse the Sabres suffered over the last two seasons, though goaltending closer to the league average would have earned them key points in the standings. Looking at this past season alone, Hutton's .898 save percentage and -10.99 goals saved above average undoubtedly cost the Sabres points in the standings. That hurts more knowing they were one win shy of qualifying for the league's expanded, 24-team playoff.
One other option that would exist regarding Hutton would be to bury him in the minors. The Sabres would receive a minimal cap savings while eating the full weight of his paychecks but it would free up room to add a goaltender who would improve their fortunes in the hunt for a playoff spot. The realities of a COVID influenced sports world and the very obvious budget cutting actions taken by ownership almost completely eliminate this step as an option, but it would be irresponsible not to at least make note of it.
This offseason's goalie market offers a swath of options that the Sabres could target as a new partner for Ullmark and an upgrade over Hutton (or perhaps an upgrade over both incumbent netminders). There are a handful of teams expected to be shopping goaltenders on the trade market while free agency boasts more candidates than we've seen hit the market in quite some time. This offseason has the potential to be one of the most active goalie markets in years. Which naturally means all 31 GMs will sit on their hands and there will only be a few middling moves made.
Buffalo's need to upgrade in net should keep Adams busy for the next few weeks. Assuming they find a solution with regard to Carter Hutton, they'll be able to shop around the plentiful options expected to be on the market.
Columbus
Depending on your point of view, the Blue Jackets are either at a distinct advantage or walking into a pickle when it comes to their goaltenders. Elvis Merzlikins and Joonas Korpisalo are both signed through 2021-22 and both are set to become unrestricted free agents at that time. Columbus waited patiently for Merzlikins to make his North American debut and he was rewarded for a strong rookie season with a two-year deal carrying a $4M hit. Korpisalo, meanwhile, was extended for two years at a $2.8M cap hit after an impressive season of his own.
What Jarmo Kekalainen needs to weigh is the value of each of his goalies in the current market and the likelihood that he can still fetch a premium return either next offseason or one of the two coming trade deadlines. He also needs to determine which of his goaltenders is the one he wants to keep and potentially invest in long term. My guess is that their preference is Merzlikins, though Korpisalo's playoff performance was tremendous.
In a vacuum, Korpisalo is the type of goalie who could raise Buffalo's status in the Eastern Conference. He'd vault Ullmark as the club's number one and the pair would make for a strong tandem going forward. The issue at hand is the likely asking price for Korpisalo. He'd almost certainly garner a first-round pick from whichever team comes calling and the Sabres simply aren't in a position to spend a first round selection on a goaltender.
Marc-Andre Fleury
With the Robin Lehner extension now official, the Golden Knights desperately need to offload cap. Fleury's $7M hit would go a long way in clearing the space they need moving forward, though they may need to add to any deal they make in order to make it worthwhile.
I've never been the biggest fan of Fleury but he's lauded as a great locker room guy and the ability to possibly fish out an additional asset from the Golden Knights would make taking his cap hit and term (signed through 21-22) far more palatable. Exactly who Vegas would be willing to slide into a deal is hard to pinpoint. The price to pawn Marc Staal's contract was a second round pick. Fleury sported a .905 save percentage this past season but still managed a positive GSAA. His numbers would probably regress a bit more playing behind the Sabres as opposed to the Golden Knights, but there are worse ideas out there for the Sabres to consider.
If the Knghts could be convinced to part ways with a quality forward in addition to taking back Carter Hutton's salary, it would be a deal I'd be happy to see the Sabres take. Even if Fleury's game may not give the Sabres a huge boost in the standings.
David Rittich
I'm not sure if the Flames would be truly willing to trade Rittich away but they leaned hard on Cam Talbot in the playoffs and with reports circulating they could be looking to make changes, I wouldn't be shocked if Rittich was dangled.
Rittich regressed hard this year, barely finishing below the 3.00 GAA plateau and carrying a -4.36 GSAA. He's 28 and has one more year left at $2.75M on his contract and has only played three full North American seasons. So he's neither a solid long-term option, nor does he sport an overly impressive resume. It's not even a guarantee that he'd be a substantial upgrade from Carter Hutton, though his numbers are slightly more favorable.
If the ask for Rittich was moderate, it would be a worthwhile conversation to have. Though I think there are better options on the market for the Sabres and Adams.
James Reimer
An old friend from him Leafs days, Reimer had a bounce back season with Carolina, posting a .914 SV% and a 3.38 GSAA. He had two strong years for the Panthers prior to 2018-19, so there's probably still some gas left in the tank for Reimer.
His availability is contingent on what Carolina opts to do with Petr Mrazek and if they manage to acquire an upgrade as their number one for the coming season. It strikes me that their preference would be to upgrade Mrazek and keep Reimer on as their backup. But if he were to be made available, filling a similar role in Buffalo – backing up while playing around 30 games – would open the door for improved play in net.
Matt Murray
Perhaps the hottest trade target on the goalie market at the moment. The Pens are said to be shopping Murray extensively and they're expected to request a premium for the two-time Cup winner. His consistency is a turn off for me and I wonder what he'd look like on a team that doesn't have Sidney Crosby or Evgeni Malkin.
I'm guessing the various reports of a first round asking price are true and even if the Pens came off that price, it's a tough trade for the Sabres to make. He hasn't recaptured his form from 2016-17 and it's left me wondering if the Cup runs were the outlier and his skillset is that of a 1B or a two. He's almost a sure thing to be moved, but like Korpisalo, whose asking price becomes prohibitive for the Sabres, I can't see Buffalo being in the mix for him.
Arizona Coyotes
I'm grouping both Coyotes goalies together as Arizona has been rumored to be shopping Darcy Kuemper and they're also expected to be in the market to shed salary when possible. Kuemper will come with a first round asking price, so take him off any Sabres list. For as much trouble as the Coyotes are purported to be in, I think it's crazy for them to consider moving Kuemper. They can ship off Antti Raanta, save more against the cap all while keeping the goalie who helped power them to a postseason appearance.
Raanta has suffered from injuries the last couple of seasons, appearing over 30 times just once since arriving in Arizona. When healthy, he's been great. Pairing him with Linus Ullmark and keeping Raanta's workload below 40 games could be a formula for keeping him healthy and plugging in a notable upgrade in net.
His actual salary is lower than his cap hit as well, meaning the streamlined Sabres would be on the hook for $2M in real dough vs. the $4.25M cap hit on his deal. Adams would be smart to inquire on some of the other expiring deals on Arizona's roster given their apparent need to shed cash. So long as the Sabres can clear the room, the Coyotes would be an excellent match as a trade partner.
Thomas Griess  
An UFA at 34, he's enjoyed a few strong seasons with the Islanders and may be angling to cash in with a competitor. But if the goalie market shakes out with him without a job with one of the league's stronger teams, he could become a consideration for the Sabres.
For a goalie who has mostly seen backup minutes and has appeared with four different clubs, Griess has had a fairly consistent career. So there shouldn't be too much worry as to whether or not he's a systems driven goaltender. None of the pending UFAs really fit the Sabres profile this year. They're either going to be angling for jobs with contenders, aiming for big paydays or some combination of both. Greiss' age may alter his ask, but I'm not sure he's a perfect match for the Sabres at the moment.
Jacob Markstrom
A goalie I've never been particularly fond of and someone thought to be weighing his options with regards to teams pushing for a Cup. While the Red Wings are one team expected to make a strong pitch for Markstrom, I have a sneaking suspicion the Avalanche are going to toss an offer his way.
I'm not sure the Sabres are in the ballpark in terms of being a team Markstrom would be favoring and I don't think Markstrom is a goalie the Sabres should consider heavily. Already 30 years old, rumors point to his ask being somewhere in the neighborhood of five-to-six years with a cap hit nearing $6M. That's simply not a conract I'd want to see the Sabres handing out to a 30-year-old. Especially a 30-year-old goalie.
Anton Khudobin
Run a find and replace on the Markstrom section and you sum up Khudobin quite well. He's at the age where he's looking at one last payday and luckily he's coming off the strongest season of his career. He's another goalie I've never been a big fan of but he turned himself from a journeyman backup into a starter in the Cup Finals.
He's going to want to cash in on this past year and I suspect he'll try and stay with one of the league's better clubs. I don't think the Sabres should be in the business of giving away big term to goalies who are over 30, so let someone else roll the dice on Dobby.
Lightning Round Snubs
A few quikc thoughts five keepers I think the Sabres should avoid at all costs.
Braden Holtby – At least in the case of Khudobin and Markstrom there's a case to be made for signing each. I don't think that exists for Holtby. His game has dropped off and I think he needs a strong roster in front of him to guarantee quality results. He is also probably hoping to cash in on one last big contract, another no-no from the Sabres perspective.
Mike Smith – My least favorite goalie in the league, a haphazard keeper who probably played his way out of Edmonton in the end. Even if the Sabres could promise a steady system I have next to not faith Smith would reward them. Pitfalls everywhere with this guy.
Jimmy Howard – I think Howard is cooked. I'll be only mildy surprised if he even gets a one-way deal at this point. I think the market is too strong and he's just too far behind the rest of the league.
Henrik Lundqvist – Lundqvist is going to go chase a Cup. Probably with Washington as Pierre LeBrun Tweeted. A team, mind you, who I said would be a good fit on a recent podcast. But anyway, Lundqvist Is going to chase a Cup and the Sabres just don't offer what he'd be looking for.
Brian Elliott – Probably the standard bearer for systems goalies around the league. In a controlled situation I think he could still get results but I wouldn't dare take a look at him behind this Sabres team.
Kevyn Adams will have plenty of options available to him should be choose to upgrade in net. I feel that Antti Raanta gives them the best return at what should be a reasonable asking price. He's gotten great results and he makes less than his cap hit. It's a potential win-win for the Sabres, should they find a new home for Carter Hutton.