The 2019 draft is just a few days away, and with that comes my 2019 Mock Draft. The mock is done with the help of pre-draft rankings and scouting reports from The Athletic (most notably Corey Pronman), ISS Hockey, and the draft team at TSN led by Craig Button and Bob McKenzie, and. The mock was done with no draft floor trades being made, as it's tough to zero in on what picks are truly in play and what is just hearsay.
New Jersey Devils- Jack Hughes, Center, USNTDP, USHL
While Kaapo Kakko has made discussions about who should go first overall a bit less one sided with his recent play at the World Championships, the Devils still opt for Hughes. The addition of Hughes gives New Jersey a solid 1-2 punch down the middle, as Hughes can team up with 20 year old Nico Hischier to anchor the top two lines in Newark for the foreseeable future; having Travis Zajac for a few more years is an added bonus as it allows Hughes to play some sheltered minutes and see better matchups in his rookie season
New York Rangers- Kaapo Kakko, Left Wing, TPS, Liiga
The Rangers have the easiest decision in the first round as they will gladly scoop up one of Kakko or Hughes at 2nd overall. Kakko was the consensus number two pick behind Hughes for the duration of the ranking process leading up to the draft and his displays in Slovakia at the worlds only reinforced that sentiment. Kakko accelerates the Rangers rebuild with his dynamic scoring ability and allows New York to possibly get creative with their surplus of picks in 2019 and 2020 in an effort to further improve their roster for this season.
Chicago Blackhawks- Bowen Byram, Defense, Vancouver Giants, WHL
The Blackhawks are poised to get first crack at the best of the rest in this draft, as Kakko and Hughes are the clear class of this draft. Stan Bowman has done a nice job retooling the offense already, as franchise icons Pat Kane and Jonathan Toews have been joined by the likes of Alex DeBrincat, Dylan Strome, Brandon Perlini, and old friend Brandon Saad to form a top ten offense. The blueline is another story however, as the Blackhawks ranked 30th in goals against. With Brent Seabrook and Duncan Keith approaching 35 and 36 respectively, the opportunity to add Bowen Byram is too good to pass up. Byram is the top ranked defenseman in the draft and possesses all the tools to become a top end defenseman in the league, as Corey Pronman details here.
Colorado Avalanche (Via Ottawa)- Alex Turcotte, Center, USNTDP, USHL
Colorado is playing with house money with the 4th pick despite advancing to the second round of the playoffs this year. Alex Turcotte slots in nicely behind Nathan MacKinnon as a second line center who is able to drive the play individually as well as get his linemates involved both off the rush and during periods of established offensive zone time. Colorado had one of the best top lines in the league but struggled to generate secondary scoring; the addition of Turcotte could go a long way to remedying that issue and give the Avalanche a more balanced offense.
Los Angeles Kings- Cole Caufield, Right Wing, USNTDP, USHL
The Kings are a team in transition and have already started that process by buying out the remaining two years of Dion Phaneuf's deal. The Kings are widely seen as an old, slow team that has trouble scoring goals, and the stats bear that out as they were one of only two teams that failed to score 200 goals this season. The addition of Caufield would be a solid step towards remedying those issues. Coming off a season in which he found the net 72 times he has the best shot in the draft., and probably the quickest release of all draft eligible players. In previous years his size would have scared teams off him despite his immense offensive ability, but the emergence of players like Johnny Gaudreau and the aforementioned Alex DeBrincat should allay those fears and turn him into a top five selection.
Detroit Red Wings- Dylan Cozens, Center, Lethbridge, WHL
The Red Wings enter the first draft of the Steve Yzerman (GM) Era with holes to fill but four picks in the first two rounds. There are five or six centers that could very well end up as top ten picks in this draft, and the Wings land on Cozens at number six. Cozens is a great skater, which fits well on a roster that already lists Dylan Larkin and Andreas Athanasiou among its top offensive threats; his size (6' 3") is a bonus. Cozens' ability to make plays off the rush as a result of his speed as well as below the goal line will be sought after this draft, and Detroit will be pleased to add him to a pipeline that already includes the likes of Joe Veleno.
Buffalo Sabres- Trevor Zegras, Center, USNTDP, USHL
The Sabres checked off the biggest item on their offseason to do list with the re-signing of Jeff Skinner, but there's certainly more heavy lifting to be done. Snagging Zegras at number seven would be a coup for the Sabres, as he is a playmaker first and foremost and one of the best passers available in the draft. There's still a significant hole at center behind Jack Eichel, and adding Zegras would go a long way towards addressing that. While its unrealistic to step in this fall and anchor the second line, it's certainly not far-fetched to imagine Zegras setting up a winger with an elite shot like Victor Olofsson in the not too distant future
Edmonton Oilers- Matthew Boldy, Left Wing, USNTDP, USHL
The Oilers are in a similar spot to the Sabres in that beyond their top line there's not too much offensive talent to get excited about. Boldy would easily be a top six forward on the Oilers this season or next, and the creativity he possesses would be a great help to a roster that doesn't have much in that category beyond Connor McDavid and Leon Draisaitl
Anaheim Ducks- Kirby Dach, Center, Saskatoon Blades, WHL
The Ducks are very similar to their neighbors down the freeway in LA in that they are also aging and aren't particularly fleet of foot, especially offensively. The Ducks do have a bit more to look forward to, as players like Troy Terry, Sam Steel, and Max Comtois aren't too far off from joining Rickard Rackell and Ondrej Kase on a fulltime basis. Adding another center in Dach further strengthens the pipeline, and his game translates well to the NHL. He's big and righthanded, which are two traits teams have a tough time ignoring. Despite having decent young depth down the middle, you can never have enough centermen
Vancouver Canucks- Philip Broberg, Defense, AIK, Allsvenksan
Vancouver has a few strong building blocks, with Brock Boeser, Bo Horvat, presumptive Rookie of the Year Elias Petterson, as well as the late season debut of Quin Hughes. Grabbing Broberg at ten would be a nice add and provide more depth for a blueline that's both getting older and lacks any difference makers besides Hughes. The opportunity to add another defenseman with elite skating ability and size will be tough to pass up; if Jim Benning looks to add to his forward depth a player like Arthur Kalyiev may be of interest.
Philadelphia Flyers- Alex Newhook, Center, Victoria BCHL
The Flyers have already started a very busy offseason by making two trades and buying out Andrew MacDonald. Newhook has terrific speed and above average hands that were both on display this past season in the BCHL, where he put up nearly two points per game. One knock on Newhook is that those gaudy numbers were posted at the Junior "A" level instead of major juniors or an elite European league, but I still like Newhook to be a solid NHL player. The Flyers do have a lot of prospects down the middle, but it's must easier to move a center to the wing instead of vice versa.
Minnesota Wild- Arthur Kaliyev, C, Hamilton Bulldogs, OHL
Minnesota is one of the wildcards of draft weekend, as Paul Fenton will surely follow up his busy trade deadline with more activity leading up to and during the draft. The Wild missed the playoffs for the first time since 2012 last year and really struggled to score during the process. Kaliyev faced questions over his pace and compete in the OHL, but any 17 year old who pots over 50 goals in the OHL can't be overlooked.
Florida Panthers- Vasili Podkolzin, Right Wing, St. Petersburg, MHL
Podkolzin probably has top five ability in this draft, but the usual concerns about playing in Russia, if/when he would come to North America, and how he would adapt will likely cause him to slide down some draft boards. It will take a GM and coach who are strong in their positions to roll the dice on Podkolzin and Dale Tallon and Joel Quenneville fit that bill perfectly in Florida. Given the presence of Evgenii Dadonov in Florida, the Panthers being the odds on favorites for both Artemi Panarin and Sergei Bobrvosky, as well as the strong Russian population in South Florida, the Panthers seem to be the ideal landing spot for Podkolzin
Arizona Coyotes- Peyton Krebs, Center, Kootenay Ice, WHL
Arizona is coming off its most successful season since their run to the Western Conference Finals in 2012, both on and off the ice. Krebs could find himself in the 8-10 range, but a torn Achilles will delay the start of his season in 19-20 and has made projecting his landing spot that much tougher. Krebs put up over a point per game while captaining a bad Kootenay team in the WHL, and I'd expect John Chayka to not let the short term uncertainty get in the way of selecting a very good player.
Montreal Canadiens- Cam York, Center, USNTDP, USHL
The Canadiens were one of the surprises of the season last year despite being eliminated from playoff contention during the final week. They have solid forward depth both at the NHL level with the likes of Jesperi Kotkaniemi as well as down in Laval thanks to the acquisition of Nick Suzuki but are lacking on the blueline. York  anchored the blue line for the NTDP and has great skating ability. While he's maybe a year or two away from the NHL, he's a likely top four player when he does.
Colorado Avalanche- Spencer Knight, Goaltender, USNTDP, USHL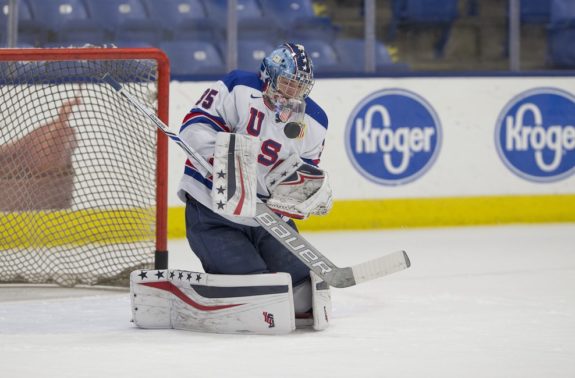 The Avs are back on the clock after snagging Alex Turcotte at #4. Given the bonus first round pick and the state of their team they can afford to take the best goaltender in the draft at 16. While goaltending is notoriously hard to gauge at the draft, the Avs have positioned themselves well and have the ability to pounce on Knight early and allow him to develop for a few years.
Vegas Golden Knights- Thomas Harley, Defense, Mississauga Steelheads OHL
The Golden Knights have managed to get themselves in cap jail in only the second year of their existence. That is mainly due to the excellent job George McPhee did constructing the roster that went to the Stanley Cup Final in its first year, but it's still an issue that must be addressed. The Knights have made some trades in their brief history in order to bolster two playoff runs, and as a result do not have nearly the organizational depth that they had at the end of their first draft. The latest top prospect to leave was Erik Brannstrom in the trade that brought Mark Stone to Vegas, and as a result the Knights have a solid but unspectacular blue line and very little in terms of reinforcements on the way. That is where Harley comes in. He's one of the youngest players in the draft but was playing 25 minutes a night for the Steelheads. He has solid instincts but will need a year or two of seasoning in the AHL once he signs.
Dallas Stars- Raphael Lavoie, Left Wing/Right Wing, Halifax Mooseheads, QMJHL
I never know where to slot forwards from the Q since it's not exactly a defense first league, but Lavoie seems like a nice fit for Dallas. He can play on either wing and has the body type and style of play that suits the western conference but has struggled with consistency.
Ottawa Senators (Via Columbus)- Ryan Suzuki, Center, Barrie Colts, OHL
Ottawa was able to get back into the first round courtesy of the pick they acquired in the deal that sent Matt Duchene to Columbus. Suzuki measured in a an even 6' but will need to spend a summer or two in the gym to get himself ready for the NHL. One the ice it's his playmaking ability that makes him worthy of a first round selection. The Sens have managed to compile one of the league's best prospect pools thanks in large part to the dismantling of the team that was a goal away from the Stanley Cup Final a few years ago, but the addition of Suzuki will add some playmaking ability that their system doesn't currently have.
New York Rangers (Via Winnpeg)- Phillip Tomasino, Center, Niagara IceDogs, OHL
New York has already had a great draft thanks to Kaapo Kakko, and the addition of Tomasino at 20 will continue that trend. He plays with speed and also has excellent vision that could be used to set up great scorers such as Kappo.
Pittsburgh Penguins- Nils Hoglander, LW, Rogle, Allsvenskan
Hoglander has high end skill and hockey sense, plus is already playing in the top nine in the SHL. Pittsburgh has rarely had a first round pick in recent drafts due to deadline deals aimed at winning Stanley Cups while the likes of Sidney Crosby and Evgeni Malkin are in their respective primes. As a result their prospect pool is fairly shallow, especially when it comes to high skill forwards.
Los Angeles Kings (Via Toronto)- John Beecher, Center, USNTDP, USHL
The Kings take another step toward adding more offensive talent with the selection of Beecher at 22. Beecher is similar to Raphael Lavoie in terms of body type but possesses better speed. Beecher likely projects as a middle six centerman with the ability to play the wing and excel below the goal line in the offensive zone.
New York Islanders- Patrik Puistola, Left Wing, Taapara, Liiga
Puistola played in the Liiga at 17 and didn't look over matched. He's got come creativity and finds the back of the net mainly by getting to the correct areas on the ice. The concern in his game is his skating, which is average and has some deficiencies that need to be corrected. Given his skill set and shortcomings he seems like a fit for the style of play employed by Barry Trotz and Lou Lamoriello on Long Island
Nashville Predators- Bobby Brink, Right Wing Sioux City Musketeers, USHL
Brink is another undersized forward, but without the skating ability of former Preds draft pick Kevin Fiala. He makes up for it in hockey sense and his ability to make the right pass in the offensive zone. In order to get to the next level in his development he'll need to improve his stride
Washington Capitals- Moritz Seider, Defenseman, Mannheim, DEL
Washington would be thrilled to land Seider at 25. He's already 6' 4" and playing against men in Germany. He skates well for his size and isn't opposed to joining the rush. In his own end he has the footspeed to stay with opposition forwards and the wingspan to keep players to the outside.
Calgary Flames- Alex Vlasic, Defenseman, USNTDP, USHL
There's varying opinions on Vlasic, as he's been slotted anywhere from the 20's to the 50's in various pre-draft rankings. Because of his size (6' 6" and offensive ability I lean towards placing him higher. His skating has some room for improvement, but as a player who just turned 18 earlier this month I'm betting it will improve as Vlasic continues to grow into his big frame and as he gains more experience. Calgary already has a stable of young defensemen, but as Mark Giordano gets older, and the potential for TJ Brodie or Travis Hamonic to be moved I think Vlasic's potential will have him at or near the top of the Flames' board at 26.
Tampa Bay Lightning- Egor Afanasyev, Left Wing, Muskegon Lumberjacks, USHL
Afanasyev put it all together in the USHL this season as he went from 14 to 62 points and seems set to head to Windsor in the OHL next year. Like most prospects outside the top 15 or 20 there is some variability when he comes to where Afanasyev will land this weekend. His shot and so-so speed may lead him to be the type of player who can put up points by getting to the right places on the ice and playing with linemates who can get him the puck.
Carolina Hurricanes- Samuel Fagemo, Left Wing, Frolunda, Allsvenkan
Fagemo is ranked outside the top 100 in some publications and Bob McKenzie has him as a mid third round pick, but Fagemo is a player who averaged more than a half point per game with Frolunda in the regular season then put up ten points in 16 playoff games during their run to the title. Fagemo doesn't have one attribute that will blow you away, but the results seem to show up on the stat sheet. So long as Fagemo's fancy stats are deemed up to snuff by Eric Tulsky and the Canes' analytics staff he will definitely be a consideration at 28.
Anaheim Ducks (From Buffalo via San Jose)- Brett Leason, Right Wing, Prince Albert Raiders, WHL
Anaheim picked up another first round pick in the deal that brought Brandon Montour to the Sabres. Leason is one of the older top prospects in this draft but produced 36 goals in just 55 games for Prince Albert. Leason doesn't have the skating ability of some players currently in the Anaheim's system but has size and does well protecting the puck down low.
Boston Bruins- Ryan Johnson, Defenseman, Sioux Falls Stampede, USHL
Johnson is another defender with elite skating ability and has enough size to hold up in the NHL. Johnson consistently lands in the 25-50 range in pre-draft rankings and may be a fit for a Bruins organization that doesn't have much high end blue line talent in the pipeline.
Buffalo Sabres (From St. Louis)- Tobias Bjornfot, Defenseman, Djurgardens J20, SuperElit
Jason Botterill loves himself a good Scandinavian defenseman, and Bjornfot certainly fits the bill. Bjornfot was named the top defenseman in Sweden's top junior league this season and he possesses the two way game and skating ability that Jason Botterill covets in defensemen. Some scouts view him as a defenseman with the ceiling of a second pair defenseman but I think a full season in the SHL next year will allow his game to take another step forward.