It's gotten a little too easy to procrastinate on blog ideas lately. Between the Sabres acting hopeless, new kiddos and other responsibilities, tossing musings up on this site just hasn't taken precedent. In an effort to remedy that, I wanted to take some time to play catch up on everything that's gone down over the last month or two.
Jeff Skinner's contract negotiations have fans running constant vigils on Twitter, the Sabres have a new coach and Ryan O'Reilly remains a talking point for people who don't have anything better to bring up. In order to play catch up on most of this, I offer you this (hardly) brief rundown of thoughts and reaction to what's been happening in the world of hockey over the last few weeks.
Ralph Krueger
Next to nothing about this coaching search was exciting. Krueger's name didn't surface until fairly late in the process and the most talked about candidates featured a heavy dose of uninspiring retreads.
What's interesting is that Krueger's hiring kind of erased the McLellan saga from memory. I think the Dave Tippett connections did a fair bit to gloss over their early miss as well. Reports connected to the team indicate that McLellan wasn't formally offered the Sabres job but that the two sides did speak about the position. That despite a fair bit of press from connected writers from around the hockey world indicating the Sabres appearing to have a fairly significant amount of interest in the former Oilers and Sharks coach. Regardless of how the process actually went, McLellan joining the Kings left the door open for the Sabres to make a more unusual hire.
Krueger surfaced after a couple weeks worth of worrying whether or not the Sabres would take a chance on Rikard Gronborg, subject fans to Jacques Martin or maybe hire Dave Tippett. It was a weird situation as Gronborg appeared to lack the experience working as a head coach over the course of a full season, Martin and other assistants offered almost zero appeal and opinions on Tippett were pretty well split down the middle.
As it was moving along, I felt Gronborg would at least give the fans something to grab on to. He was certainly the sexiest name of the group that had been connected to the Sabres and while there were plenty of question marks as you dug deeper, he was far and away the fan favorite. Given where the fanbase is, that wasn't an insignificant factor, in my opinion.
Tippett was the safer pick who still offered some reason for hope. He became known as a defense-first guy during his final years in Arizona, but he had better results earlier in his career with non-league run teams. And then there was Martin who I'm fairly certain would have led to and outright boycott.
None of that mattered much as Krueger is the one who came out of the wash. I view him as a safer version of Gronborg in a way. He's done well in international play, he hasn't spent much time in the NHL but has a strong hockey resume and there's promise that he'll bring a different approach to his job as compared to more traditional, old school thinkers.
The plaudits he's received from former colleagues and players also give off a bit of a Ted Nolan vibe as a guy people love to play for. The pair even share a similar feather in their cap; Nolan with the "Almost Beat Canada at the Olympics That One Time" and Krueger with "Beat Canada at the Olympics That One Time."
Kidding aside, where confidence in Krueger comes from is two-fold. First, he's not from the old boys club of NHL coaches. He's had a multitude of experiences and the opportunity for him to bring a different approach opens the door for the Sabres to finally find some success. The second is his ability as a leader. If given the option, I'd probably side with a tactician over a motivator but given where the team is, maybe it's exactly what they need. Nothing else has seemed to work these last few years. They tried the former Cup winner but he lost the room. They brought in a hot assistant and he couldn't translate to the head job. Before Housley and Bylsma was the desperation AHL interim and the nostalgic re-hire. Oh yeah, and they've fired a couple of GMs too.
They've checked about every box in attempting to turn things around, so I welcome going with a bold, out-of-the-box option as their next head coach. It sounds like both he and Botterill know that bringing in a few strong tacticians will be necessary to supplement Krueger and Elliotte Friedman noted Mike Vellucci might be someone they target. Charlotte is still playing so any movement there would need to wait but Vellucci could serve two roles for the Sabres should he actually be a candidate. Not only would he help on the tactical side – should that be an actual area of need – but as someone whose been getting looks for NHL jobs, he may be a guy Botterill hopes to use Krueger to bridge to should everything go according to plan.
That's looking pretty far down the road though. The Sabres will need to actually make some serious progress if a plan like that will be realized. At the very least, they put someone in place I'll have interest in watching lead them towards that goal. But pretty much anything would've been better than Martin.
Skinner Contract Negotiations
This really feels like it's dragging on at an agonizing pace. Probably because last week brought about so many different reports that they were getting closer to a contract with term and salary mentioned in some cases.
We're five days past Friday, when things really seemed to grow to a boiling point, with no real news one way or the other. Elliotte Friedman mentioned on his podcast that an offer is on the table and other reports indicate the two sides remain in negotiations.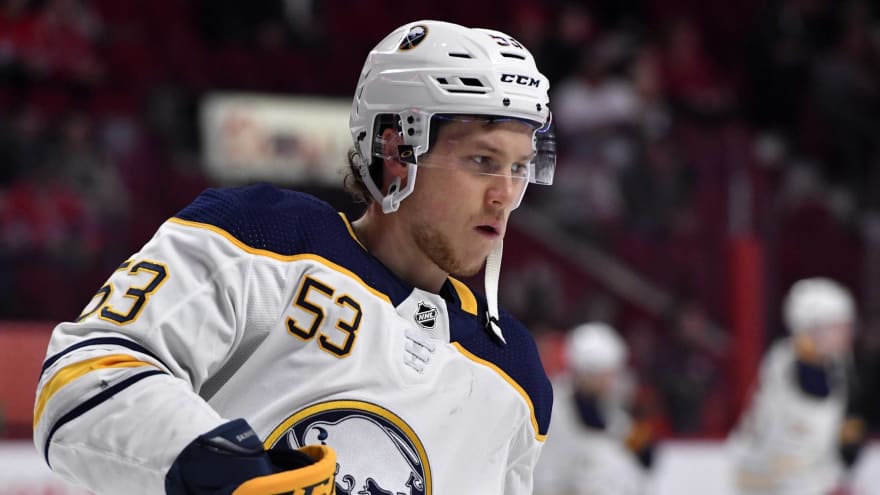 But what's taking so long? Are they trying to bargain on a no trade clause as opposed to a no movement clause? Is it bonus related? At this point it all seems moot to me. They're negotiating a monumental contract, with or without bonuses it will pretty buyout proof. Quibbling over no movement protection makes a little more sense since the Sabres would likely want some sort of out later in the deal. Still, it's a contract that ought to be pretty immune to trade overtures, buyouts and being buried. Expansion might be a concern for Skinner's camp, but short of a complete drop off, it's a safe bet he'll be protected by the Sabres.
Most of the drama, however, hasn't centered around whether he will or won't sign an extension, it's whether or not he's worth the money he's expected to get. Nine million over eight years is a massive deal, one I didn't expect to see offered to him in the fall. My initial expectations were that he'd get the type of contract Evander Kane got in San Jose. Even as he went on his torrid scoring run, I thought maybe his ceiling would tick above eight. But now that the dust has settled on the year, this is where we stand.
In the fall when my hope was to re-sign him at an AAV of $7 million, I probably would've balked at the idea of paying Skinner $9 million. But now that the Sabres are at this crossroads, it seems foolish to walk away from the table. Virtually every metric indicates Skinner will remain valuable, even as the contract takes him beyond the 30-year old plateau. Even at $9 million his cap hit isn't astronomical compared to his peers. He's top five in even strength scoring in the entire league since his career began. Top five! There really shouldn't be any big fears over handing Skinner a big offer.
Yet, there will be plenty of hand wringing and grave dancing should he not start the year on a tear. What's interesting to me is that so many people want to use Carolina's success without him as a knock on his ability. The Hurricanes continue to search for a scoring winger. Maybe instead of noting how good they were without him we should ask how much better the Eastern Conference finalist would have been had they not moved Skinner? It's always easier to ask the negative question in these situations. If Skinner is so good why did the Hurricanes finally make the playoffs without him? If the Sabres felt Ryan O'Reilly was so bad how come the Blues are in the Cup Final? If you were a hot dog, and you were starving, would you eat yourself? It's a silly practice to participate in. Especially considering at least three quarters of the people leading the charge on these talking points are the first to harp on the importance of hockey being a team game, not focused on a single player.
Besides, the secret for both of those teams was finding competent goaltending.
It's easy to fall into a trap of thinking the Sabres only option is to extend Skinner at all costs. But it's high time the Sabres buckle down and keep star players in town. There's no better place to start than with Skinner. Now it's just a matter of announcing the contract.
Ristolainen on the Trade Block?
It's the time of year when various publications begin promoting their respective lists of trade targets and a popular candidate from the Sabres hasn't appeared on any just yet. After popping up in a rumor or two around the deadline, Rasmus Ristolainen has become the primary asset fans hope to see moved in an effort to improve Buffalo's roster. Yet he isn't on the TSN Trade Bait list, The Fourth Period's breakdown or the list published by The Athletic today.
So what gives?
My guess is that the Sabres haven't formally put a for sale sign out in front of Ristolainen's locker. Not yet at least. Darren Dreger recently said during a radio hit that he believes the Sabres' preference is to keep Ristolainen. It was also reported that Jason Botterill was asking coaching candidates how they'd work with him to get the most out of the big Finn. So maybe they're happy to listen to offers for him and if the right situation presents itself maybe they'd even serve him up in an initial offer.
Another thing to note is that those lists are living documents. It's not out of the realm of possibility that he winds up on everyone's radar by draft day, so if you're desperate to see him moved, don't get too discouraged just yet.
The debate over Ristolainen is quickly approaching that of the tank or even the O'Reilly trade. Analytically geared minds look at him as an overrated player who is well out of his depth. Someone who drags down the team almost every time he's on the ice, and they have the charts to prove it. Meanwhile, there's a whole different segment of the fanbase (and I suspect the hockey world as a whole) who still hold Ristolainen in high regard. He has prototypical size, is toolsy and produces. And you still have the fall back that if his minutes get throttled back his underlying numbers and overall production will improve.
I've lost a fair bit of faith in him myself and if he's the key to netting a young, effective NHL forward, I'd happily drop him off at the airport. At the same time, we know he paired well with Lawrence Pilut and the pair's results were generally pretty good. If the Sabres magically find another right handed defenseman to play up in the lineup with Rasmus Dahlin and Ristolainen's ice time actually drops below 22, maybe we will finally see him blossom.
That being said, I side in favor of moving him at this point. Though there's no indication the Sabres would get the type of return Sabres Twitter thinks he could fetch, it seems to me that it's time he got a new start. I'm just not certain there's much more for him to offer to the Sabres organization. I believe it was John Vogl who has noted that it just doesn't seem likely that Ristolainen's hockey IQ will evolve at this point. If moving him means the Sabres can bolster their center depth, net a top-six forward or even serve in a swap for another defenseman, I'd hope to see them pull the trigger.
Video Review
As is standard in today's NHL a few freak incidents have caused panic in the streets and now we're going to spend the rest of the summer hearing about how the league needs to expand instant replay. I couldn't possible argue the point better than Sean McIndoe did here but only the NHL could take a one-in-a-million play like Matt Duchene scoring nine feet offside and create a ridiculous replay system as a result. So I hope everyone enjoys "getting it right" with reviews of every hand pass, delay of game and bat flying around the arena. I hate it so much.