The Sabres are in an unusual position heading into this season's trade deadline. They're no longer sellers but they're still a ways off from being a traditional buyer. As the rental market isn't going to favor Buffalo's needs in either the short or long-term.
That's a good thing. The Sabres aren't a piece or two away from an Eastern Conference championship, nor are they stagnant, sitting on their hands hoping to stockpile more draft picks. At the very least they're on schedule with the vision that Jason Botterill has set for the franchise. They may even be slightly ahead of schedule. I certainly think the fanbase would say they are in hopes of seeing the team stay ahead of schedule.
Between rumor reporting and media appearances with Botterill it's pretty clear that the plan of attack is to only use a first round pick if it's for a young player with term. That will narrow the trade market but also puts the Sabres in a position to hunt for bigger game. Rather than circling the rental market, Botterill has the opportunity to seek out a player who can plug into the Sabres core for longer than a few weeks.
If the next few weeks go well, I wouldn't be shocked if Botterill sought out a pending UFA in an effort to give the Sabres one last boost for the stretch run (it is worth noting that Jeff Skinner may have been viewed as that guy), I don't expect him to use a first round pick to do it.
The trade I wish the Sabres had been in on was the one that sent Nick Schmaltz from Chicago to Arizona. He's exactly the type of player I hope the Sabres can find on the trade market: under 28, 200-foot player with term (team control in this case). It's worth noting that 22-year old centers on their entry-level contracts don't exactly grow on trees. But he checks about every box when it comes to who the Sabres should be targeting.
In terms of that particular deal I don't think the Sabres had the ammo to make the deal that ultimately went down. Even with their extra first round picks, they don't have a former lottery selection lying around that they could offer up like Arizona did with Dylan Strome.
Even if Schmaltz is no longer attainable, the Sabres won't be without options when it comes to the trade market. So I decided to run through the other 30 rosters around the NHL to see just who might be worth targeting in a deal.
The list that follows is an attempt to whittle down the centers into a group of players who would be somewhat realistic for the Sabres to target. I only focused on centers (with a few wingers thrown in for color) because it's the greater position of need for the Sabres at the moment and in the longer term. In addition, the Sabres are overloaded with wingers and while I'm hopeful a secondary trade might bring another scoring winger to Buffalo, the roster gymnastics required to find valuable playing time on the wings is far more complicated than at center.
In compiling the list, I weeded out anyone I deemed to be a non-starter in a deal. That includes anyone who would be considered untouchable by their current club, are older than the age range the Sabres are expected to target, are cost prohibitive (via trade cost or cap hit) or simply wouldn't have any significant impact on Buffalo's roster in either the short or long-term. For example, Connor McDavid isn't going to be traded, so he isn't on the list. Nate Thompson also didn't make the cut as he simply wouldn't offer any appreciable impact on the Sabres' roster. The plan was to only highlight players I feel could potentially serve as a target for the Sabres.
In an effort to keep things concise, the only players highlighted are the ones I view as potential Sabres targets. I'll have a thought or two on each club if necessary, but I tried to keep my focus on the players with interest to the Sabres. I also want to note that I did get aspirational with a few of the players who I chose to highlight as well. I know full well that a few of these names are pretty much untouchable but each would be representative of a home run swing for Botterill. That's something that might be necessary if the GM is searching for one more big piece up front.
Anaheim
Going in alphabetical order may not have been a great move as the Ducks don't really have any centers who are obvious targets for the Sabres. Ryan Getzlaf is well outside the age range the Sabres will be targeting and the asking price would be prohibitive. You can apply most of that logic to Adam Henrique, though a player of his ilk is the type of guy the Sabres should be chasing. Just a few years younger.
Jakob Silfverberg
The Ducks have a few really attractive wingers and defensemen on Anaheim's roster. Silfverberg being one of them. He's a more traditional rental and at 28 he's on the high-end of the scale when it comes to the way Buffalo seems to be building. He seems likely to be available by the deadline and if the Sabres opted to dive into the more traditional buyer's market, he'd be a worthy target.
Rickard Rakell
Count this as aspirational target number one. Twenty-five-year olds with back-to-back 30-goal seasons are typically held in high regard. Especially when their cap hit comes in under $4 million per year. That being said, Rakell would be a great pickup. He's even seen a bit of time at center in case the Sabres needed to shoehorn him in there. Botterill would need to seriously ante up to get him out of Anaheim as well. But he's someone who would have a big impact on Buffalo's roster.
Arizona
With Schmaltz, Alex Galchenyuk, Christian Dvorak, Clayton Keller and Christian Fischer on hand, John Chayka is pulling together some solid pieces in the desert. That doesn't make them an ideal partner for the Sabres, even if they stay on the outside of the playoff picture.
Derek Stepan
The one player who might be available would be Derek Stepan. He provides a strong veteran presence to a young core and with Schmaltz on the shelf they probably can't afford to lose another center. At 28 and with two more years left on his deal he'd be more of a short-term option with just enough term on his contract that you wouldn't feel like you're throwing away the assets you're giving up for him. Stepan is just off pace for a sixth-straight 50-point season but it stands to reason he'd have a good opportunity to hit that mark again as Buffalo's second center. He'd almost certainly cost the Sabres a first round pick, so the debate would be if two additional seasons of Stepan balance out that loss. That's if the Coyotes opted to ship him out at all.
Boston
No one in Boston really fits the mold of player the Sabres are seeking and anyone who would be worth chasing (Jakob Forsbacka Karlsson) aren't going to be made available.
Calgary
The Flames window is about to be thrown wide open as their offseason maneuvering has put them on top of the Pacific. Their center depth is impressive enough that Elias Lindholm has been bumped to wing but they're quickly approaching buyer mode.
Mark Jankowski
Jankowski strikes me as one of the few players who Brad Treliving may view as surplus given he's not going to vault Sean Monahan, Mikael Backlund or Lindholm. But you can never have too many centers, so I still think it would be a long shot. The other issue at hand is what impact Jankowski would have in Buffalo. He's a quality NHLer with a big body but his production hasn't been astronomical. He'd certainly improve Buffalo's center depth but I'm not sure he's a player who would put them over the top.
Carolina
Seabastian Aho is the only name playing center for the Canes who strikes any interest and there a few players around the league as untouchable as he is.
Chicago
As I detailed above, Nick Schmaltz was the player who would've been ideal for the Sabres to chase. But John Chayka struck first and did so with a package the Sabres probably couldn't match. The rest of Chicago's center group doesn't offer too much in the way of long-term solutions for the Sabres.
Artem Anisimov
Much in the same vein as Stepan, Anisimov has the term to serve as a bridge for the Sabres in the middle of their lineup but in terms of age isn't a long-term option. He's a capable middle-six center on a team on the verge of a retool. There are certainly worse options on the table but I can't see Botterill sacrificing any sort of serious package for a player on the wrong side of 30.
Colorado
Alex Kerfoot
Kerfoot enjoyed a solid rookie season and he's going to be in the same neighborhood points-wise this season. Obviously Nathan MacKinnon isn't going anywhere and most reports note how much the Avs like JT Compher. Kerfoot just signed as a college free agent in 2017 and the Avs are taking it slow with Tyson Jost. Getting Kerfoot out of Denver would require some heavy lifting but at 24 and showing some quality production, he'd be a great add for the Sabres. He's the type of guy I'd have little issue spending a first on knowing there's still club control (RFA this summer) and the opportunity for his offensive impact to grow with the rest of Buffalo's core.
Columbus
The Blue Jackets of today and the Blue Jackets on July 5 could be two drastically different teams. Especially if Artemi Panarin and Sergei Bobrovsky do in fact move along. Depending on the fallout from those two decisions, things in Columbus could get interesting.
Boone Jenner
Pet favorite of my Instigator Podcast co-host, Jenner is still 25 and fits the middle-six center role perfectly. He'd also slide to the third center spot nicely once Casey Mittelstadt is ready for a larger role. He wears a letter for the Jackets so it's not as if he'd be the easiest player to acquire but on the surface he'd be a strong acquisition for the Sabres to make.
Alexander Wennberg
Wennberg was slated to be Columbus' next number one center after he broke out for 59 points in 2016-17 but he's regressed in each of the following two seasons. He's only 24 and he's signed at $4.9m for four more years beyond this one. In terms of age and upside, he meets a lot of the criteria the Sabres are searching for. The question at hand is what type of player he is going to end up being. Right now, it seems like he's closer to the 30-to-40 point player he was in 15-16 and 17-18. Is that someone you want on the books for four more seasons at just under $5 million? More importantly, is that someone you'd want to forfeit any serious assets for? The Sabres may not be a legitimate Cup contender but I don't think they're in the market for any projects either.
Dallas
Despite their CEO's public comments, I don't think Tyler Seguin is going anywhere. They're a dogfight for a playoff spot and if they miss, I suspect they might have a busy summer. What that means for their in-season interests is hard to pin down.
Roope Hintz
I opted to include Hintz because his name surfaced in the Erik Karlsson rumors so there's some reason to believe Hintz could be had if the price is right. A late first doesn't quite equal Karlsson, but there's reason to believe that the Stars would entertain a move for the young Finn. He is young. Only 22 and 2018-19 is the only year he's seen NHL action thus far. He'd be a move with an eye on the future and not so much the present. The upside is there though I wonder just how much help the Sabres would get towards a playoff push this season.
Jason Dickinson
A lot of what I noted about Hintz can be said about Dickinson. He's a year older and has 74 NHL games to his credit compared to 25 for Hintz. He's faced a tougher road to breaking through at the NHL level despite strong AHL production. His numbers reflect more of a project player than Hintz would be but with the same eye on the future, not so much the present.
Mattias Janmark
Janmark is an interesting name here as he's being deployed as a winger more than a center in his brief NHL career. It seems likely that the Stars keep him as a winger for the foreseeable future as Radek Faksa is carving out a solid role as a checking center, Hintz offers long-term talent and upside and Dickinson is the former first round pick working to stick around. Janmark's offense has been middling, just shy of 20 goals last year but his pace in each of his NHL seasons is between 30 and 40 points. I don't think he'd fetch a first in any trades nor would he drastically alter Buffalo's depth at center if they slid him back to the middle. But I think if there is anyone in Dallas who could come free, Janmark would probably be the guy.
Detroit
Detroit's rebuilding effort means their key players aren't available and just about anyone else on the roster isn't moving the needle for the Sabres. I'm not sure if there is any ill will from his last contract negotiation but Andreas Anthanasiou would give the Sabres more speed on the wings. Whether or not spending a first on a winger is good business is another question entirely.
Edmonton
Ryan Nugent-Hopkins
Things in Alberta have gotten really out of hand and it's hard to pin down just what Peter Chiarelli's next move will be. The Oilers are sliding further out of playoff contention, but the expectation is that they're throwing everything they have at making the playoffs. It's no secret that they value Nugent-Hopkins and if they're going for broke, they're going to need him in the middle of their lineup.
In my opinion, Nugent-Hopkins is the perfect player for the Sabres to acquire. He can produce in a second or third center role. He plays an effective 200-foot game and has two more years on his $6m deal at age 25. The only issue is that a first round pick isn't doing the Oilers much good in their quest for a wild card berth. But if I've learned anything, it's never to rule out Peter Chiarelli doing something wacky.
Florida
Nick Bjugstad
Bjugstad has occupied a spot on the TSN trade bait list since it was first released. He's been in and out of rumors for a few years and he may finally get moved with the Panthers pretty well out of the hunt this year. Bjugstad works for the Sabres in a few ways. He's only 26 and he has another year left on his deal after this season. He's an effective middle-six center and he wouldn't be too expensive to acquire. Last year is the only season he played a full 82 games and he flirted with 50 points as a result. He checks a lot of boxes in terms of Buffalo's wishlist and he'd come cheaper than RNH would, for example.
Los Angeles
In any other scenario the Kings would be sellers. They've drifted to the bottom of the standings and they need to get younger. But their young players who would fetch a significant return in a trade (Adrian Kempe) are vital to their future plans while vets like Anze Kopitar or Jeff Carter aren't going anywhere.
Minnesota
The Wild make for an interesting test case. They have an older core and Paul Fenton was expected to turn over an aging roster. He's made a few trades in January and I suspect he'll stay active through the deadline as the Wild try to get back on track in a weak Central race.
Charlie Coyle
Coyle and Nino Niederreiter were the two players most discussed in trade circles and Niederreiter was the first big name to move out of Minnesota this year. The Wild are an interesting case because the Central is weak this year and as a result Minnesota is in a playoff position. But Coyle has been in the rumor mill for a while now and he seems to be a likely casualty, especially with Paul Fenton bringing in center help with the Niederreiter trade.
I put Coyle in a similar category as Bjugstad. He's still young, has a year left on his deal and would immediately improve the Sabres middle six. But is Coyle the player that will help put the Sabres over the top? If the answer is no, is he worth trading a first round pick for? If Coyle could be had without involving a first round pick, he'd make for a great addition. I just wonder if the asking price will exceed the potential return.
Mikael Granlund
Another for the aspirational pile. Granlund is a dynamic playmaker who pushed the 70-point mark each of the last two years. He'd give the Sabres another big weapon at the top of their lineup and at 26 there's reason to believe he could stick around after his contract expires next year. The asking price will naturally be high. Much more than just a first rounder. He's one of the younger pieces of an aging core and has produced on a regular basis. Prying him out of Minnesota would be extremely difficult but of the unlikely targets the Sabres could chase, he'd be one of the most attractive.
Montreal
Full credit to the Habs, for a team expected to be retooling, they've caught lightning in a bottle this season. Their most valuable pieces have been key to their resurgence and are expected to make up their core moving forward. Even before considering it would be an in-division trade, there's nothing that could be come up between these two teams.
Nashville
The Preds aren't a team the Sabres are going to be dealing with. Their Cup window is wide open, they're not trading any worthwhile pieces for a first. Not at this point.
New Jersey
Pavel Zacha is a guy who I think could be an interesting pick up from the Devils. He hasn't exactly met the expectations from his draft position which leads me to believe he'd be a little too much of a project for my liking. I'm also nsure where he stands in the eyes of the Devils organization but when you consider there aren't too many young centers floating around, he could a name worth exploring.
NY Islanders
The surprise team in the East isn't flush with centers who would make sense for the Sabres to target. Nevermind that they're not selling off any parts for draft picks, but Brock Nelson and Anders Lee would be little more than rentals, not long-term answers.
NY Rangers
Ryan Strome
Peter Chiarelli mercifully replaced Strome with Ryan Spooner as the butt of any future Jordan Eberle jokes and it appears that Strome is better for it. He's carved out a role with the Rangers. His 50-point season in 2015 is the outlier in his career so he's not stepping in anywhere and catching fire offensively. He has another year on his deal beyond 2019 and he would help improve Buffalo's talent at center. He'd also come for far cheaper than a first round pick. I'd hesitate to call him plan-B, but if there's no one worth a first round pick but Botterill feels like it's necessary to bring in help at center, Strome may be an option that comes cheaper than other options around the league would.
Mika Zibanejad
Kevin Hayes is the name everyone will mention from the Rangers. He's set to be the top rental center at the deadline and if the asking price for him winds up as a first plus a prospect, I wouldn't be interested in shopping at that store. A first alone for Hayes is too high an asking price, in my opinion. That makes my contention that the Sabres should inquire about Zibanejad pretty preposterous. However, if Botterill wants to swing for the fences, Zibanejad would be worth chasing.
The asking price would be higher than any of the other pipe dreams I've included to this point. He's 25, has term on a very team-friendly deal and has danced around the 50-point plateau for a while. He'd be an excellent number-two center behind Eichel. Whether or not the Sabres have the assets to acquire him is the bigger ask. Don't consider Zibanejad as a target so much as a guy who interests me and serves as good fodder for blue sky thinking.
Ottawa
Matt Duchene is the big fish rental in Ottawa and I'd be amazed if the Sabres expressed any interest in him. Ryan Dzingel is the other rental center whose name has been bandied about thanks to a strong contract year. Perhaps the Sabres would look at Dzingel at the deadline if other options were exhausted but neither he or Duchene are players I'd be overly jazzed about the Sabres pursuing.
JG Pageau
Pageau got banged up in the fall and has only just returned to action. Like most others on this list, he's in his mid-20s (26) and still has term beyond this season (one more year at $3.1m). His production is alright and would certainly be a boost for the middle of the Sabres lineup. I don't think much in Canada's capital doesn't have a 'for sale' sign on it these days and I don't imagine the asking price would require a first round pick. He'd be a curious addition, especially if the Senators would be willing to sell low.
Philadelphia
I originally penciled Scott Laughton into this spot. He's a former first-round pick who's on pace for a career year offensively. The Flyers are out of it and I'm not quite sure what their approach will be under new management. As incredible as Sean Couturier would be, none of their big names are moving. Laughton's age fits Buffalo's plan but is he really a center at the NHL level? Is he going to be more than a 20-30 point player? Ultimately, I think there are better options on the market.
Pittsburgh
Derick Brassard
Brassard is a tried and true rental, so he really isn't a good fit for this list. But as I mentioned above regarding Dzingel, if there aren't any options to acquire players with term, circling back on some affordable rentals would make sense. If the Sabres could leverage a hockey trade for Brassard rather than spending picks, it might work out better long-term as well. Food for thought should the market get thin come February.
San Jose
There's not too much in San Jose that I could see the Sabres angling for. Not only are the Sharks in buyer mode trying to keep their Cup window open, their centers don't meet any of the criteria the Sabres are assumed to be looking for. Although, if Timo Meier somehow became available, I'd be very interested in seeing him in blue and gold.
St. Louis
Brayden Schenn
I suspect the Blues climb back into relative contention would make Schenn difficult to fetch but if you're ranking the centers on this list with a year left after 18-19, Schenn is probably number one. He'd absolutely run the Sabres a first, maybe more and at 27 and a UFA after 19-20, I wonder if there isn't enough long-term stability to put him on Buffalo's radar. He'd offer a big boost in the short-term with some benefit beyond this year. I just question how many 28-year old UFAs Botterill will want to lock up on an annual basis.
Tampa Bay
I still struggle to understand how the Lightning will manage to fit all their talent under the cap ceiling. Especially with the number of long-term deals they already have in place. Brayden Point is up this year and will be due a big raise. Andrei Vasilevsky is going to be up again in another year and the Bolts will need to plug some holes on defense. The question I keep asking myself is 'who will be the cap casualties?'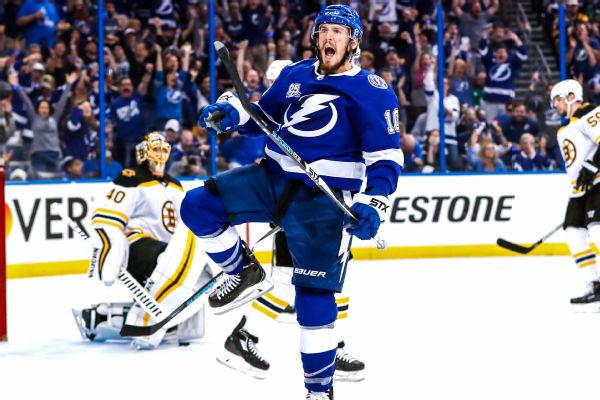 Ryan Callahan will be gone after next year, that saves over $5m in space, but that's absolutely going to be spoken for by either Vasilevsky, Sergachev or Point's extension. Tyler Johnson and Alex Killorn account for nearly $10m in space and you can add another $5.3 for Ondrej Palat. All three are signed through 21-22 or later. The Bolts are going to need to make some tough decisions. Especially with three mainstays on defense hitting free agency this year.
There isn't a world where Brayden Point is available via trade and the Sabres don't have the picks to send an offer sheet. Tampa has their eyes on a Cup and I can't fathom a situation where they'd let Point walk come the offseason, regardless of the return.
The potential for a cap crunch has me fixated on JT Miller as a player who might offer some relief while bringing a hefty return via trade. This would almost certainly be a summertime trade and the Sabres would have to add to their first-round pick to pull it off, but to get a 25-year old, 50-point player who is locked up for four more seasons would be perfect for the Sabres. I know it's a pipe dream, but I can't stop thinking of ways to leverage their future contracts as a way to sell the Bolts on shipping Miller to Buffalo.
Toronto
Those guys aren't going anywhere. Call me if Kapanen winds up being available.
Vancouver
Buffalo's expansion cousins find themselves further ahead of schedule this season than many expected. There isn't a trade fit between the two clubs. Not at center.
Vegas
I wouldn't be shocked if Vegas wanted to pull back a few draft picks they traded over the last year or so but it won't be at the expense of their NHL roster. Not in season at least. Erik Haula would've been interesting to explore but it doesn't sound like he'll be healthy in time to make an impact this season.
Washington
There isn't any fit when it comes to the Capitals centers. Andre Burakovsky though would be a player worth poaching. The added benefit of pursuing Burakovsky is that the Capitals are said to be seeking roster players that can play in their top-9 as opposed to just picks. Although I'm sure they'd be happy with some picks if they got the deal done early enough to turn the picks by the deadline. I'm not sure who on the Sabres roster would be of interest to the Capitals but it sure would be nice to get him into the fold.
Winnipeg
The Jets are in that group of team who are firmly in win-now mode so like the Preds or the Lightning they're not going to be in the business of trading away NHL players. The one player who would be a curious guy to target is Jack Roslovic. Notable for being selected with the draft pick the Sabres sent to acquire Evander Kane. Roslovic is definitely part of the future for the Jets, so acquiring him would be quite a challenge. But he's another great example of the type of player the Sabres should seek out.
The good news here is that there are options for Jason Botterill to pursue. He's not looking at a market with only one or two trade partners to work with. The difficult part is that none of these deals are layups. They aren't a typical rental deal, so there's more work that needs to be done to get them over the finish line. What I do know is that if Botterill is going to shop the first-round picks he has, getting someone who can contribute beyond this year is vital.