There was a lot of excitement this summer about the potential changes that were on deck for the Sabres roster. Especially at forward. But with the season just two days away the Sabres are reminding everyone that they're in no rush.
At the opening of training camp there were upwards of 12 players competing for two or three spots in Buffalo's bottom six. Injuries affected that competition but when it was all said and done, the Sabres didn't stray from the players they finished the 2017-18 season with. Opting to give their youngsters bigger minutes in Rochester. It's a decision that won't sit well with many fans who are tired of seeing Zemgus Girgensons and Johan Larsson night in and night out.
Given the players who were sent down, and the timing of those decisions, I'm not sure the alternative would have been all that much more appeasing. Alex Nylander was the final forward cut after being demoted Monday, but the race between the likes of Girgensons, Larsson, Scott Wilson, Justin Bailey and Nick Baptiste was wrapped up last week when the latter two were assigned to Rochester. That leads me to believe that had Larsson and Wilson not earned the extra two forward spots that Bailey and Baptiste would've earn that honor which still wouldn't represent the changing of the guard the fanbase is so desperate for.
The injuries that Wilson and Larsson suffered likely affected the decision-making process as well. Wilson was probably safe either way, so the injury he suffered in practice is particularly frustrating. But Larsson may have very well been tabbed for a trip east on I-90 had he not taken a puck off the wrong part of his foot late in the preseason. That pushes the pair to IR for the start of the season. They'll join Sean Malone, Matt Hunwick and (maybe) Zach Bogosian. It sounds like Bogosian and Larsson are suffering from short-term ailments so they probably won't be on the shelf long. If you've got your fingers crossed for Larsson to go on waivers you might just get your wish once he's deemed healthy. But with Wilson on the shelf and no other extra forward in Buffalo – barring a waiver claim – Larsson's NHL job is probably safe.
The good news is that the roster turnover so many fans are waiting for is closer than the current lineup indicates. They already look better than last year thanks to Vladimir Sobotka filling a space previously occupied by Larsson, Tage Thompson jumping up the depth chart to push veteran talent further down the lineup and Patrik Berglund, Casey Mittelstadt, Conor Sheary and Jeff Skinner injecting talent on to three different lines. As close as he was to keeping a spot with the big club, Baptiste has since been moved to Nashville, clearing out a prospect who many fans were wondering would ever put it all together to lock down an NHL job in Buffalo.
Moving Baptiste puts CJ Smith and Andrew Oglevie at the front of the line for the first recall of the season. They, along with Bailey, Nylander and Danny O'Regan will all certainly see time in blue and gold this year. It's not outside the realm of possibility for one or two of those names to carve out a significant role as the season progresses. But for now, playing big minutes and key deployments in Rochester is the right call for that group.
The one area I'm not overly confident in is the defense corps. Winning the lottery and drafting Rasmus Dahlin certainly gave this group a heck of a lot more talent. But as they currently stand, there's still plenty of work to do. Bogosian's continued injury issues hamstrings their efforts to an extent but I'm not sure he'd be the better choice over Casey Nelson anyway. I really like Nelson's game and I think he's going to continue to assert himself as a capable NHL defenseman but I can't help but be underwhelmed with Buffalo's third pair.
Perhaps it's because as much faith as I want to have in Nathan Beaulieu turning things around, it's a big jump to make given his play last year. Maybe it's just because Matt Tennyson has somehow survived roster cuts again. The organization is obviously following the same approach they're taking with the forward corps, it's just a little tougher pill to swallow when it would appear the defense prospects are closer to regular NHL work than some of the forwards, leading to the opinion that the team could stand to go with more of a youth movement on defense given the seven healthy bodies they're working with at the moment.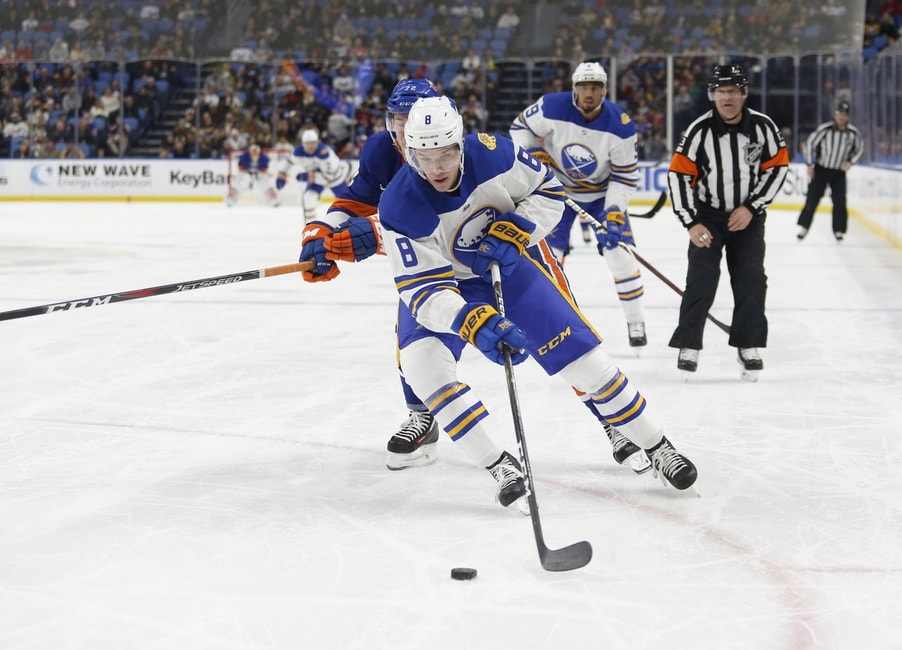 That's a long-winded way of saying that a third pair of Brendan Guhle and Casey Nelson, with Beaulieu as the extra would probably have won over more fans, and maybe allowed the team a bit more rope as the duo acclimate, than the current crop of defensemen on the roster.
I do wonder if Hunwick didn't have an injury at the opening of camp and if Bogosian remained at 100% if the club would have kept eight defensemen to start the year. That would've plunged Beaulieu's opportunity for minutes into a deeper competition and could have even altered the construction of the pairs. Would McCabe and Dahlin still be playing together? If those two remained together would Bogosian and Nelson be the third pair to start the season?
Waiver eligibility and asset management was always going to be at play in forming Buffalo's opening lineup. NHL teams are loath to lose players for nothing, look no further than the Baptiste trade. Limiting the chances that players walk out the door on waivers – though there have only been a handful of waiver claims thus far – is always going to be at the front of mind for NHL clubs. Add in the desire to have Buffalo's key prospects playing key minutes and you have a recipe for sending down up-and-coming players in favor of veterans.
It adds frustration form a fan perspective since often the players who stick around are the ones the fanbase wants to see gone. But I'd rather see Larsson and Girgensons rotate on the left side of the fourth line, playing 11 minutes a night, than giving Alex Nylander that same deployment. If Sean McDermott was in charge we'd be hearing a lot about the process right about now.
The holdovers on this roster don't inspire much confidence. The defense corps has the looks of a unit that still needs another year or two of growth. The goaltending is a little unproven but Carter Hutton looked strong in preseason, I have some faith in that pair to help right the ship. Even with those negatives, the forward corps is worlds better than anything the Sabres put on the ice last year. They're deeper, a heck of a lot more talented and should be at least a passing threat at five-on-five.
This is hardly a roster worthy of contending for an Eastern Conference title and I think the wild card predictions are a little too bullish. I fully expect the Sabres to be an improved team this year. They may still have a few balls in the lottery but I think Buffalo's pick will come in the teens next June. Hardly an accomplishment, yes, but a step in the right direction.