On the laundry list of issues the Buffalo Sabres are facing, goaltending ranks relatively low. A slow roster with some problematic contracts all while dropping from first to worst (technically 27th as of today) has far bigger issues to address than goaltender.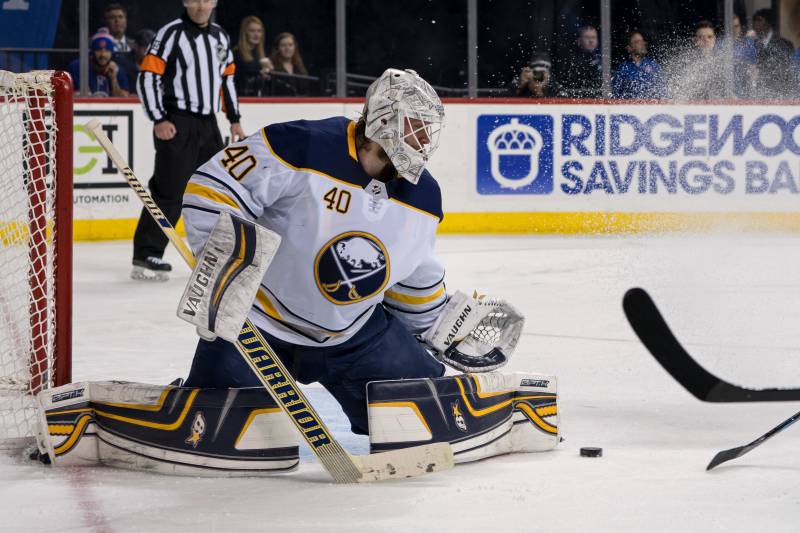 Although it may rank low on the larger list of issues facing Jason Botterill and company, it is indeed a problem area that is in need of improvement moving forward.
Improved goaltending wouldn't be the silver bullet needed to get the Sabres into a playoff position. It wouldn't even get them into the race at this point, which speaks to the myriad issues with the roster at the moment. But their goaltending has indeed cost them points in the standings, enough to, at the very least, pull them from the doldrums of the league basement and into a more respectable standing.
Chad Johnson and Robin Lehner have combined to allow three or more goals in over half of Buffalo's games this season and four or more goals have been allowed 22 times. It shouldn't surprise anyone that the vast majority of each goaltender's wins have come in games where they allow two or fewer goals while the vast majority of losses come when three or more goals are conceded. What has been a problem is a lack of consistency from both, and a propensity to negate rare strong offensive performances from the league's lowest scoring team.
It hasn't helped that it took so long for Johnson to settle into a groove. Things seem to have turned around for him beginning with a 33-save win in Calgary on January 22. Since that victory, Johnson is 6-3-0, he was 1-8-3 prior to it. His early struggles have been fairly well documented, earning just one win prior to the new year was just part of the problem as his high level numbers still sit below a .900 SV% and above a 3.00 GAA despite his recent hot streak.
Since that win in Calgary, Johnson has posted a .929 SV% and 2.38 GAA which has helped produce a 6-3-0 record over that span. Overall, since January 1 he is 6-5-0 with a 2.75 GAA and .917 SV%. The improvement has certainly made Sabres games a bit more palatable lately, but his early struggles did a lot of damage to Buffalo's outlook.
Using Rob Vollman's advanced numbers (available on Hockey Reference), Johnson's year looks eerily similar to his 2014-15 season, the year he was one of the worst statistical goaltenders in the league. He owns a -12.33 goals saved above average and 120 goals against %. For context, the lower your GA%, the better and 100 is exactly league average. He was at 130 in 14-15. By comparison, Johnson had a 94 GA% and 6.13 GSAA for the Sabres in 2015-16.
You don't exactly need many advanced metrics to know Johnson's year has been a downer. He's started 21 games this year and has allowed four or more goals in nine of them with six more starts yielding three goals. Putting a team in a position where they need to score at least four goals to even have a look at a win is, well, less than advantageous.
Robin Lehner has been a fair mark better than his partner thus far, but 2017-18 has been a fairly significant regression from his first two seasons in Buffalo. Lehner was strong in 2016-17, posting a .920 SV% on the year (.927% at even strength). That even strength number was good enough to put him inside the top-20 league-wide along with a 13.29 GSAA and a point share (12.9) nearly three times better than the year before. But this year hasn't been as impressive. His 2.91 GAA is nothing to write home about and all of his underlying numbers have regressed.
Some of these advanced numbers require some added context as playing behind a team as poor as the Sabres will result in inflated numbers for pretty much any goaltender. You could have an endless, circular argument over who deserves more blame here. Is the bad roster causing the goaltender's struggles or is poor goaltending causing the team to look worse?
Lehner in particular suffers from this he's gotten the lion's share of the games this year. Something that has led to him allowing three or more goals in over half of his appearances this season. That Lehner has maintained a positive quality start metric should say something for his play. Even still, there are few things to like about Buffalo's goaltending play this season.
Playing behind a porous roster is going to create less than advantageous situations more often than not. Further, the Sabres inability to get up for games this season has seen them get absolutely run over in lopsided finals. Few of those games can be blamed on goaltending at all as games like the 7-1 matinee drubbing would have required a Hasekian performance just to lessen the embarrassing score line, let alone a victory.
Point being, the Sabres have had their fair share of bad losses this season and each goalie has played his role. Lehner has allowed four goals in ten different games but the Sabres scored two or fewer goals in half of them. The same goes for Johnson. Only once has the team in front of him scored three goals in a game in which he ultimately allowed four.
This is also something of a circular argument as both the goaltenders and skaters do share responsibility in these lopsided scores. Besides, it's not as if the Sabres have turned in a pile of terrific performances where they've been let down by their goaltenders in 6-5 or 5-4 losses.
That being said, there are more than a handful of losses on the Sabres schedule which do fit that bill. Games in which a save or two would have turned a one-goal loss where Buffalo's offense held up their end of the bargain into a win.
I had been mulling this over for a little while this year because I felt that, in theory, the Sabres had probably lost somewhere between eight and 12 points in the standings due from games where closer to league average goaltending would have gotten them a win. But without digging into the numbers and results it was conjecture more than anything.
But exactly how many points have the Sabres really lost on account of leaky goaltending?
The easy solution would be to simply count the results where the Sabres scored three or four but the goalies conceded four or five. However some of those games require deeper digging. For example, in the 5-4 loss to Colorado, the Avs held a 5-2 lead well into the third period before the Sabres finally showed signs of life. Would the Sabres have fared better if Robin Lehner offered up something better than an .815 SV%? Certainly. But that was a game where the Sabres allowed a goal in the opening five minutes of all three periods – one just 43 seconds into the game and another 1:07 into the second. If the Sabres hadn't let off for so long during the game they probably help lift up their goaltender a bit more and come away with a win.
Just taking the results on the surface, there were eight instances where the Sabres allowed four or five goals and lost by one. That gives them 16 more points in the standings had their goaltenders turned in better performances. Good enough to put them in the competitive but still disappointing tier with the Islanders and Hurricanes.
However, there are probably two or three games in that bunch which would be unfair to saddle on the goaltenders alone. The Colorado loss, the early season trip to Vegas where the Golden Knights scored four-straight before Buffalo woke up in the final 10 minutes are both good nominees.
Other contests are a little more obvious. Lehner and Johnson combined to allow five to the Wild, a few in very ugly fashion, in a game where the Sabres would have won walking away had they gotten a few routine saves. January's 4-3 loss in Winnipeg is a terrific example of simply needing a few more saves and on that night, Chad Johnson didn't deliver.
All told it seems safe to say that there have been at least five or six games that were frittered away by average or below average goaltending. Those 10 points (or 12) wouldn't pull the Sabres much further away from lottery contention but would provide a slightly more palatable result on the year. Perhaps it would even be construed as progress.
There's just been a little too much variance when it comes to the goaltending performance they're going to get on a nightly basis. Too often the best descriptor of Buffalo's tandem is "fine". Sometimes it's been good but very rarely has it registered above that measure. And a little too often it's been bad.
It looks as if Buffalo will have Linus Ullmark and a free agent to be named later manning the crease next year. It's hard to fathom that tandem turning in a Jennings-worthy performance, but I have faith that they'd be more consistent than Buffalo's goalies have been this year. That won't be enough to push the Sabres to a playoff berth, but I'm willing to bet it's enough to see them climb out of 31st place.