Somewhat recently the Sabres posted that they were hiring for a new position call Director of Fan Development. I'm not sure if they're still on the search for that role or if the job has been filled. But either way, I wish that person the very best of luck with that job.
The precise responsibilities of the position and what they'll influence will only be known to those in the Pegula Sports and Entertainment offices but on face value, that's going to be an extremely difficult position for whoever takes it.
Put aside the outlook for the 2021-22 season and just look and the off-ice aspects for the Sabres in recent years to gauge this undertaking. The game night atmosphere is regularly maligned for being flat and as the team embarks on this rebuild, the typical stance of relying on wins to drum up the fans can't be relied on.
One thing that has never sat well with me is the opinion that when the team wins the fans all come back and they stop complaining. This is true on its face. If the team is successful the fans are happier. They don't mind spending $12 for a beer or that there's only cold water coming out of the taps in the bathrooms. But that has been stated many times in many public forums by employees of the Sabres and the deeper implications of resting on that and that alone has a lot to do with how things have gotten to this point in the stands of KeyBank Center.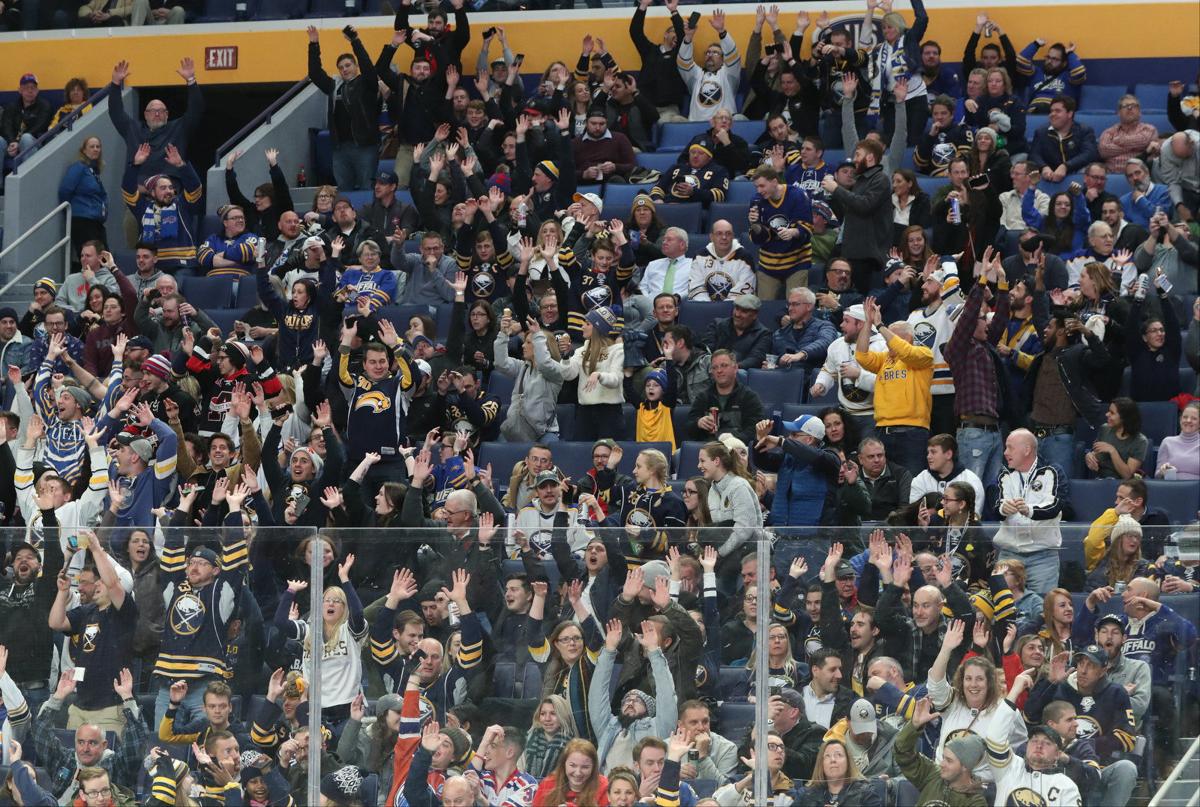 The issue, in my opinion, is that simply waiting for the team to win means there is little to nothing being done to cultivate the fan base or make deeper connections inside and outside the arena. It's frustrating because as much as you hear about how passionate and devoted Sabres fans are, the atmosphere at home games doesn't align.
This isn't meant to discount the damage years and years of losing can do to a franchise, because that sits at the center of all of this. It's going to be hard for anyone to come to work when you're in year 10 without playoffs. But when I hear people discussing organizational culture, I can't help but wonder if just waiting around for wins isn't hampering the Sabres' ability to do more.
I'm not the Director of Fan Development for the Sabres and I'm hardly an authority on the subject. But given how things have gone the last five (ten?) years, I think there are a few things the Sabres could do that would help tie the fans back to the club.
The biggest issue facing the Sabres in the front office, the box office and everywhere else is their inability to win games. Getting the few people who will be showing up to the arena this year to care is going to be a tall order. Those are just basic facts. What I'd love to see is the Sabres devote themselves to cultivating some new gameday traditions. It's not going to be easy because in the short term I wouldn't expect much, if anything to change. But I certainly think it would be superior to trotting out the same things they've done since 2007, like plaza parties, for example.
I'm not sure what that looks like exactly. Sabres fans aren't exactly bursting at the seams to participate in things during games. So I don't think you're going to convince everyone to wave newspapers while the opponent is introduced. I do think a good starting point would be to tone down the idea that Sabres games are the family friendly cousin to Bills games. It can be awfully heavy handed at times and it would be nice to see them take a different approach.
When I think about what the future holds for the Sabres it's a competitive team with a vociferous fan base behind them. Now is a great time to start building new traditions that haven't existed in Buffalo before with the aim of them being mainstays of Sabres home games when the team finally turns the corner.
In the meantime, they'll need to find ways to get people to show up to games. I've long been a proponent of better giveaways and theme nights to get fans to show up. Previous fan appreciate games with bobblehead giveaways have been well attended and the trio of bobbleheads I've collected are well worth the trouble to go to those games. Even with the team long eliminated from the playoffs, those games have been not only worth the trouble, but enjoyable experiences.
I don't think it's any secret that a Dominik Hasek or Jack Eichel bobblehead were a big part of why people showed up for those games. The team's promotional schedule for the year feels a little light but I wouldn't expect them to turn into the Sharks overnight either. Still, a handful of clever giveaways throughout the season would be a nice way to boost things up in both the short and long term.
Another thing I'd love to see is the introduction of some unique merchandise. Give people a reason to not only go to the Sabres store and spend money, but give them a reason to proudly display their fandom. Tap into the 50-plus years of memories people have for this team. After all, there are still more good ones than bad ones.
I've harped on Twitter about doing some sort of collaboration with Oxford Pennant for a while now. Considering the Bills and Oxford have teamed up for the last couple years, I have to assume the groundwork has been set for a similar program with the Sabres. If not, they should get to work.
Just a few thoughts on different Oxford pennants or camp flags that could be done with a Sabres twist:
Domink Hasek: Front view of Hasek's helmet with The Dominator arched over the top
May Day
Additional RJ Conent: Take you pick at this point, that's a deep well of fan favorites (Scary Good, LaLaLaLaFontaine, Who Else, etc.)
The Aud: I think a pennant with the old Aud logo on its own would sell like crazy. Any other Aud content would probably be welcome as well.
Sabres on the Warpath – Given the team's present is quite bleak, there's no better time for the Sabres to reconnect and promote their history
Retired numbers and replica banners
You could probably make a list three times as long and still have things you'd forget. I'd add that tapping some local t-shirt designers to do Sabres themed shirts would be a fine stand in or supplement to an Oxford collab. Oxford's stuff is so high quality and unique that I think it would be an excellent piece which fans would be proud to display at home, in their office or elsewhere.

Offer people something really high quality and unique and I think you'd see a fair response. Just look at how fast the talking RJ bobbleheads sold out a few years back. I feel the same about bringing in local t-shirt designers. The Hurricanes have done a homegrown series for a while which brings in local restaurants, breweries and designers to do limited offerings at games. The Sabres wouldn't even need to do something that in-depth but simply creating a more interesting line of Sabres-related apparelt would be a win. Anything to substitute for the crap Fanatics has to offer.
There are some other cool opportunities to do unique artsy stuff with the team. Cool lithographs of various goalie masks or famous plays would make for great gifts. Think along the lines of MayDay, the Drury celebration or Pominville's OT winner. Again, another list that could go 50-deep if you wanted it to.
The last thing I feel like we've missed lately from the Sabres is connecting with the players. I don't know where the disconnect has been but it just seems like little has been done to show the players have a personality. It could be as simple as the team has been losing and no one has the appetite for it. A lot of fans have held a lot of negative opinions over Sabres players for quite some time. Before the tank even. I can't help but think a few more goofy features could go a long way to not just humanizing the roster but turning fans to players who ideally will be around for a long time.
There are no easy fixes for the Sabres. Patience will be needed in constructing the roster and getting fans to come back to the arena in full force. It seems pretty clear that many fans don't have faith in the on-ice product and they're responding in the exact way the Sabres have trained them to; when they win, you show up. When they lose, you stay home. The Sabres need to break that mold and begin laying the groundwork for a more engaged and enjoyable home atmosphere. And they can do it while the team works out the kinks of this current rebuild.
Despite what my musings on Twitter sometimes say, I am encouraged by what the Sabres have been up to. It seems like the front office has started thinking differently about how to build their team. Maybe we'll see them follow suit in other areas too.