It looks as if Taylor Hall has played his last game with the Sabres. As of this writing, Hall has been ruled out of Buffalo's game against the Devils on Tuesday, April 6. With only six more days until the trade deadline, the odds that he's seen in a Sabres jersey again sit somewhere between slim and none.
I meant to run this mailbag a few days earlier than it's being dropped, so a couple of these questions may not seem as timely as they otherwise would have. The news of the week is Hall being scratched for the Devils game in anticipation of a trade being finalized. It seems unlikely that he even makes it to the deadline at this point, with a quicker conclusion to a trade benefiting any team that acquires him, especially those in Canada.
I'm not sure there's any other way to describe Hall's tenure in Buffalo as anything other than a huge disappointment. Luckily, the one-year deal the team signed him to mitigated any sort of long-term damage to their cap or depth chart, but two goals and 19 points over 37 games isn't what you're expecting from a former MVP. It's certainly a far sight from Terry Pegula's "We sign this guy, we're not only trying to make the playoffs, we're trying to win the Cup."
Chasing Hall, like acquiring Eric Staal made for an exciting and promising offseason for the team. Not only was Hall a former MVP but he was the type of top-tier talent that could have helped take the Sabres to another level. Instead, he suffered through an abysmal stretch of shooting that tanked his stats and made him look like a passenger instead of the dynamic contributor he'd been earlier in his career.
We'll wait to see what sort of trade return Kevyn Adams gets for Hall and whether or not that can help provide either short or long-term assistance to this club. Now, for your questions.
@smellglove – Could the Sabres successfully rebuild without selling off most of their current NHL assets?
It's plausible that they could find a coach who can maximize the collective skill set of the players on this roster and that would lead to a progressive improvement in the standings. What complicates this is the number of UFAs they have on the books this season and the areas where they need the most improvement. If you count Eric Staal, the Sabres have (had) seven pending UFAs who could or should be moved by the deadline. Among those players are Hall, Linus Ullmark and Brandon Montour. I'm also counting Jake McCabe, whose contract status could find him playing elsewhere next season.
Add Rasmus Ristolainen's play declining from the start of the season – a nasty combination of COVID and McCabe's injury leading to this year's issues – and his continued posturing in the press about playing elsewhere. Plus their continued search for quality in the middle of the lineup and there are still quite a few holes to fill. In a vacuum, you'd probably see the Sabres move upwards of seven or eight players to really start trending in the right direction.
The scenario where they wouldn't need to sell off most of their assets is hard to fathom. It would include an unnamed hire at head coach who would get Rasmus Dahlin back on the developmental arc we saw in his rookie season, find the Brandon Montour so many people fell in love with early in his career while somehow unlocking Ristolainen (a feat that is probably impossible at this point). On top of that, you'd need Dylan Cozens to become a legitimate driver at center overnight and Jack Quinn would need to be a similar overnight sensation on the wing. And on top of all that they'd need to wind up with a few prospects to outperform their draft position to a level like Brayden Point.
I don't know if the Sabres need to completely tear it down, but I'm not sure how they become a competitive team without shipping away many of the players on their current roster.
@vonsabrec – Do the Pegulas recognize they are the fundamental root cause of this mess?
I have a hard time thinking they would. Even if the rumors are true that they're potentially adding Jim Rutherford and that his hiring would come with a similar agreement to what they have with the Bills (as was reported on 31 Thoughts), I don't necessarily think that would be an admission of guilt.
At best they may have realized that the decision to not trust hockey people, as was reported last summer, was misguided. And that cutting their hockey department to a skeleton crew only created problems. But everything we've seen from them indicates that they're very typical, ultra-rich people who live with minimal consequences for their actions.
I'd add that the success of the Bills and the adoration they've received for that success likely emboldens their belief that they make good decisions. The Sabres' struggles largely trace back to poor hiring and the buck stops with ownership when it comes to those decisions. So, whether through sheer luck or a thorough evaluation process, it's hard to see things getting better until the right hiring decisions are made.
@michaelparthum – Which Joker is your favorite: Nichoslon, Hamill, Ledger, or Phoenix?
Ledger. I haven't consumed the cartoon, so I can't speak to Hamill and while I thought Joker was excellent, it didn't trump The Dark Knight. That movie was such a home run at the time it was released and Ledger's performance had so much to do with its reception. The entire Nolan series was so good, and Ledger was so good in them, that it's hard to see any Batman movie ever coming close to them ever again.
@zcarr39 – I've been trying to come up with an actual useful question and not satire. So if you pick 1st and you're running their 2021 draft who you picking?
Considering the top of this draft isn't exactly rivaling 2015 for pure talent, finding the mix of best player available and organizational need will be important. If I'm running the draft, that makes Matthew Beniers my selection.
Owen Power is getting a lot of love as a potential number one selection, but I don't seem him offering the Sabres as much as Beniers could. Not only did the Sabres just spend a first overall selection on a defenseman, I feel slightly better about that portion of their pipeline than I do about their centers.
Even with Casey Mittelstadt enjoying something of a resurgent season, Beniers is another player who can reinforce their center spine beyond Eichel and Cozens. He hasn't lit the scoresheet on fire and it's unfortunate that Michigan couldn't play in the NCAA tournament, but the overall package makes for a pretty good draft profile. If you want to play the projection game, he might even fill the Toews-type role that many thought or hoped Sam Reinhart would fill upon being drafted.
@dbtbanth – Who would win in a fight – Three Chris Ostranders, or a sentient manifestation of Cody Eakin's mullet?
If the mullet is as good in a fight as it's been on the ice it stands no chance in a three-on-one fight.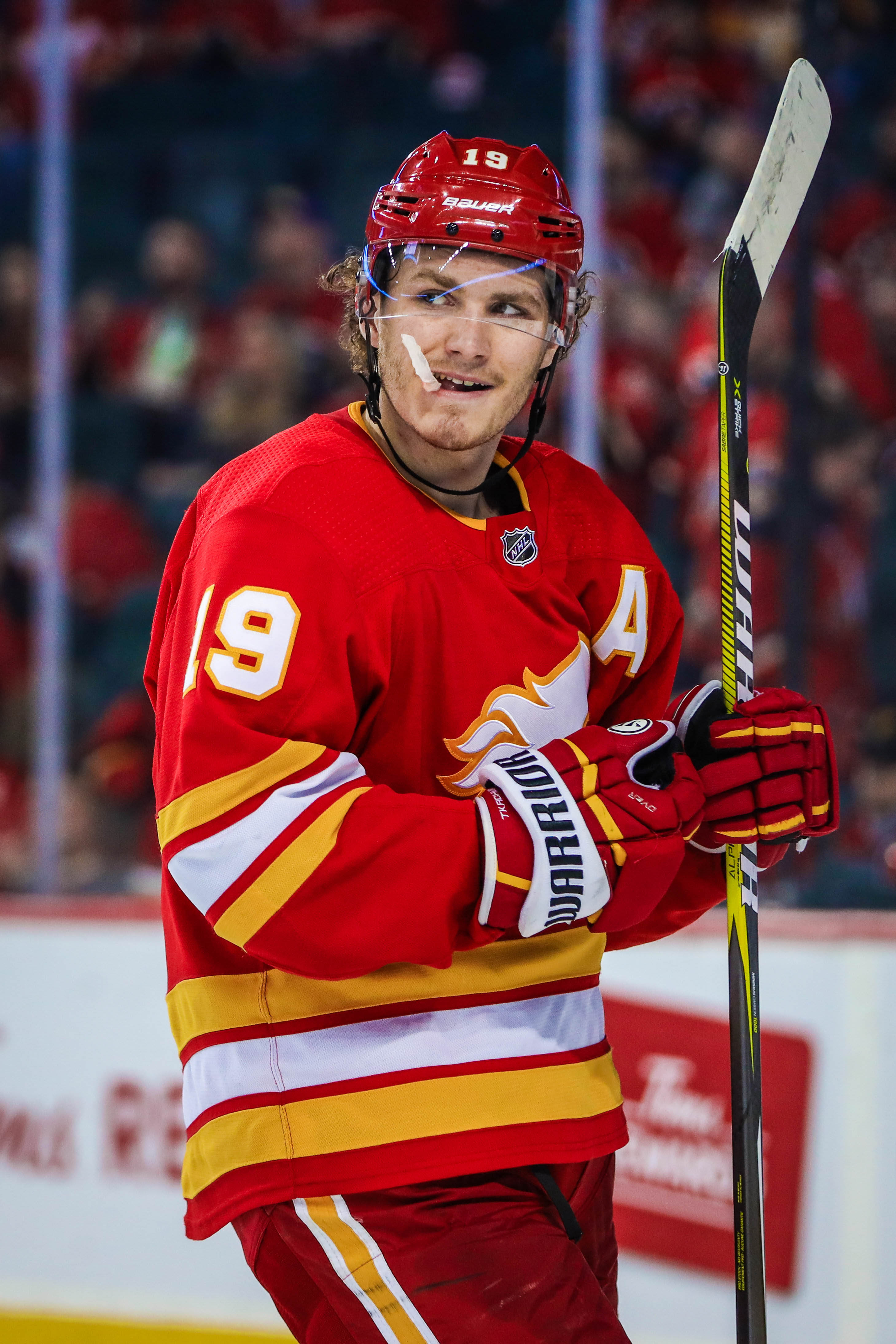 @jamdab29 – Better to trade or sign Samson long term?
Such a tough call. The Sabres don't hold a lot of power in this scenario even though Reinhart is still a restricted free agent. His short turn at center has been fairly successful thus far, which further complicates matters. The competing points of view here is the Sabres' need to turn over their roster and the impressive consistency Reinhart has shown during his entire career here.
I'll put it this way. He doesn't make my list of untouchables when it comes to hearing pitches for players on this roster. But his value has often been underrated by Sabres fans and media alike and it's hard to fathom any deals that Reinhart would be involved in where the Sabres get better. I think I'd rather see him retained than dealt away.
@lord_of_jord – Calgary forwards seem ripe for the picking. What are you willing to surrender for Gaurdreau and/or Tkachuk?
I'm not a huge Gaudreau fan, so I wouldn't be too pumped if the Sabres acquired him. He only has one year left on his current deal and he turns 28 in August. I doubt his contributions match the asking price it would take to get him.
Tkachuk, however, is one of the few players around the league I'd offer any Sabre not named Jack Eichel to acquire. I think he's that good. Even as a winger, he has excellent play driving tendencies and for those who feel the Sabres lack jam and toughness, he'd check that box as a sort of Tom Wilson adjacent type of guy. This is something I've discussed on-and-off with a few fellow Twitterers and I'll drop it in here to leave everyone with a juicy topic to debate. If the Flames called today and offered Tkachuk for Dahlin straight-up, would you say yes? Because I know I would.