The current state of the NHL has evolved to a state in which there are really only two days when teams make deals to shape their rosters; the draft and the trade deadline. Sure, there are still deals made between those two dates, but they've become few and far between in recent seasons.
Both dates are tantamount to holidays for hockey fans with deadline day being particularly significant for fans, pundits and teams. For a club that has just celebrated its 50th anniversary, the Buffalo Sabres have had their fair share of interesting deadlines.
Between another year without the playoffs and the COVID-induced delay, there hasn't been too much to talk about from a Sabres perspective. A few minor signings and, of course, the hiring of Kevyn Adams, but it's been a quiet few months on the hockey side. It's a different story where the Pegulas' lifestyle is concerned, but from a strictly hockey perspective, it's been a low key summer.
As a result, I thought I'd spend a little time combing over the club's history at the trade deadline. Whether or not the 20-21 deadline plays a major role in the shaping of the roster or long-term success of the club can't be known, but there are 49 deadlines that have played such a role in one way or another.
I've compiled what I feel are the seven most notable deadline trades in club history. I worked to rate each deal based on the clout of each player involved and both the short- and long-term effects the pieces had on the organization. I allowed for a few day's worth of wiggle room from the deadline, but no more than four or five days. The trades are listed in chronological order as opposed to a proper ranking.
March 4, 1972 – Buffalo acquires Rene Robert from Pittsburgh in exchange for Eddie Shack
After not making a trade during their inaugural season, Punch Imlach acquired one third of the most iconic trio in franchise history, swapping Eddie Shack for Rene Robert two days before the 1972 trade deadline.
Shack had scored 25 goals for the expansion Sabres and chipped in 11 more in 1971-72 prior to being dealt. Robert's NHL career had gotten off to a quiet start, with no goals in only five games with Toronto in 1970-71 and scoring 13 between Buffalo and Pittsburgh in 71-72. He broke out the following year, scoring 40 goals in 1972-73 and repeating the feat in 1974-75. As a member of The French Connection, he'd top 30 goals four times and top 70 points on five occasions. That includes a 100-point season in 74-75, two appearances in the All Star Game and 2nd Team NHL All Star Team honors in 74-75.
March 10, 1980 – Buffalo acquires a 1982 1st round pick (Phil Housley) from Los Angeles in exchange for Jerry Korab
This trade stands out to me for a number of reasons. First, Jerry Korab was a fan favorite for the Sabres, playing in parts of seven seasons before his departure, including as a key member of the 74-75 team that appeared in the Stanley Cup Final. Korab eventually found his way back to Buffalo and topped the 500-game mark with the club. Second, the return was strong for the Sabres, eventually turning into the sixth overall selection in the 82 draft. And third, for the player Phil Housley became both in Buffalo and beyond.
Housley stepped in as an 18 year old and finished second in the Calder Trophy voting after scoring 19 goals and 66 points. Housley played eight seasons for the Sabres and scored over 60 points in each of them. His tenure in Buffalo came to an end when he was involved in one of the biggest blockbusters in franchise history, heading to Winnipeg in a seven-piece trade that brought Dale Hawerchuk to the Queen City.
March 10, 1981 – Buffalo acquires a 1983 1st round pick (Tom Barrasso) and a 1981 3rd round pick (Colin Chisholm) from Los Angeles in exchange for Rick Martin
Just one year after dealing Rene Robert to the Colorado Rockies, The French Connection was fully disassembled as Martin was sent to Los Angeles. Martin's career was effectively over by the time he finally got on the ice with the Kings, but the Sabres got a big return for one of the greatest scorers in franchise history.
Barrasso made an instant impact for the Sabres, stepping into the starter's role right out of high school and winning the Calder and Vezina while earning First Team All Star Team honors. He'd help the Sabres win the Jennings the following season while finishing second in Vezina voting. He lasted six seasons in Buffalo before being traded to Pittsburgh and eventually winning back-to-back Cups.
This is also the deal that triggered a massive trade tree which is still going today. A number of players and prospects capable of tracing their acquisition all the way back to this deal between the Sabres and Kings.
March 18, 1997 – Buffalo acquires Miroslav Satan from Edmonton in exchange for Craig Millar and Barrie Moore
You may be surprised to learn that this was the only trade the Sabres made in the entire 1996-97 season. The Sabres have had 10 instances of not making any trades on deadline day. There have been a handful of seasons where the club only made a couple of trades from the summer right on through to the deadline as well. So if Jason Botterill's inaction drove you crazy, think of your frustration in 1976-77 when the only deal was swapping Roger Crozier for cash. Or how making five total deals from 1982 through 1985 would have you feeling about the state of the club's management. That 1982-85 stretch is especially fascinating as the latest deal made in any of those seasons came in December, the rest of the moves were made in the summer. Imagine that happening now.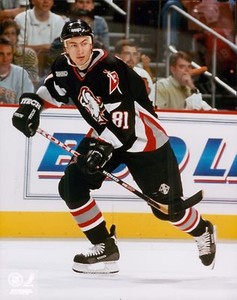 Of course, most of those teams were good and not drowning like the 2016 Sabres were when the only deal made was swapping Dan Catenacci for Mat Bodie. The 96-97 Sabres were on their way to a Northeast Division championship when Satan was acquired, though he wouldn't have an impact in the 1997 postseason.
Satan eventually played eight seasons in Buffalo, scoring 224 goals and toppign 30 goals on three separate occasions. While he wasn't always a fan favorite in a city that tends to look down its nose at players who do the scoring, Satan was a key piece of those late-90s and early-2000s Sabres teams.
March 23, 1999 – Buffalo acquires Rhett Warrener and a 1999 5th round pick (Ryan Miller) from Florida in exchange for Mike Wilson
A deal with short- and long-term benefits to the Sabres as Warrener was a key addition as the Sabres were ramping up for a Cup run while the pick became the second best goalie in franchise history.
Warrener was a fast favorite in Buffalo, helping to round out the team's blueline as they rode Hasek's sublime play to perennial contender status. Warrener played eight of his 14-year NHL career in Buffalo and eventually served as a key piece of the trade which brought Chris Drury to Buffalo in 2003.
As you might expect, the 1999 deadline was a big one for the Sabres. They made four deals leading up to the deadline as they loaded up for what would be a trip to the Finals. Stu Barnes was acquired on March 11, while Joe Juneau was acquired from Washington on deadline day.
Ryan Miller, as we all know, went on to anchor the crease in Buffalo for 11 years where he won a Vezina trophy, First Team All Star Team honors and an All Star Game appearance and earned the franchise record for wins. He's gone on to become the winningest American-born goaltender in NHL history and captivated American fans in winning silver and tournament MVP honors with team USA at the 2010 Olympics.
March 10, 2000 – Buffalo acquires Doug Gilmour and JP Dumont from Chicago in exchange for Michal Grosek
Yes, Gilmour didn't bear down and backcheck on Darius Kasparaitis' series winning goal in 2001. It wasn't exactly a state secret that Gilmour wasn't a fan of the area, but he was still Doug Gilmour and the Sabres still went out and traded for him. Even at the end of his career it was still a fairly big deal. It would've been nice if he had a little more to give over that season and a half.
Gilmour may have had the name at the time of the deal, but Dumont was the real prize for the Sabres. Dumont became a fan favorite during his time in Buffalo, scoring 20 goals in four of his five seasons here. Dumont tucked in 14 points and seven goals in the magical 2005-06 playoff run, including the OT game winner in game three against Ottawa.
March 10, 2003 – Buffalo acquires Daniel Briere and a 2004 3rd round pick (Andrej Sekera) from Arizona in exchange for Chris Gratton and a 2004 4th round pick (Liam Reddox) 
Where the 1999 deadline was one of hope and excitement as the Sabres loaded up for a push for the Stanley Cup, the 2003 deadline was highlighted by key departures. At the height of bankruptcy woes and NHL control, the Sabres needed to cut salary and start looking to the future where they may be able to thrive under stable ownership.
As a result, Rob Ray was sent to Ottawa while Stu Barnes was dealt to Dallas. Gratton was another established player who could be moved for futures and salary relief. Little did the Sabres know that they'd be acquiring a player who would serve as a catalyst for their post-lockout dominance.
It's unfortunate that we weren't treated to more of Briere's career as he hit Buffalo on the heels of 32 and 29-goal seasons with the Coyotes. He promptly added 28 and 25 goals before peaking with 32 tallies and 95 points in 2006-07.
The Sabres cashed in on the pick they received as well, getting a handful of quality seasons from Sekera before flipping him at the 2013 draft for Jamie McBain and the pick that became JT Compher.
Hopefully we see a few worthy candidates come out of recent deadline deals from the last few years as the respective moves mature for the club. We'll also see how Kevyn Adams puts his stamp on the club come spring time when the NHL deadline rolls back around.