Welcome to 2020. New decade, same Sabres.
In the spirit of the holiday, now felt like a good time to consider a few resolutions for the Sabres to try on over the next 365 days. They have plenty of room for improvement, I just hope they stick to their resolutions longer than I usually do.
Clear Some Cap
Opportunities to unload a few contracts were available over the summer. Especially after the acquisitions of Colin Miller and Henrik Jokiharju, it was expected the Sabres would move out a defenseman or two. Three months into the season, the Sabres aren't just expected to move a defenseman, they need to.
Aside from Rasmus Ristolainen's regular appearances in trade rumors, Marco Scandella was often mentioned as a player who could have been offloaded in the summer. Other avenues that could have been explored included player loans (Vladimir Sobotka) and being more selective with qualifying offers (Zemgus Girgensons). Just a little willingness for change could have shed a few million dollars off the cap before training camp even began.
Instead, Botterill only added to his team, with Alex Nylander being the only notable subtraction. The one thing Botterill was most lauded for – cap management – is not the one thing holding the Sabres back from making any meaningful upgrades. Things have changed a bit from the summer, but the need to clear cap space is just as pressing as it was then.
The biggest change to Botterill's situation is Zach Bogosian's health. He's come back from offseason surgery and has since requested a trade. It would have been nearly impossible to deal him in the summer given questions about his health but now he's asking for a ticket out of town. Though, his value probably still isn't all that high. Marco Scandella went from afterthought to meaningful contributor thanks to a strong pairing with Jokiharju. That likely helps the Sabres as Scandella's value will have grown as compared to last year. Sobotka probably does more for the Sabres on LTIR than if he had been loaned back overseas or to Moulson Island, as the cap savings would have only accounted for just about $1m.
It's frustrating to see Botterill taking his time with some of these deals. It's understandable that he'd be trying to leverage additional value out of Scandella. He's been steady this season and there's no reason the Sabres can't get decent value from him in a deal. His resurgence also could mean Buffalo won't need to retain salary in a deal, meaning they could see full savings on his $4m salary.
Bogosian on the other hand, is a case that should be resolved by now. At the very least Botterill should be able to retain salary on Bogosian and give himself a minimum of $2.5m in savings. Bogosian's career has been drastically altered by injury and he's really become a shadow of himself, which is disappointing to see. At this point the cap savings and roster flexibility are more valuable to the Sabres than the difference between a fourth and a fifth round pick. Take your medicine, retain some salary and take a mid-to-late round pick back in exchange for gaining valuable wiggle room against the cap and on the depth chart.
Evan Rodrigues has added a new wrinkle to Botterill's work, as he's formally requested a trade as well. On one hand, he's previously been a quality contributor for the club but on the other, he could represent another $2m in cap savings. I've been a fan of his since he first came into the fold, so his slide this season has been disappointing to watch. But it's long been time to cut bait with passengers and one goal over your last 50-plus games just isn't going to cut it.
Between Rodrigues, Bogosian and Scandella the Sabres could rid themselves of over $10m in cap space if there's no salary retention. But even at a minimum, they could shed in the neighborhood of $7m if they retain on a couple of guys. I'd certainly be happy to see them offload a player like Girgensons or perhaps even other rentals like Conor Sheary or Jimmy Vesey (ha). Depending on how those roster spots would be filled, the combination of cap savings and new opportunities would be worth it.
Open the Door For Youth
This has been a topic for at least five seasons, if not longer, but there always seems to be at least one or two prospects in Rochester dealing with roadblocks from the big club. At least in the short term, it seems like Rasmus Asplund will be sticking around. But Jeff Skinner will be back in a few weeks, as will Tage Thompson. Though it seems likely Thompson will head back to Rochester. Either way, their return could lead to Asplund getting sent down. Vladimir Sobotka would further complicate matters depending on his timeline. So, it's hard to say that Asplund is a sure thing to stick for the rest of the year, despite looking the part thus far.
Lawrence Pilut is the more notable exclusion in this scenario. Botterill's inaction from the summer has played a role here as Pilut is stuck behind at least three established veterans for regular playing time. He's tearing up the AHL once again and it's hard to see that there's much more for him to gain from that league. You could also argue that he's worthy of playing time over at least one or two players on Buffalo's current roster, but any real change won't come until a trade is made. Which is why it's that much more important for Botterill to get rolling on the trade front.
The Sabres would be a better team with Pilut in their defensive rotation. Asplund has been a quality addition and I'd go so far to say Curtis Lazar has as well. But he isn't a prospect. Still, this is a club that's been struggling to take a step forward, and I'd argue a lot of that has to do with recycling the same players over and over and over (and over) again. Buffalo's pipeline isn't brimming with talent but there are at least two players they should be making room for.
Fire Steve Smith (or whoever runs the PK)
The Sabres are in the bottom half of the league in penalty kill efficiency and the unit looks a lot like it did last year. So, while it's possible that Don Granato or Ralph Krueger has a big say in the kill, the common thread here is Steve Smith. Either way, the penalty kill has been a travesty this year and regularly costs the Sabres points.
Somehow the Sabres are unable to defend any manner of offensive zone setups. Overload, 1-2-1, umbrella, it doesn't matter. They could file for charity status with the amount they give up on a nightly basis. To say the Sabres need to fix their penalty (and power play) is an understatement. I don't care much how they do it, so long as they do it quickly.
Do Something
The Brandon Montour trade was a welcome addition, even though it came weeks later than it needed to last season. Botterill looks to be trending towards another year of waiting until the deadline to make something happen, much to the chagrin to just about everyone in Western New York. The time is now for the Sabres to make an addition. This is a team whose core is entering their prime right now. They have a bona fide star at forward and a budding one on the backend. Botterill shouldn't hesitate to consider trading futures to plug in another piece of young talent (read: not a rental) to this core. Find someone you can build with so you're not consistently looking two more years down the road. The framework for success is here, it's time for the GM to show a pulse.
Extend the 50th celebration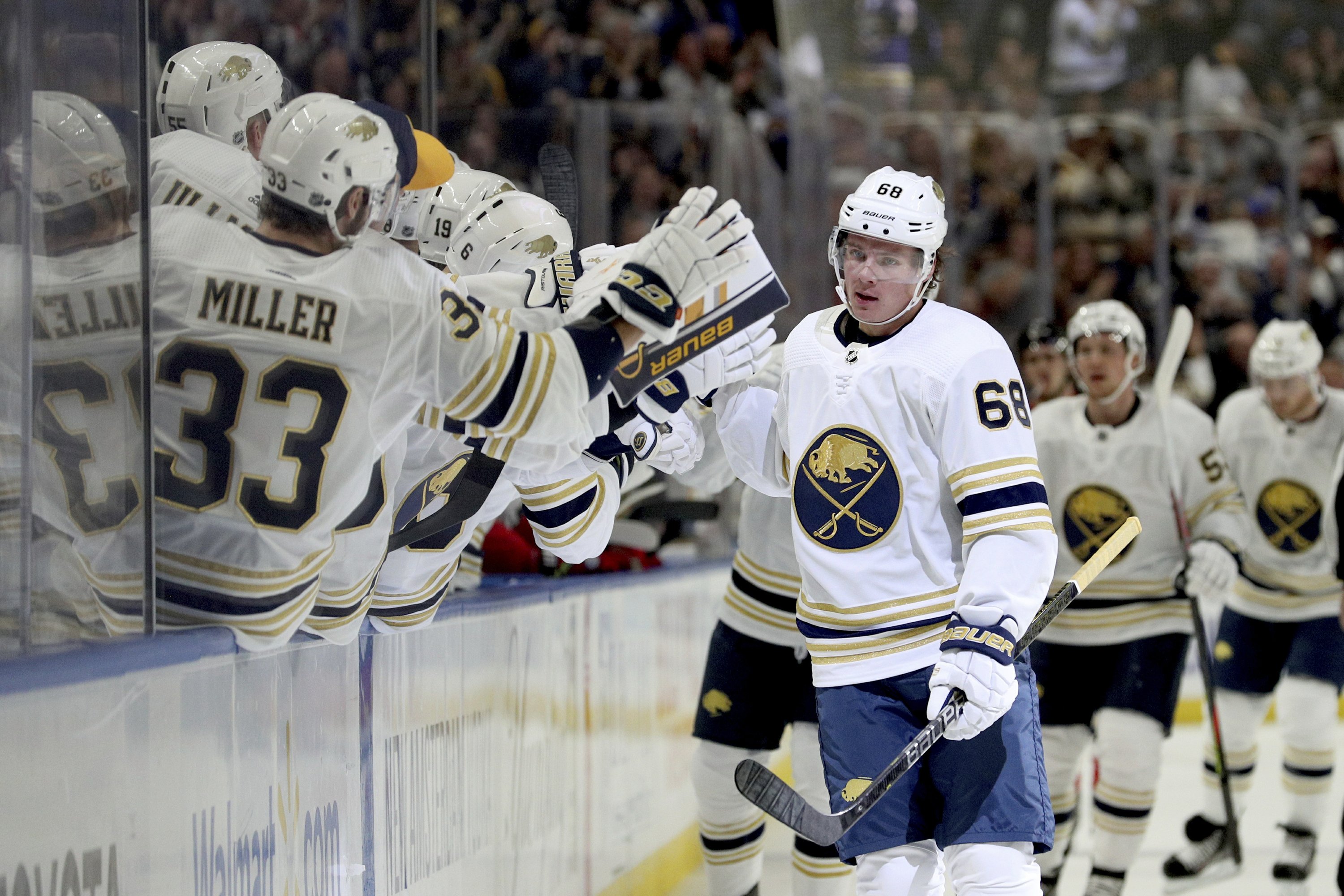 It wouldn't have been hard to predict that this year's 50th anniversary celebration woulnd't end with a playoff berth. There's still some time to right that ship, but it's looking a little more dire by the day, putting something of a damper on what should have been a really enjoyable experience.
I can't blame the Sabres for bumping up the celebration, either. There was no guarantee of labor peace and it's far more preferable to get a full season of an anniversary celebration than just a couple of months, or none at all. But we now know that the 2020-21 season will be a full one, so why not carry the party through another season? Who is going to stop them?
They'd have the time and ability to request an additional alternate jersey, much like the Canucks did. They'd also have the ability to work with the league and adidas on special warm up uniforms like the Canucks sported as well. The Sabres would be able to get another year of use (and sales) out of the extremely popular anniversary jersey and with another season to use for the celebration, they could target other areas of team history to celebrate. And they might even have a good team to pair with the extended celebration, but I'm not going to put too many eggs into that basket just yet.