We're five days from the deadline and Jason Botterill is standing by his roster, maybe to a fault. Even if the Sabres aren't active at the deadline, there are some signs pointing to this season being a busier trade deadline than it's been in recent years.
Elliotte Friedman had plenty of trade fodder in his latest column, including one related to the Sabres. If you haven't read it yet, you can find this week's 31 Thoughts here.
Columbus's offer for Duchene screams Alexander Wennberg as part of it. Wennberg desperately needs a new start; he's got zero even-strength goals. I just don't know if Ottawa would be willing to gamble on the contract, at a $4.9-million AAV through June 2023.
I included Wennberg in the post I wrote a few weeks ago about centers I felt the Sabres could go shop for given the somewhat narrow scope they're thought to be looking through when it comes to trade targets. Jeremy White mentioning him as a potential Sabres target ramped up the attention on Columbus' 24-year old pivot.
The issue with Wennberg is his production has dipped since his big 16-17 season. Was that year a true outlier or is there more for him to show? I mentioned this in the post from last month and the point stands. At $4.9 million for three more years, he isn't on a cheap cap hit but it's not money that will completely hamstring you either, especially as the cap goes up.
If Wennberg manages to settle in with a new club and produces at a 40-50 point rate each year, he'll be worth the cap hit and serve nicely as a complimentary 2/3 center. In that respect, it makes him a perfect candidate for the Sabres. He's young enough to grow with their core and won't be breaking the bank as more pivotal players come up for extensions. That doesn't alleviate the gamble you'd be making in order to take him on though. Even as a potential buy-low candidate, there's a fair bit of risk when it comes to confidence that he'll come around and get back on a steady 50-point pace on an annual basis. You're banking on him having a similar rise that Kyle Turris did after leaving the Coyotes. That's a gamble I'm not sure many GMs would want to take, even one who badly needs a center. And as I posted on Twitter (embedded further down) when his name cropped up, there aren't too many fans who will be jazzed about acquiring a guy with two goals on the season.
If the Blue Jackets don't get Duchene, the obvious focus is Kevin Hayes. They have lots of history with the Rangers, too.
Sergei Bobrovsky's situation is murky. He's signalled he's willing to consider certain locations, but there is no indication he's actually put that down on paper. Writing makes it binding, and there is doubt he wants to lose that leverage. One possibility: an extension in exchange for waiving. It is also believed Columbus made its own recent extension attempt, but things don't sound optimistic.
The Blue Jackets situation remains the most fascinating of the deadline. The Sens sell-off is expected and it's looking more and more likely that they ship out their three big fish by Monday afternoon. The Jackets, however are in a very unique position. There's a better than good chance two of their best players walk out the door in July. They're in the thick of the Eastern Conference playoff picture but it's fair to say they aren't a serious Cup contender. Maybe they win a round but they're still a couple of pieces shy.
Renting Duchene would indicate they're considering pushing all their chips to the middle and seeing how it plays out. Perhaps there's a sign-and-trade to be made with Duchene that would allow them to keep Bread and Bob for another run while Duchene steps in to help carry the banner once those two move on. The idea I'd be most excited to see is the sign-and-trade to get Duchene while also moving Panarin and Bobrovsky. Use the assets you get for those two to add more at the deadline or the draft and keep that window open even longer. Either way, there aren't too many easy decisions to be made in Columbus.
Winnipeg is going to be aggressive. There's a limit, but the Jets have a deep pool of prospects and a willingness to move their first-rounder. Other teams were joking that Kevin Cheveldayoff was going to chain Pierre Dorion in the MTS basement until Stone was traded there.
I'm going to be floored if they don't get Mark Stone. I think the only question left to be answered is whether or not the Jets are willing to trade Kristian Vesalainen along with their first to get him.
Edmonton's held firm on Jesse Puljujarvi so far, not jumping at lowball trade attempts. But the Oilers know they've got a very unhappy player.
I feel like the only resolution to this scenario is divorce. Puljujarvi hasn't come along at all since 2016 and the Oilers have juggled him enough that they'll ultimately share some of the blame. That it's the Oilers squandering another high pick doesn't help much at all.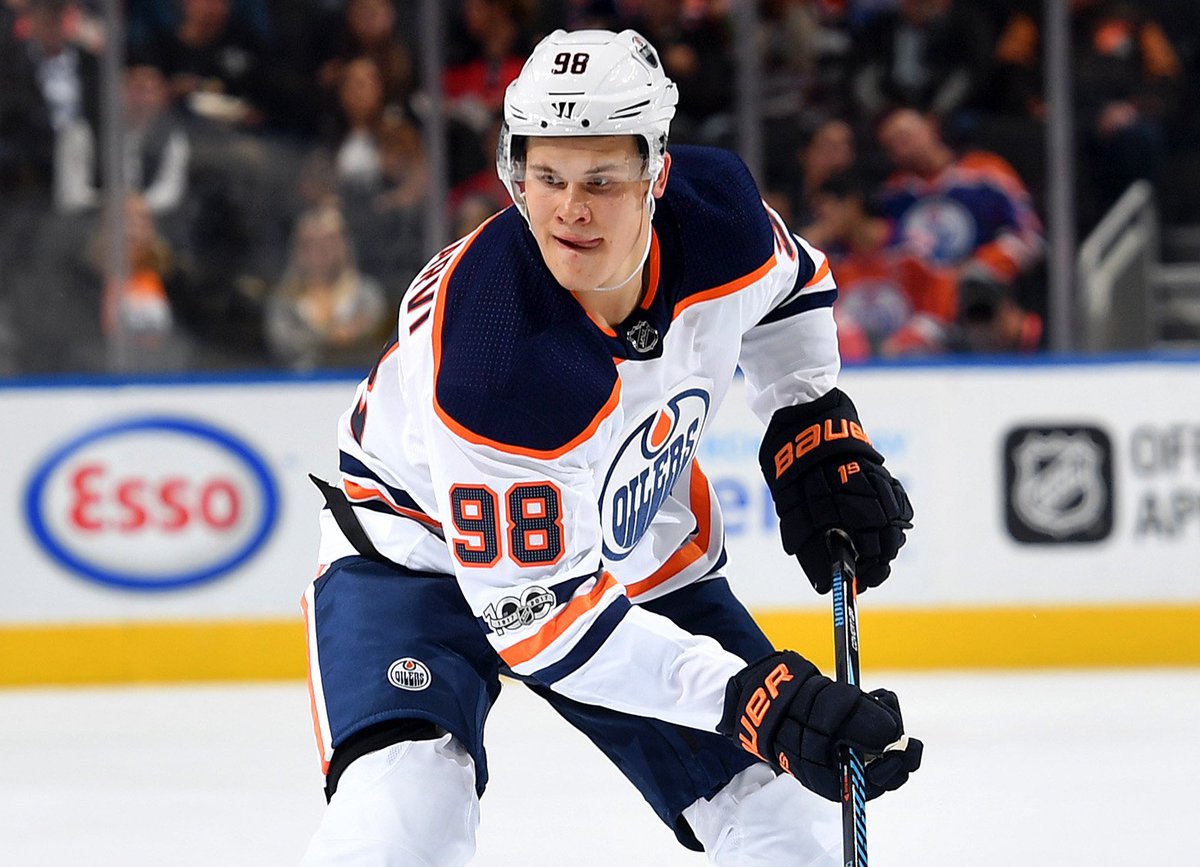 I know Puljujarvi gets mentioned as a guy the Sabres could go chase and I just don't see it. Maybe you could make a swap of disgruntled prospects and send them Alex Nylander. Even then I just don't know how many projects the Sabres can really take on. They should be pushing to take that next step – the step we all thought they were taking in November. Taking on a guy who is still struggling to be a lineup regular doesn't strike me as an answer. I could see a team like the Ducks or Senators having interest in Puljujarvi as they're both in rebuild/retool mode. They could take on a guy like that and try to devote more attention and patience to grooming him than the Oilers have.
Zuccarello and Wayne Simmonds may have to wait until the Duchene/Stone/Panarin situations settle. A mix of similar teams looking at both: Boston, Calgary, San Jose, maybe Pittsburgh and Vegas. New Jersey GM Ray Shero was aggressive with Brian Boyle, and it sounds like he's done the same with Marcus Johansson. I've heard Columbus, Edmonton, San Jose and Vancouver as teams who have checked in. Possibly Washington, too, since they know him. The Canucks are the odd fit, but they looked at Andre Burakovsky, too. So maybe they are thinking about something for the future or are trying to replace the injured Sven Baertschi.
Sbout 60% of this thought doesn't really concern or interest me. Zuccarello and Simmonds aren't going to be on Buffalo's radar nor are they going to affect the Sabres attempts to sell any players off. However, the continued availability of Andre Burakovsky does catch my eye. Previous reports tagged him with a price of a second and third or multiple second round picks. Not astronomical and perhaps that price will come down as the Caps have been unable to find a suitor. He's a bit of a gamble as well but far less than Puljujarvi or even Wennberg would be. Certainly not more than any other trade would be.
Burakovsky knocked on the door of 20 goals in 15-16 and was in that neighborhood again over the last two years (15 and 17-goal paces, respectively). The offense has been there and there's reason to believe with more ice time and better deployment his production would continue to increase. Given the Sabres slip in the standings and the obvious need to find players who can plug in and contribute for the long term, a 24-year old RFA fits the bill. Given how things have changed for this team, Burakovsky would be a signal to the fanbase that Botterill hasn't completely given up on the season but knows the roster still has plenty of flaws.
With Minnesota in sell mode, would it surprise anyone if San Jose revisited Eric Fehr, who fit in very nicely with the Sharks during the 2018 playoffs? The Evander Kane/Erik Karlsson trades limit what they can do, but GM Doug Wilson will try to add a winger. If trade values drop for the secondary group because Duchene, Panarin and Stone are available, it plays into Wilson's hands.
The Wild are far and away the most obvious team to deal with. They're very obviously looking to reshape their roster and many of the players they're expected to shop are still worth a damn. Charlie Coyle has finally but the Sabres have picks to spend and Mikael Granlund has another year on his deal and will be 27 when it expires next year. Maybe he's a touch on the older side when it comes to how Botterill hopes to build, but he'd be a shot in the arm for Buffalo's center depth.
Jason Zucker has long been a personal favorite of mine, he's signed until age 31 (make of that what you will) and would add top-six skill to the wings and a big dose of speed as well. I don't know how you'd get both of those guys from the Wild prior to the deadline but they'd both offer the Sabres some much needed help.
Carl Hagelin's only got eight points in 38 games, but a lower price tag may tempt someone for a competitive guy with a good playoff history. Buffalo looked at it.
Tweeted that yesterday and his lack of production isn't going to win over too many fans in Western New York. He's been connected to the Sabres for a while and even though acquiring him would prevent the Sabres from doing nothing at the deadline, it doesn't really move the needle much either.
He only has one goal but he's had a positive impact on his teammates for his entire career. He'd be a worthwhile addition to the bottom six even if he's not sexy. But if that's the only move they make at the deadline, what's the point? The price for Hagelin will be awfully cheap but they certainly need more than another bottom six winger to get their heads above water. I'd just be perplexed if that's the lone deal they make.