I like to have fun with the Sabres Twitter account as you usually don't need to look too far for a poorly timed Tweet or a general lack of communicating key hockey facts. With that in mind, I thought it would be #fun to create a drinking game to accompany Sabres Twitter on game nights this year.
Have some fun with this and feel free to add your own recommendations in the comments section, we'll make sure to update this as the season progresses.
1 Drink
Eich Overload – Maybe you have noticed the Sabres Twitter account really likes Jack Eichel, as they should. But sometimes they go a little overboard in game. Take one drink for each of the following:
#EichSnipe
#AppleJack
#WeLikeEich
#EichelTower
Player Hashtags: #ROR, #Reino (and #Ryno) and the countless other hashtags used for each player. Have a drink.
Risto hashtags – Risto is in a league of his own with hashtags (but maybe not Jack Eichel's league) since there are so many the team account likes to use. Since there's no consensus on which Risto hashtag the team wants to use (it should totally be #Norristolainen), take a drink every time you see #RistoRocket, #RR55 or any of the other menagerie of Risto hashtags which ultimately make an appearance this year.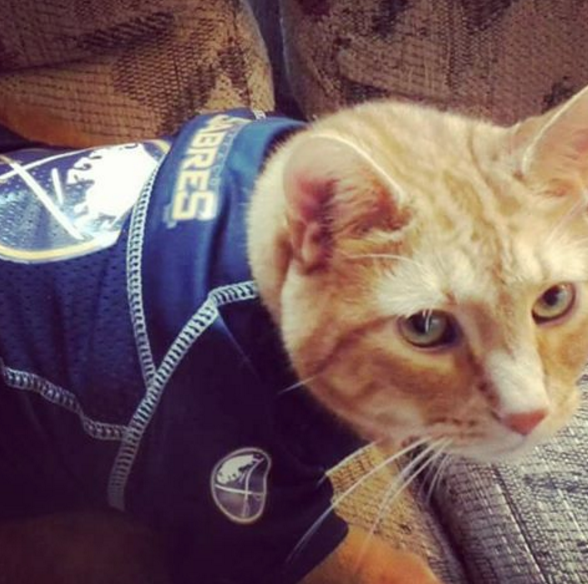 Pictures of pets or children featuring Sabres apparel – Add 3 drinks if the picture is posted in the middle of a period
Corner Shot: See a wide angle view of the rink that doesn't really tell you anything? Drink.
(Bonus carryover if there is more that one of these used for the morning skate and warmups)
Tweets talking about fun or how excited players are. Remember hockey is fun and it is very important you know how excited the players are to have fun playing hockey.
Geotags: Sabres Twitter does not travel with the team on road games like the web or TV staffers do. Yet tweets will be geotagged with the location of the game that night, making it look like they're onsite doing a great job. Take one drink for every time you see a geotagged tweet. Bonus Drink if the geotag reverts back to Buffalo. Three Bonus Drinks if the previous geotag carries over (For example: tweeting "from" Toronto for a game in Montreal)
Photo of the anthem: Because you've never seen one before
Additional Assorted hashtags: Such as #fun #funfact etc.
Emoji Multiplier: Add an additional drink if any of the above are accompanied by an Emjoi
2 Drinks
Anytime it's mentioned that Marcus Foligno and Nick Foligno are brothers
What A Time To Be Alive – The use of the popular internet term often accompanies otherwise typical events. "A picture with Sabretooth. What a time to be alive."
Town – The extra three characters you need to type out home are backbreakers. #HouseTown
#Minions – At some point Linus Ullmark will play a game this year. You'll get hammered off the minion references alone.
If the end of period recap only tells the shots on goal
#PerdTweets: Any time a play is explained in a painfully obvious manner. This is a judgement call but you'll know it when you see it.
3 Drinks
Anytime I complain about the Sabres Twitter account
When a photo of a player drinking water is used. Bonus drink if the photo is seductive. Two bonus drinks if it is also in black and white.
Photo Recycling: See the same photo used twice? Three times?  More? Kick back a few for this tremendous use of resources.
Any time basic hockey terminology is misused. Examples include:
Natural hat tricks that aren't actually natural hat tricks
"Snipes" that are scored in the bottom two-thirds of the net
"Own Net" instead of an Own Goal
If the team goes more than 10 minutes of game time without offering any information. This typically happens if they're losing
#HeLikesHockey – This especially irrelevant hashtag does a great job distinguishing who among us actually enjoys hockey.
8th Grade Book Report/Yelp Reviews: Use your best judgement but these usually stand out for their general awkwardness and over explanation. They typically accompany big moments.
Snowmoji & snow cloud photo – The account is good for one of these once every few games.
Finish Your Beer
A photo of a counterfeit jersey is posted or retweeted by the team account
#SomebodyMakeSomeNoiseUpInThisJoint – #WeLoveToSeeEntireSentencesSpelledOutInHashtagFormItMakesThemVeryEasyToRead
Drink a Keg
If the Sabres ask the other team for highlights
*Please drink responsibly, if and when the team asks their opponents for highlights you shouldn't actually drink a keg of beer.