Perhaps you've heard that the Sabres are in a position to be drafting at the top of one of the richest draft classes since 2003.
Of all the tired Buffalo sports narratives in recent memory, the argument over the tank is making a strong run for the worst of them all. There's been mudslinging from various members of the media, the fanbase is at odds over whether the team should be trying to win or pushing for the basement – how there are people who are against getting Connor McDavid is beyond me – and every night brings a new round of hand wringing from some contingent of fans.
The Sabres recent run of "good" play has seen them grab four points in their last four games despite being outshot and outplayed badly. This "surge" in the standing has brought them within three points of the Arizona Coyotes and four points of the Edmonton Oilers. It should be noted that the Sabres remain in 30th in the NHL standings heading into this weekend's back-to-back games.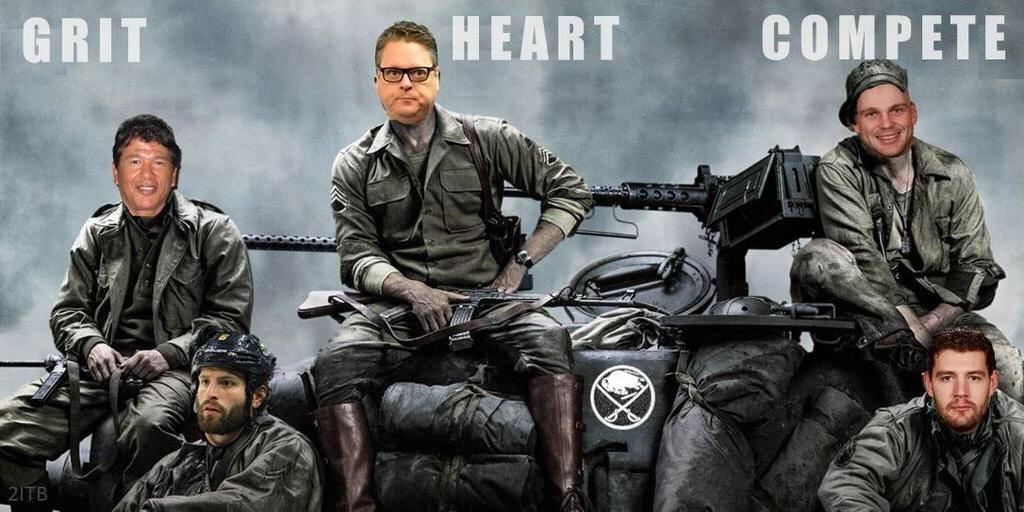 Perhaps the most stunning aspect of this entire twisted journey called the 2014-15 Buffalo Sabres season is that there are so many people freaking out over things that are out of their control. Of course, all of this is out of all of our control, but for the sake of argument, consider anything related to the Sabres as something the fans and media controls.
The Sabres are bad. Historically bad. In fact, they're worse in nearly every facet of the game compared to last year's 30th place, historically bad team. Here's a chart from Travis Yost from February 4th, the date the Sabres officially became the most outshot team in the analytics era.
Take a long look at that chart, even if you hate analytics. The green and red lines are last year's Sabres and Leafs teams, both horrendously bad in terms of puck possession. That ugly black line is this year's Sabres team. That's how terrible the Sabres are.
This really shouldn't be a surprise anymore. After all, the Sabres have been routinely outshot and out possessed on a near nightly basis all season. Their magical run between mid-November and mid-December was widely regarded as an aberration and it turned out to be exactly that. Simply put, this team was designed to finish in 30th and they might just pull it off.
Each time the Sabres nudge closer to 29th place there is a lot of hand wringing about running all of the work they've put in, calls that Murray, Nolan or the team are going to blow it and all I can think of is how ridiculous this all is.
I want nothing more than to see Connor McDavid put on a Sabres sweater in June. I began the season in full support of what was about to occur and I remain in full support of the mission to secure the guarantee of a top-two pick and the best chances in the draw for McDavid. It remains the best strategy for hitting fast-forward on the rebuild and it all but guarantees the Sabres a generational talent who will be here for years to come.
What many seem to be overlooking is the fact that so much of what has happened regarding Buffalo's lead in the lottery race is utterly and completely out of the control of the Sabres' control. Short of stringing up a shooter tutor each night (which is illegal), there isn't much else the Sabres could have done this year to ensure they finished last.
Think about it. Buffalo didn't win a game for an entire month. They were one-for-nineteen between December 16 and January 30. They traded both of the goalies they started the season with only to see a goaltender with a career save percentage just a nose above .900 catch a hot streak. Yet there is some unknown segment of the fan base who thinks the responsibility would fall on Tim Murray's shoulders if the team were to wind up with the third pick.
To say that the Sabres resume would be strong enough to finish last in any other season is an understatement. As I stated above, they're worse than the team they put on the ice and finished last with last season. If the Sabres aren't capable of finishing last this season with the way everything has gone, it simply wasn't meant to happen.
With 12 games to go the Sabres still hold 30th place. They're three points back of the Coyotes which means Buffalo would need to win two more games than the Coyotes just to surpass them in the standings. The time has come to accept where the Sabres stand and only worry about things within their control.
You can't pull your hair out because the Oilers or Coyotes blow a late lead. When Louis Dominique starts (as he is tonight), just accept it. All we can do as Sabres fans is hope our two tank companions steal a point or two over their next few games to widen the gap and hope that the Sabres give up a few points to Arizona when they meet at the end of the month.
Arguments about establishing a winning culture aside, there are only so many steps that can be taken to set up a team for a slide to the league basement. Over the past year and a half the Sabres have taken those steps. In fact, you could argue that this was about as textbook as it can get when it comes to hoping to win the draft lottery.
It's time to relax. There's very little left to regret when you look back at such a dismal season. Keep an eye on the out of town scoreboard and know that every point earned by the Oilers and Coyotes is another point closer to ensuring a top-two pick in this year's draft for the Sabres.