With the lottery balls still left to be pulled, there are very few positions in the Sabres organization that have an immediate need to be addressed for both the short and long-term. In fact, you could argue that the Sabres' pipeline is well stocked at nearly every position.
The one area that needs attention, particularly in the near future, is goaltender. While the Sabres have a number of quality goaltending prospects, including four who are at least a year away from their professional debuts, they're short on NHL-ready talent between the pipes. The recent trade of Jhonas Enroth, while a good decision, demonstrates the shallow depth the Sabres have atop their goaltending pipeline.
While Linus Ullmark, Jonas Johansson and Cal Petersen provide a fair bit of long-term stability from a development standpoint, only Ullmark is under contract at this time. Further, Ullmark will be making his North American debut next year, meaning he is at least two years away from being truly prepared for significant NHL action while the others in the pipeline are still a year or longer away from getting an NHL contract, let along professional playing time.
There is a gap between where the team is expected to be in the coming years and the earliest point you can hope Ullmark makes a serious impact at the NHL level. That means one of two things for Tim Murray and the Sabres. They can either sign a veteran free agent to serve as a bridge for the organization or they can work to trade for another young, promising goaltender who's further along the development track. The former option may be unavoidable as there is a very good chance that Murray needs to look past Michal Neuvirth as his answer in net regardless of his long-term plans.
Even with the prospect of Ullmark shaping into a star, using a portion of Buffalo's impressive array of assets to acquire a goaltender who is ready to step into a significant NHL role isn't just an option that should be considered, it's the option they should take. Murray is likely going to be stuck signing a veteran this summer whether he likes it or not, but as an organization that is clearly serious about becoming a contender in short order, speeding up their presence in net should be a priority. Considering how weak the free agent class will be, pursuing a trade for a goaltender who is ready for a bigger role represents the best option for the Sabres to improve for both the short and long-term.
Trading for a promising netminder wouldn't necessarily mean that you're abandoning the hope that Ullmark becomes a bona-fide starter, it just shows a commitment to rapid and long-term success. Additionally, if the goaltender you trade for becomes a serious number one goalie, that much more work is done.
There are certainly drawbacks to this route. Anders Lindback is a perfect example of this. Tampa Bay gave up two second round picks, a third round selection and Sebastian Caron – who was little more than a throw in – to acquire Lindback. The Lightning had identified Lindback as their answer in net after he amassed an impressive resume with Nashville. It didn't take long for his GAA to balloon and his SV% to plummet and now he's on his third team in less than a year.
A trade of this ilk is based on intensive scouting and a careful analysis of a goaltender's resume. Ensuring his numbers aren't inflated by a strong team or system and identifying the potential for continued development are keys to the process. Toronto hit the nail on the head when they acquired Jonathan Bernier as he's established himself as a quality starter despite playing for a bad team.
The cost associated with such a trade is somewhat difficult to pinpoint. The package for Bernier included a second round pick, Matt Frattin and Ben Scrivens while Lindback was acquired for a package of fairly valuable draft picks. Both packages were fairly significant and should help to set a barometer for the Sabres. At the very least, Buffalo will be giving up a valuable draft pick (likely a second round pick) and a capable NHL body (Marcus Foligno comes to mind).
There are more than a few netminders around the league who are not only growing into quality options, but are stuck in an organization with a starting goaltender who is entrenched with a long-term deal. After looking around the league, I found a handful of attractive options who are young (under 26), posting impressive numbers and playing in an organization where they're "blocked" by a quality NHL starter.
Martin Jones & JF Berube
This isn't the first time Dean Lombardi has seen a young goaltender blossom into an asset behind Jonathan Quick. After flipping Jonathan Bernier to Toronto, Lombardi inserted Martin Jones as his backup and the young netminder is now being discussed as a potential trade target. His numbers are impressive as are his measurables. He is poised to enter restricted free agency this summer and could be ripe to be moved once the playoffs wrap up.
What's more impressive is the player who is set to be the heir apparent to Jones. JF Berube has been lighting things up in Manchester and seems to be following the same track that Jones and Bernier did before him. Berube may not fit the exact mold that Tim Murray prefers in a goaltender, but he's not a shrimp at 6' 1". He also may be the more intriguing trade option compared to Jones. While the latter has a track record at the NHL level, it's possible that Berube presents a team with far greater upside. Although he may cost more to acquire as well.
The Royal Half shared his thoughts on both Jones and Berube for us:
Martin Jones is a little bit different of a situation than Jon Bernier was two years ago. Bernier, a high 1st Round pick was anointed to be the goalie savior in LA until Quick came along. That's why the Kings were under a little bit of pressure to trade Bernier. Jones was an un-drafted free agent out of junior and from all reports around the team, he is loyal to the fact the Kings took a chance on him and willing to wait for his time.

It's so hard to tell whether or not a goalie like Martin Jones has what it takes to be a NHL starter. Simply because the team in front of him is just so good defensively (See Scrivens, Ben this season). Jones was extremely good last season while Quick was out with a groin injury, and he's been perfectly serviceable in limited duty this season. One thing to note is that Jones has come up through the LA Kings system, meaning he has received the proper coaching to play on a defensive minded, heavy possession team like the Kings.

After decades upon decades of awful goalies, suddenly the LA Kings goalie pipeline is fully stocked. JF Berube and Patrik Bartosak are having great seasons for the best team in the AHL. But I think it's a lot to ask of them to step into a backup role for the LA Kings in the midst of a playoff race. JF Berube seems to be the one that might fetch the best value on the trade market currently, but I've read that the organization is also very impressed with Bartosak.
Calvin Pickard
Heading towards restricted free agency, Pickard finally had a chance to debut at the NHL level and he impressed. He posted a .936 SV% and 2.18 GAA in 15 games with the Avalanche this season and displayed an effective, technically sound style. While Semyon Varlamov is the clear option for the Avalanche in net, Reto Berra has not adjusted to the North American game well and is ripe to be replaced by Pickard. This complicates matters from the Sabres' perspective. Promoting Pickard would limit his ability to see big minutes but would also provide the Avs with a serious upgrade behind Varlamov. He solves a very obvious problem for the Avs which could make acquiring him a challenge.
AJ from Mile High Hockey had this to share:
His goaltending style is very conservative as he's not the greatest athlete but technically very sound. He's your classic positional goalie who gets himself in trouble when his technique breaks down and struggles to play through the chaos in the crease at times.

Pickard is probably going to get a one-way contract this summer because everyone knows he's going to be the de facto backup going into next season. Moving Pickard right now with Reto Berra still on the roster is simply something that I don't think is realistic. Two years from now when Spencer Martin and Roman Will are probably the Monsters netminders and pushing for playing time? Probably. Until that time, though, Pickard is unlikely to go anywhere because Reto Berra is just that bad.
Magnus Hellberg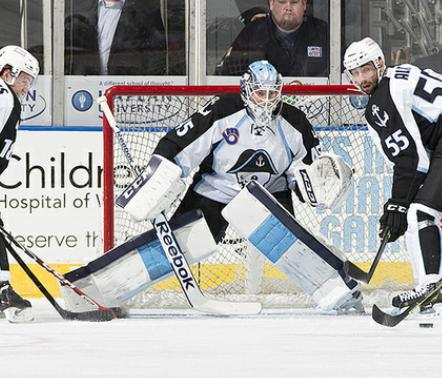 The long line of giant Scandinavian goaltenders coming out of the Nashville system is well documented at this point and Magnus Hellberg may just be the next in line. The 6'5" Swede is coming to the end of his entry level contract and has enjoyed three solid seasons in Milwaukee. With Pekka Rinne pushing for billing as the world's best goaltender, it's clear there isn't much space for Hellberg in Nashville. While he could conceivably take the place of Carter Hutton, he would still be stuck behind Rinne for top billing. The same can be said of his teammate in Milwaukee, Marek Mazanec, who has been almost equally impressive during his time in the minors. While the specter of Anders Lindback's regression looms for any big goalie plucked from the Nashville system, the background on Hellberg makes him an attractive option.
Malcom Subban
Subban, like John Gibson in Anaheim, is a hot name in the world of goaltending prospects. He has progressed incredibly fast and is knocking on the door for NHL minutes. However, Tuukka Rask isn't going anywhere. Rask is one of the most impressive goaltenders in the league and time is on his side. The writing is on the wall for Subban to move along and land the Bruins a hefty set of assets in return. While I'm not a huge fan of his game, he is quite clearly trending in the right direction and is a worthy trade target. I'm interested to see what the asking price is as I'd be wary of helping the Bruins restock their cupboards in a trade like this.
Phillipp Grubauer
Grubauer has enjoyed a methodical development and is now part of a pipeline being tutored by Mitch Korn. While he isn't likely to supplant Braden Hotlby, he's shown well in his brief NHL appearance as well as in Hershey. Grubauer fits right in with the likes of Pickard and Berube as goaltenders with respectable but not towering measurables. His NHL experience is fairly limited and there's a chance that his early success isn't fully sustainable.
Rob from Japers Rink has more on Grubauer from a Capitals perspective:
It's unlikely that Grubauer is ready to take over as a long term NHL starter. He looked good when he was first called up last year, but his play fell off after a while. He's still very young and this is really his first season where he had an established starter's work load as a pro. I think if he finishes this year strong and then has another good year next season, then the Caps can start discussing his potential as a viable starter, but even that might be premature.

The one thing that has stood out when watching Grubauer, even back to his days with the Windsor Spitfires, is how calm he is. He doesn't seem too high strung in the net, and I think that's what allowed him to step into a tumultuous situation in the NHL last year and play well. His size and athleticism aren't stand out, but he stays in control and seems to always be in a good position to make the save.
John Gibson

Gibson is pretty much low hanging fruit when it comes to a discussion about up-and-coming goaltenders. He was tremendous in the World Juniors, had a strong showing in the playoffs last year and is on everyone's radar as the next big thing in terms of goaltending prospects who are ready to make the jump. He has quality numbers and is probably ready to start today. The drawback is that he will be expensive. Very expensive. That is if the Ducks even feel that it's necessary to move him for assets.
At this point, it may be more worthwhile to enquire as to the cost of Andersen. He's proven himself as a capable starter through the last season and a half and should the Ducks brass deem that it's time to turn the keys over to Gibson, Andersen may be a much easier (and cheaper) ask when it comes to the trade market.
Overall, the chances of pulling an acceptable deal with the Ducks is minimal at this point. Gibson is too valuable for them to part ways with and Andersen will likely still have a sizeable role heading into the playoffs and next season, regardless of where Gibson falls.
***
There are a few others out there who are worth discussing – Jacob Markstrom, for example – but this group represents the most intriguing options available around the league, in my opinion. I wouldn't expect to see Tim Murray move on any of these players until the summer at the very earliest with the potential for one to come over at the deadline a slim possibility.
It's encouraging to know that the Sabres have more than enough assets to make a trade for a promising goaltender manageable without the fear of harming organizational development elsewhere. Unless an unexpected deal happens for a truly established goaltender, I wouldn't be surprised to see the Sabres kicking the tires on a goaltender from this group.