Since the 2011-12 campaign ended without a playoff berth, I have decided that the inaugural 2ITB Awards will have some real awards and some awards that are more worthy of a Dundie. If you don't like the winners, leave a comment; perhaps you will get a vote for the second annual awards next spring. Here are the winners:
Most Valuable Player – Jason Pominville
In line with the players' choice, Pominville is an easy choice on a team that did underachieve for portions of the season. I was happy to see him hit the 30-goal plateau, it was a well deserved accomplishment. Pominville embraced his captaincy this season and had a great year. I think consistent line mates could yield similar results in 2012-13.
Least Valuable Player – Brad Boyes
Boyes suffered through a miserable 82-game season with little to show for it. Sure he was stuck on the fourth line and had little chance to produce, but at $4M you can't afford to be not scoring goals. I was happy to see him come to Buffalo, things just didn't work out for him this year.
Top Prospect – Marcus Foligno
This was a tough one for me to pick. Foligno was right up there with Brayden McNabb, David Leggio and Joel Armia for the organizational award. However, Foligno's arrival was such a shot in the arm for the Sabres that it was too difficult to ignore.
Jekyll and Hyde Award – Ryan Miller
It is actually pretty easy to sum up Ryan Miller's season. Elite hockey, then garbage hockey and then more elite hockey. Sounds like a pretty decent sandwich, no? October was kind to the netminder before suffering a rough start against Philly on national television. He followed that game with a five-goal win against the Jets. His GAA didn't get any help when he was knocked from his next start in Boston by Milan Lucic. He didn't start again until December and struggled to find his game for the entire month. He then locked down beginning on January 1 and didn't look back, putting together a 2.27 GAA and .924 SV%.
Consistently Consistent Award – Tyler Ennis
He didn't start rolling at a regular clip until after he had missed 34 games with injury. He only played 48 games but picked up 34 points (15+19) in that span. He was indeed a consistent weapon the Sabres could rely on down the stretch, making him extremely valuable heading into next season.
Unsung Hero – Christian Ehrhoff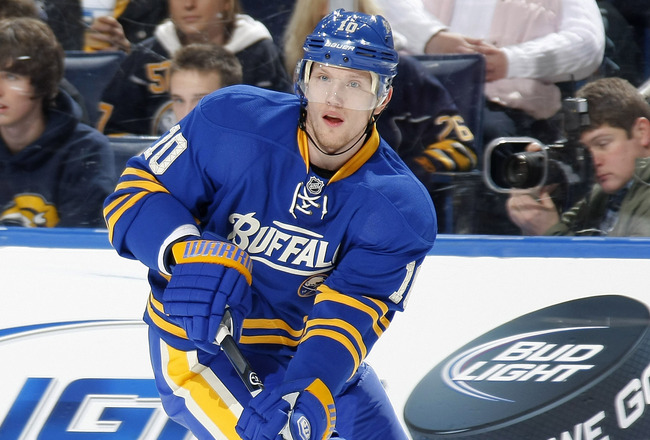 In case you were wondering, Ehrhoff only makes $4M per year, technically. Considering that cap hit, he was really freaking valuable for most of the season. He was easily the most consistent defenseman the Sabres had and they missed him desperately when he was hurt. Too many people ignored his performance because he wasn't scoring goals and because he makes $10M per season. He caught a lot of flak for not putting up monster numbers offensively, but he was still extremely valuable. Continue reading